Most successful companies have at some time been confronted with the law of sacrifice and as Al Reis and Jack Trout explained in The 22 Immutable Laws of Marketing, "If you want to be successful today, you should give something up." This 13th law of marketing (The Law of Sacrifice) is the exact opposite of the Law of Extension (law #12) which suggests companies extend brand equity towards the goal of gaining shareholder value.
Another way to explain sacrifice is to define it in Warren Buffett's terms as a "circle of competence". As the chairman of Berkshire Hathaway (BRK.A) often explained, his rationale for foregoing investments in industries such as software, hardware, and biotech is that he doesn't know how those firms will evolve over time. Buffett's comment about staying within one's "circle of competence" is usually interpreted as an admonishment to invest only in companies one truly understands.
Weingarten Realty - Sixty Years and Growing
In 1948 under the leadership of Harris Weingarten, the Weingarten family founded a real estate enterprise-known as Weingarten Markets Realty-that initially built the family's grocery stores and then expanded to developing shopping centers. In 1980, the family exited the supermarket industry and the realty company, headed by Stanford Alexander, one of Harris' grandsons, focused on its relationships with retailers, including other supermarkets, drug stores, value-oriented stores and others.(source: Weingarten Reallty website)
Following its restructuring as a real estate investment trust (REIT), Weingarten Realty Investors (WRI) became a publicly-held company in August 1985 and was listed as "WRI" on the New York Stock Exchange. Over the past six decades the company has focused on investing in shopping centers and industrial properties and today the Houston-based REIT owns around 391 properties with over 76 million square feet in 23 states.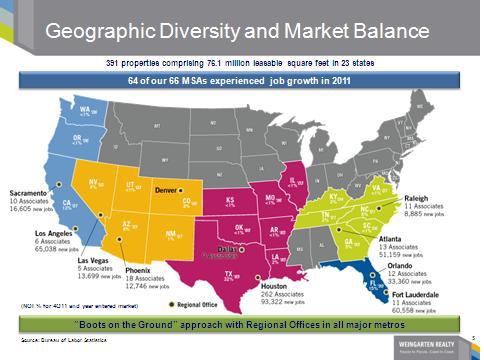 A Circle of Competence
Last week, Weingarten announced that it would be selling off its wholly-owned industrial portfolio to DRA Advisors LLC (DRA). The portfolio is comprised of 52 industrial properties, aggregating approximately 9.6 million square feet located in Florida, Georgia, Tennessee, Texas and Virginia. The portfolio is predominately unencumbered, with DRA assuming one secured loan of $4.9 million. The sale price is $382.4 million, representing a capitalization rate of approximately 8 percent.
Proceeds from this transaction will be used to pay down amounts outstanding under its revolving credit facility and repay a $200 million unsecured term loan, resulting in a further strengthening of the Company's balance sheet and providing additional capacity to fund growth opportunities in its core retail markets.
Drew Alexander, president and CEO Weingarten Realty, said the company is getting out of the industrial real estate business to please Wall Street. "Wall Street just really prefers companies that focus on one space." Alexander went on to say (source:Jennifer Dawson in the Houston Business Journal):
The sale of this portfolio demonstrates our commitment to the Company's capital recycling initiative. It is a significant step toward the strategic exit from industrial real estate, further strengthening our position as a pure-play retail REIT.
Weingarten still owns 1.4 million square feet of industrial space in joint ventures that was not part of the DRA acquisition. Alexander said it has not yet been decided what will happen to that portfolio, but something will probably be done with it by the end of the year.
Since 2000, Weingarten has pruned around $1.5 billion of non-core retail assets and the company has redeployed the proceeds into around $3.6 billion of higher quality retail assets.
Fundamentals Improving
With a newly focused retail platform, Weingarten is charging forward with its forecast to recycle around $600 million of non-core assets and concentrate on its core supermarket and necessity-based retail anchored platform. The roots of the retail model date back over sixty years and the strategy of investing in shopping centers located in high-barrier to entry markets has not changed.
Although the retail sector has been challenging for many REITs, Weingarten has been able to achieve exceptional occupancy levels. Currently the overall retail portfolio occupancy is 93.1% of which spaces over 10,000 square feet (in size) are leased to 96.8%.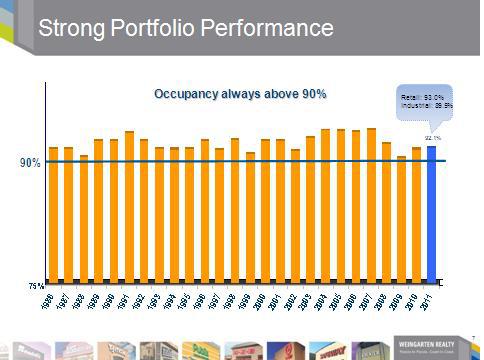 By focusing on necessity-driven retailers and strong densely populated markets, Weingarten has become differentiated from the peer group by achieving above average rents. This distinguishable retail platform enables the shopping center REIT to obtain premium market lease rates.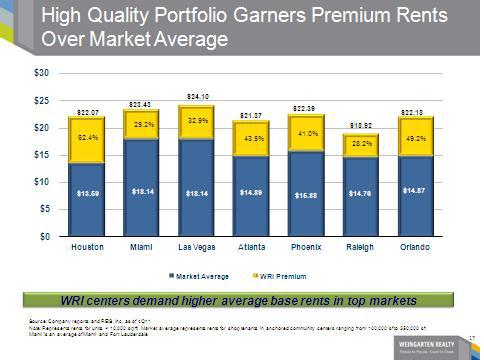 By focusing in key metro areas with strong barriers to entry, Weingarten targets strong household densities that are consistent with the peer shopping center REITs.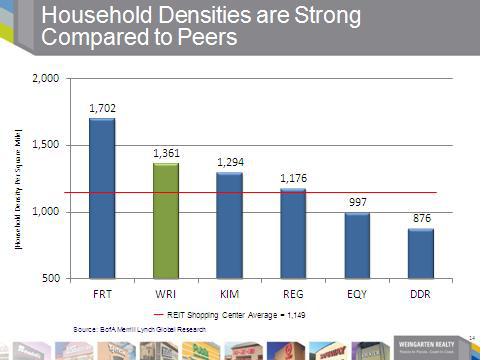 This year Weingarten forecasts its overall retail occupancy to increase to 92% to 93% and for every 100 bps in signed occupancy the FFO should increase by around $.06 (or $6.8 million in NOI).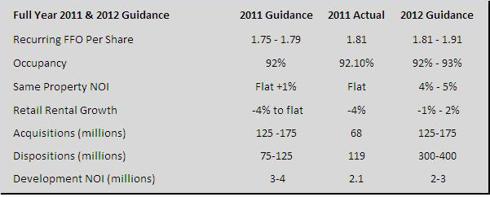 Weingarten also has a robust development pipeline consisting of eleven properties with $194 million invested upon completion. During 2012, the company anticipates NOI contributions of between two and three million dollars.
Inside the Capital Structure
Weingarten has a market capitalization of around $6 billion that is comprised of around $3 billion in common equity (51 percent), $2.5 billion in debt (41 percent), and $.5 billion of preferred (8 percent). The company has strong financial ratios including fixed-rate debt to total debt of 79.2 percent, unsecured debt to total debt of 57.7 percent, debt to total assets of 44.8 percent, and fixed charge coverage of 2.3x. Weingarten enjoys investment grade ratings of BBB Stable (S&P) and Baa2 (Moody's).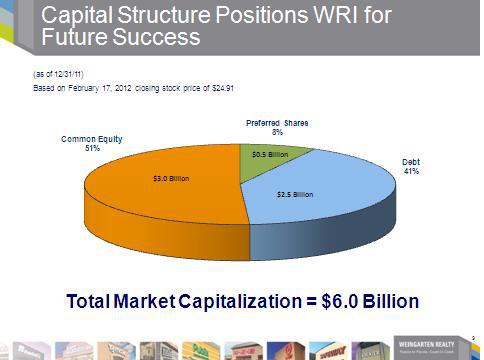 In addition, Weingarten has well managed debt maturities with around $433 million of capacity under its revolver and anticipated new proceeds of around $375 million when the DRA transaction closes this year.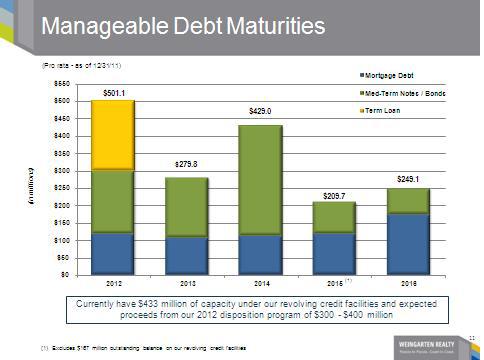 Weingarten - A Snowball in the Making
Building a circle of competence is important for investing and Weingarten appears to be sticking with its roots of being a dominant grocery and necessity-based REIT. By selling off non-core assets, Weingarten will be in a better position to grow its brand and enhance occupancy and FFO.
Weingarten appears to be under-valued (13.4x P/FFO) and the 4.6 percent dividend yield is in line with the peer shopping center REITs. The announced industrial dispositions and projected retail dispositions should reduce leverage and provide for strategic core market acquisitions that will further enhance FFO and dividend growth.
As Warren Buffett once said, "Life is like a snowball, all you need is wet snow and a really long hill." Weingarten's snowball (circle of competence) is beginning to grow and this namesake REIT should provide investors with an attractive dividend (4.6 percent) and strong capital appreciation - collectively making this a valuable addition to your SWAN (sleep well at night) portfolio.
Peer Group (and see links of articles that I have authored) includes Excel Trust (EXL), Kimco Realty (KIM), Regency Centers (REG), Retail Oopportunity Investment Trust (ROIC), Federal Realty (FRT), and Equity One (EQY).
Weingarten's first quarter 2012 earnings will be released, after the market closes, on Tuesday, May 8, 2012.

Disclosure: I have no positions in any stocks mentioned, and no plans to initiate any positions within the next 72 hours.