Beginning in the 4th quarter of 2011, Nissan's (OTCPK:NSANY) CEO Carlos Ghosn has proclaimed that the automaker will seek to hold at least 10 percent of U.S. sales nationally (and in every major region of the country) within three years. A leading reason for Ghosn's aggressive forecast is the momentum that the brand hopes to receive from multiple upcoming launches (e.g., Altima, Sentra, Pathfinder, and JX).
To provide further credence to Ghosn's aggressive forecast, Nissan's share of U.S. sales has steadily increased since 2009. During that timeframe, Nissan's share has increased from 7.4% to 8.2% (see chart below – click to enlarge).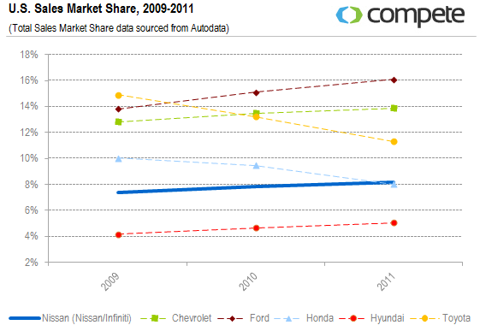 Nissan's increase in share was driven by sales increases of 18.0% Y-O-Y in 2010 and 14.7% Y-O-Y in 2011. Assuming that the automotive market continues to increase to recent industry forecasts of 16 million vehicles by 2014[1], Nissan will have to sustain an equally torrid pace to reach 10% share. For example, to reach a target of 1.6 million unit sales in 2014, Nissan will need to have continued sales increases of 15.3% through 2014 (see table below).

To truly understand if Nissan can meet its aggressive forecasts, it is necessary to first understand Nissan's ability to generate consumer demand for their models and ultimately how effective they are in converting that demand into sales. This analysis leverages Compete's proprietary in-market automotive shopper metrics, which are based on unique consumers (i.e., no double-counting of consumers doing the same activity more than once in the same month). Those metrics in turn leverage Compete's patented normalization technology.
2009-2011 Demand: From 2009-2011, Nissan's demand (shopper volume) increased by 21% from an average monthly shopper volume of 296,000 in 2009 to 359,000 in 2011 (see chart below). However, in that same period, the market grew 38%. As a result, Nissan's Share of Market Interest decreased from 13.4% to 11.8% during the same time period (not shown). Share of Market Interest (SMI) is the percentage of all in-market shoppers that considered a particular make. For comparison, Ford led the market in 2011 with an average monthly SMI of 20.0%.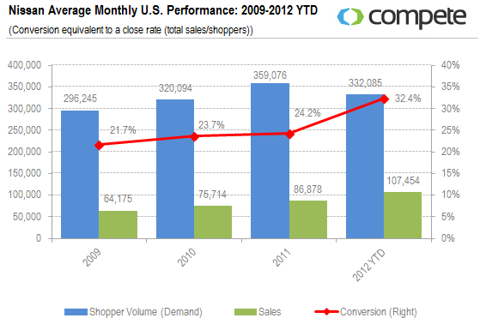 2009-2011 Conversion: While Nissan's demand increased substantially from 2009-2011 its conversion rate (total sales/shoppers) trended up at a slower pace. Nissan's average monthly conversion rate in 2011 was 24.2%, slightly higher than 21.7% in 2009. For comparison, Ford had one of the highest average monthly conversion rates in 2011, at 28.0%.
2012 YTD Demand and Conversion: For the first three months of the year, Nissan sales have increased by an average of 20,576 units per month vs. 2011 performance. While the increase in sales from 2009-2011 was largely driven by demand, the inverse has been true for the first three months of 2012. Nissan's monthly conversion rate has increased to 32.4% from 24.2% in 2011, while demand has trended in the opposite direction.

While Nissan has had fewer shoppers per month, it has been able to convert them into sales at a significantly greater rate in 2012. Although inventory levels are rebounding to pre-recession levels it has not singlehandedly been the reason for the sales and conversion increase in 2012. Instead, a key driver of Nissan's sales and conversion improvement has been due to an increase in incentive spend per sale, up 15%[2] Y-O-Y (1st quarter 2012 vs. 1st quarter 2011). In comparison, the market-wide incentive cost per sale declined 1% during the same timeframe (see adjacent table).
To summarize, Nissan's 2012 YTD average monthly shopper volume and conversion rate equates to approximately 1,289,444 annual total sales[3] (107,454 *12), and would exceed the pace needed to reach 10% market share by 2014. So in essence, Ghosn's goal is realistic. However, what is not so certain is how long the pace can be sustained without demand increasing and if it will be cost effective.
Looking Ahead: As Nissan's upcoming launch periods near, Compete will be watching for the following:
The ability of Nissan to capture spillover demand from rivals' tactics
Optimized ad and incentive spend (based on spend per shopper/conversion point)
If Nissan will redistribute spend among vehicles to maximize sales objectives
How Nissan and competitive demand performance will vary weekly and monthly
How Nissan and competitive demand and conversion performance will vary by geographic region