Chesapeake Energy (NYSE:CHK) has published a response to the Reuters article on its website. The company managed to clear up a few key points:
Chesapeake's CEO, Aubrey McClendon, is obligated to participate in every well as part of the terms of the Founders Well Participation Program (FWPP) and does not have the ability to cherry-pick wells.
McClendon does not receive any loans from Chesapeake affiliates but rather, lenders who also do business with CHK, in particular, EIG, who also is a major investor in Chesapeake's CHK Utica LLC.
Chesapeake may be the only large-cap public company to offer well participation as part of compensation. The company's response indicates at least one other traded company offers a similar program but is not named. This suggests programs similar to the FWPP are probably inappropriate for companies of Chesapeake's size.
The company asserts that its operator rights will supercede any claim lenders like EIG may have should McClendon default on his loans.
The company continues to assert the FWPP, approved by shareholders in 2005, aligns McClendon's interests with investors but it certainly has not paid off for shareholders judging from the stock price: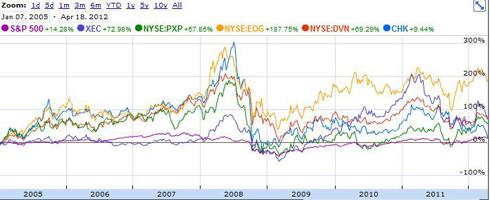 As evidenced in the chart, CHK's 9% return since 2005 trails the broader market's 14% and grossly lags behind peers like Devon Energy (NYSE:DVN), EOG Resources (NYSE:EOG), Plains Exploration (NYSE:PXP) and Cimarex Energy (NYSE:XEC), who registered returns between 58% to 178% in that same period.
It is clear the FWPP has failed as an incentive program. Not only has it produced inferior long-term shareholder results, it does not align the CEO's interests with shareholders and contrary to the company's assertions, McClendon's offloading of risk via his loans creates possibilities for serious and very real conflicts of interest.
Yesterday, I wrote that investors were overreacting to the story by dropping the stock 10%. While I still believe that now is the wrong time to sell the stock, it is clear these loans present a more serious concern than I first thought. Forbes published an article detailing possible conflicts such as Chesapeake competing with its own CEO for debt capital, a definite concern for a heavily indebted company, but in my mind, it goes even deeper than that.
As I wrote in a previous article, from FY 2006 to FY 2010, McClendon oversaw 15% average annual equity dilution. Of course, even as shareholders' interests in these assets were being diluted, McClendon's 2.5% stake in the FWPP wells remained whole. During this same period, the company zealously, perhaps even recklessly, engaged in a leasing and drilling campaign with 2.5% of each new well becoming another personal asset McClendon could profit from at little financial risk to himself. That this expansion was financed in no small part by diluting shareholders presents an obvious conflict of interest.
Why has Chesapeake been so adamant about drilling in the last few years, even when it lacked a decent financial safety net and gas prices tanked? Since McClendon can borrow against his FWPP stakes basically risk-free -- remember, the stakes serve as collateral so McClendon would simply lose his interest in wells he never paid for, not unlike an underwater homeowner walking away from a non-recourse, interest-only home mortgage -- it becomes clear the more wells CHK drills, the better for McClendon's personal portfolio even if it jeopardizes the company's financial stability, not to mention shareholder interests.
In this light, Chesapeake's incessant need to drill and monetize only to find new plays to drill and monetize could easily be construed as a CEO's attempt to enrich himself, even at the expense of shareholders. Frankly, McClendon has lost the benefit of the doubt and investors may be prudent to assume his personal profit motives may be primary over his corporate duties. After all, we're talking about $1.1B, a heady sum even for today's overpaid CEOs.
The whole point of the FWPP was to further align McClendon's interests with shareholders, partly by forcing the CEO to buy in his 2.5% stake, even paying for capital expenses upon invoicing, unlike JV partners. But deft old Aubrey managed to neatly sidestep the pesky inconvenience of having to actually put any money in by taking out the controversial loans in question.
By mortgaging his FWPP stake, McClendon perverted an already overly generous incentive program designed to further align his interests with shareholders into a lucrative, risk-free perk worth apparently $1.1B to date. This dynamic is laid out in the same Pittsburgh Post-Gazette article linked to in the Chesapeake response:
It's a win-win situation for Mr. McClendon: Drill a profitable well, and the loan is easily paid off and well profits go to Oklahoma City-based Chesapeake. If the well doesn't produce or isn't drilled, the only collateral jeopardized is oil and gas interests...
While Chesapeake's public response was needed, it ultimately fails in what I would assume to be its main purpose: easing investor concern. In fact, the defensive and disagreeable tone along with the lack of details regarding the actual issue at the heart of the story -- McClendon's loans -- only serve to reinforce the image of a self-serving corporate management that only pays lip service to caring about its shareholders.
At this point, McClendon can no longer hide behind the cover of personal privacy but must address this issue head-on and with full transparency. Perhaps even something good, like a new CEO or a truly independent Board, may come out of this.
Disclosure: Long CHK preferred D shares.