On March 23, 2012 I wrote an article providing analysis for Chinese ADRs. Since then, I have updated the primary data used in the analysis to include more ADRs as well as additional information as requested by comments received.
The primary focus of the first article was to provide data and information that would allow readers to better understand the risks involved with Chinese ADRs as well as highlight performance. In reviewing the data, there were several key themes highlighted.
There seemed to be a majority of better performing ADRs which began trading prior to 2005. There were other correlations with stronger performance including national-trading ADRs, technology-focused ADRs, and ADRs with market capitalizations larger than $1 billion.
The original list of ADRs was roughly 115 companies. The revised list has been expanded to 174 ADRs. Other additions to the information include whether or not the ADR developed through a reverse merger, whether the ADR had underwriters and who the underwriters were, and what global exchanges the ADR trades on. The performance of each ADR is compared to the closing price as of April 13, 2012. The revised data table is displayed below: (Click to enlarge)
Items readers should consider are ADRs that were formed through reverse mergers or have "No Underwriters". Many of these companies either began trading on an over-the-counter (OTC) market before being listed on a major exchange such as the NASDAQ or NYSE Amex, or currently are trading on an OTC market. This will explain some of the unintuitive historical price information. For example, some ADRs may currently be trading low relative to all time highs, but still have a long-term positive performance based on their inception price.
Similar to the last article, all bold ADRs have been acquired, delisted and have no data, or no longer trade on a U.S. exchange or market.
One new finding has been a strong connection between lesser known underwriters being used for ADRs who have performed very poorly or no longer trade actively. ADRs such as China Century Dragon Media (CCDM.PK), China Intelligent Lighting & Electronics (OTC:CILE), China Media Express Holding (OTCPK:CCME), Funtalk China (NASDAQ:FTLK), and Tri-Tech Holding, Inc. (TRIT) included underwriters who were not as well known as traditional investment firms.
Unfortunately, this connection does not lend itself solely to less familiar underwriters. Many well known firms have been subject to some of the poorest performing ADRs on the list. Longtop Financial Technologies, which had its entire value wiped out, was underwritten by Goldman Sachs Asia, Deutsche Bank, and Jeffries & Co.
Of the 174 ADRs, 69 had an identifiable underwriter. It is important to note that some ADRs have an "N/A". The source used for historical review of underwriters was the Securities and Exchange Commission (SEC). Some ADRs did not have historical records going back to a prospectus. In this case a majority, if not all, ADRs may have had a conventional IPO process. Most of these companies would probably have had an identifiable underwriter. This would increase the total from 69 to 85.
The updated information parallels the first article's analysis in that many of the same ADRs being national Chinese companies, technology-based ADRs, etc. maintain the best performance. Top performing examples include:
Baidu, Inc. (BIDU) - 1,136%
(Click to enlarge)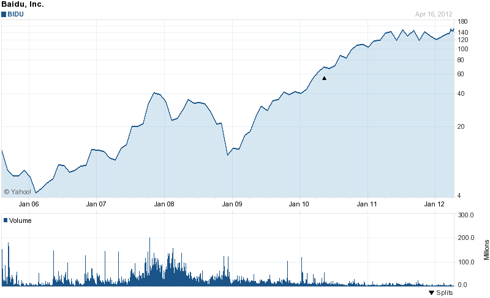 China Mobile Limited (CHL) - 881%
(Click to enlarge)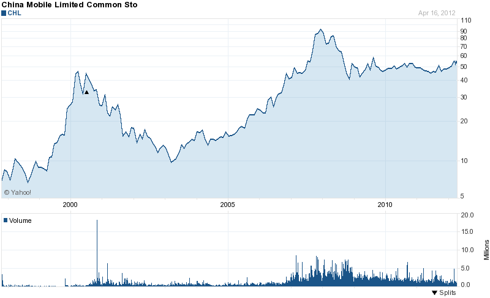 CNOOC, Limited (CEO) - 1,660%
(Click to enlarge)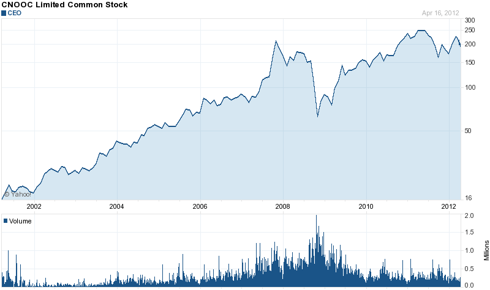 Netease, Inc. (NTES) - 1,781%
(Click to enlarge)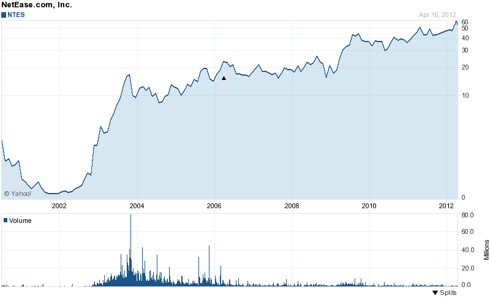 PetroChina Co. Ltd. (PTR) - 1,027%
(Click to enlarge)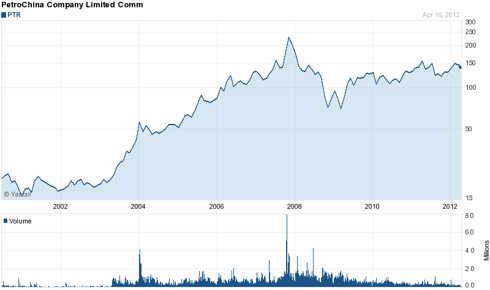 Yanzhou Coal Mining Co. Ltd. (YZC) - 1,566%
(Click to enlarge)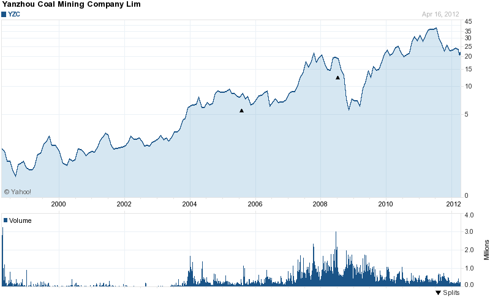 By contrast, reverse merger ADRs and a majority of ADRs which began trading after 2005 have performed poorly:
A-Power Energy Generation Systems (NASDAQ:APWR) - (96%)
(Click to enlarge)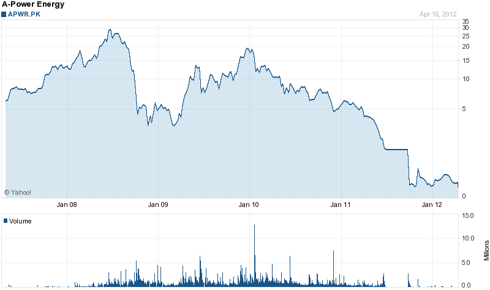 China Electric Motor (OTCPK:CELM) - (98%)
(Click to enlarge)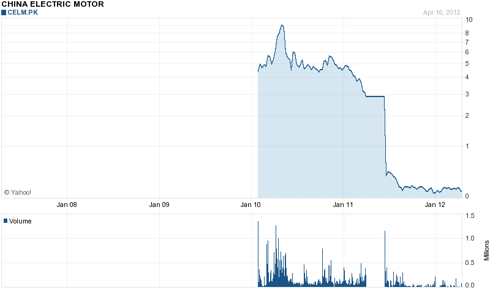 China Unicom Limited (CHU) - (6%)
(Click to enlarge)
E-Commerce China Dangdang (DANG) - (66%)
(Click to enlarge)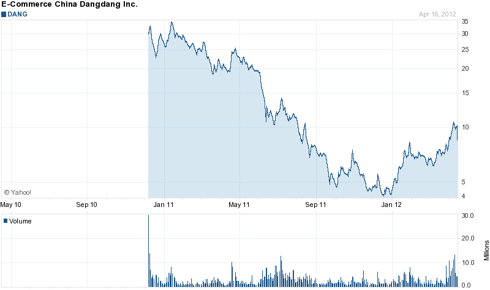 Agria Corporation (GRO) - (91%)
(Click to enlarge)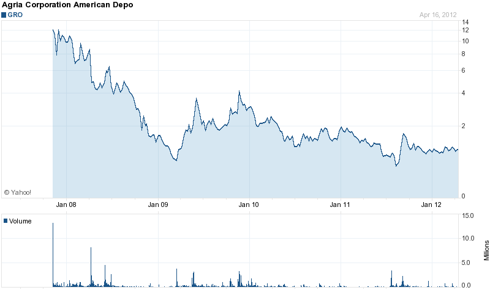 Renren, Inc. (RENN) (59%)
(Click to enlarge)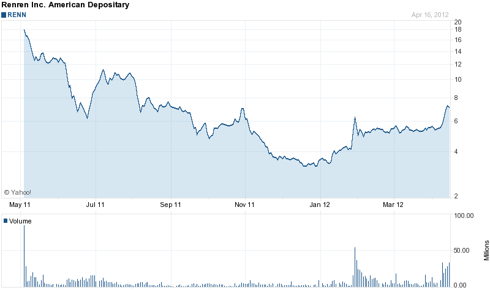 Again this information serves as a starting point to assess Chinese ADRs. The majority of these ADRs will continue to be extremely volatile. DANG provides an excellent example based on April 16th's information regarding the resignation of the CFO and corresponding 15% one-day price drop.
As always, past price performance is no guarantee for future performance.
Disclosure: I am long ASIA, BIDU, CISG, CRIC, CTRP, DANG, JOBS, NTES, RENN, SFUN, SINA, SOHU.