"Our favorite holding period is forever." -Warren Buffett
Despite his reputation for "buy and hold forever," billionaire Warren Buffett said last week that his company, Berkshire Hathaway, had sold all shares of PetroChina Co. Ltd (NYSE:PTR), a Chinese oil conglomerate.
Activists had urged Buffett to sell his PetroChina shares due to the world's second largest companies ties to strife-torn Sudan via Petrochina's parent company, China National Petroleum Corp.
Despite vocal activist shareholders in support of this divestiture, Buffett insisted in an interview on the new Fox Business Network [FBN] the decision to sell was driven by valuation.
If it went down a lot I'd buy it back.
Buffett told Rupert Murdoch's FBN that the recent price gains of PetroChina's shares means he sold too soon and "left a lot of money on the table."
Buffett said Berkshire Hathaway made as much as $3.5 Billion dollars on the initial $500 million investment. As of July 2007, Berkshire Hathaway owned 11 percent of the publicly traded shares.
Berkshire bought PTR in 2003. Friday PTR closed at $232.98 after peaking at $266.81.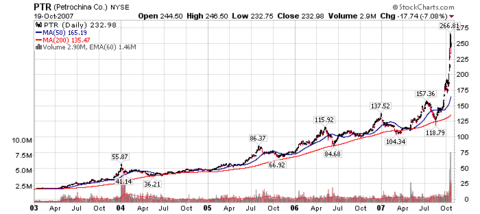 Disclosure: none