No, this isn't a next generation chip from Qualcomm (QCOM). After the bell, Qualcomm reported Q2'12 results that handily beat estimates, but the company provided disappointing guidance for Q3'12. Naturally this disappointed investors to the tune of an initial 5% loss in after hours trading. Should investors react negatively to such guidance or blow it off as management sandbagging?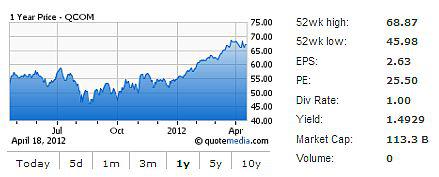 It has become commonplace in the technology world to provide off-the-wall pessimistic guidance in order to not disappoint investors when actual results are reported. The end effect though is that investors get hurt in the process of having a stock sold off following earnings.
This appears to be the norm for tech stocks whether born out of the tech collapse in 2000 or due to the success of Apple (AAPL) with a history of guiding below reality. Why not follow the leader?
Based on reviewing the Q1'12 earnings report and reviewing the original guidance for Q2'12 from that report, investors should understand how far below earnings management originally guided. A repeat of this for Q3'12 would ultimately provide for numbers that would beat the current analysts expectations.
Q212 Numbers:
Original Q1'12 report:
Revenues were expected between $4.6B - $5B or an increase of 19-29% over 2011.

Non-GAAP diluted earnings per share of $0.91 - $0.97 or an increase of 6-13% over 2011.
Actual Q2'12 report:
Revenues: $4.94 billion, up 28% y-o-y and 6% sequentially.

Net income: $1.76 billion, up 21% y-o-y and 5% sequentially.

Non-GAAP diluted earnings per share: $1.01, up 17% y-o-y and 4% sequentially.
Q3'12 Numbers:
Q2'12 report guidance:
Revenues are expected between $4.45B - $4.85B or an increase of 23-34%.

Non-GAAP diluted earnings per share of $0.83 - $0.89 or an increase of 14-22%.
Analyst estimates:
Revenue of $4.8B

Non-GAAP diluted earnings per share of $0.90
Assuming Qualcomm repeats the level it hit for Q2'12 compared to original guidance, investors should expect a Q3'12 number right around $4.8B and maybe $0.92 - $0.93 EPS. Otherwise, the company would handily beat these original estimates.
Maybe this is the quarter that Qualcomm isn't sandbagging guidance, but recent history suggests that the presented numbers aren't reasonable. Companies shouldn't provide a revenue range that isn't exceeding, but then easily exceed the high end of earnings.
Sandbagging isn't helpful for investors.
Disclosure: I am long AAPL.
Disclaimer: Please consult your financial advisor before making any investment decisions.