Intel Corporation (NASDAQ:INTC) posted strong numbers for its first quarter of 2012 on Tuesday, with EPS of .53 which beat the street's expectations of .50 by 6%. Revenue also beat by a significant margin. Despite what naysayers have been arguing, Intel is posting sustainable growth despite the stagnation of the PC industry.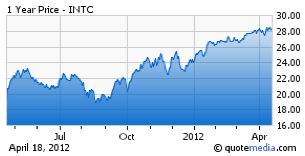 Despite the company's stranglehold in semiconductors, more bears have come out claiming that Intel's struggles in the next few years are too significant to ignore, and the fact that the stock has rallied so sharply means it's too late to buy.
In the headlines, one can note that Intel is consistently bombarded by anti-trust and other similar types of marketing lawsuits in a variety of major markets. This often includes Advanced Micro Devices (NASDAQ:AMD), which has rallied about 60% since November on stronger guidance and a blowout quarter from the last holiday season.
Intel has been able to fend off the legal battles with proficiently in recent years, although a bigger problem has been chomping on their market share with increasing momentum. Apple (NASDAQ:AAPL) has broken $600/share with a lot of help from the incredible sales growth of the iPad, which is a direct competitor to Intel's traditional business. A lot of bears have used this to associate Intel with the decline of the PC industry, but if Apple has been crushing the consumer electronics market how can we explain Intel's ~50% rally since the beginning of 2010?
The simplest explanation is that we underestimated the growth of semiconductor demand, even if we were right about the rise of mobile consumer electronics. Intel's revenues have been rising consistently since 2009, while earnings have skyrocketed consistently on vastly improved margins. In just about every quarter since 2009, analysts have undershot their expectations of INTC EPS.
In addition to the surprising resilience of semiconductor demand, Intel has huge potential in markets outside of the PC industry. The server market, which has been exploding as a result of IT spending, has benefited the company immensely. The next generation of televisions is also expected to require more powerful processors, and I don't think Intel's full potential in the mobile market has been accounted for to any respectable degree. Is it possible that Intel's existing business with Apple could be expanded to the point where Apple's mobile devices use Intel chips? It's not out of the realm of possibility, especially if Intel can leverage its manufacturing side to offer a more competitive cost structure than ARM Holdings (ARM) to capture the iPad market, for instance.
In addition to processing potential in the mobile market, the purchase of McAfee provides a way to tap into the security features that will be introduced in future generations of the iPhone/iPad or Android devices.
Now that the growth potential has been established, I'd like to point out that the dividend has also been increasing rapidly on incredibly strong earnings growth as well. Here are the last 9 quarterly EPS results which show a clear trend towards the upside.
Quarter

Q1 2010

Q2 2010

Q3 2010

Q4 2010

Q1 2011

Q2 2011

Q3 2011

Q4 2011

Q1 2012

EPS

.43

.51

.52

.59

.56

.54

.65

.64

.53
There aren't any apparent signs of stagnation here. Despite its significant rally in recent months, I think that shares of Intel could easily hit $33 to $35/share before the end of the year assuming the stock market doesn't take any dives. If Intel can manage to work itself deeper into the mobile market somehow, we could see much higher.
Disclosure: I have no positions in any stocks mentioned, and no plans to initiate any positions within the next 72 hours.