With the market near bull market highs, shares of Newfield Exploration (NFX) are scraping lows not seen since July of 2009 when economies were emerging from deep recession. Three years ago, most E&P's were still touting their individual success in the natural gas land grab. Today the same companies are chasing oil and liquids production growth.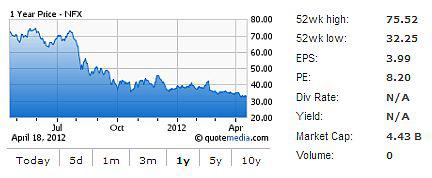 Down from $75 a share a year ago, currently Newfield trades for $33. First Newfield shares sold down in the wake of the U.S. debt downgrade market sell-off last summer. In October, Newfield lowered 2011 production guidance and shares were hit hard. Then in February, Newfield gave full year 2011 results and 2012 guidance and investors sold the shares with abandon again.
Newfield's 2011 cash flow of $1.55 billion compares well with a market cap of $4.35 billion. Revenues in 2011 were $2.5 billion with a P/E in the single digits. The present value of Newfield's PV-10 is $6 billion after-tax. Note that manageable long-term debt of $3.0 billion does steal some luster from the appealing valuation. Sector heavyweights EOG Resources (EOG) and Anadarko Petroleum (APC) sport much higher valuations, while Newfield is further along the transition from natural gas to oil. Peers Plains Exploration (PXP) and Whiting Petroleum (WLL) have meaningfully higher market caps and significantly lower production than Newfield.
In 2012, Newfield expects to increase oil production more than 20%. Newfield is not doing any dry gas drilling. All new natural gas production will be associated gas from oil and liquids activity. Therefore Newfield anticipates natural gas production to fall up to 15%. With the oil to natural gas ratio off the charts Newfield is chasing profits and revenue growth over mere natural gas BTU growth.
Later this year Newfield's oil production will surpass its natural gas production. This milestone will cause investors to take note of Newfield and its prospects. Expect natural gas to still be depressed at that time and oil to still be king.
Newfield reports first quarter results next week and has its conference call before the market opens Wednesday April 25, 2012. After severely disappointing the market the last two quarters, investor expectations are low. Managements who disappoint expectations often learn to under-promise and over-deliver. Perhaps Newfield's management has worked hard to avoid another disaster. Perhaps the combination will allow the shares to rebound.
Disclosure: I have no positions in any stocks mentioned, but may initiate a long position in NFX over the next 72 hours.