The Portuguese incumbent telecom company, Portugal Telecom (NYSE:PT), currently offers the best shareholder remuneration within the European telecom sector. PT's share price tumbled by more than 40% over the last year, increasing the dividend yield to its current 17%.
Regarding PT's dividend sustainability, see my previous analysis on "Portugal Telecom: Is the 16% Yield Sustainable?".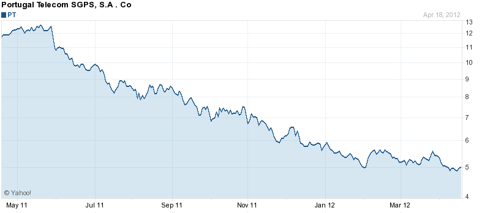 Source: YahooFinance
PT relies on the domestic cash flow generation and dividends paid by foreign subsidiaries to cover its own dividend commitment.
PT has a direct shareholding of 15.5% in Brazilian company Oi S.A., that recently increased its dividend policy for the period 2012-2015 (fiscal years 2011-2014). The dividend policy approved consists of the payment of a 2 billion reais ($1.1bn) dividend for each year. This dividend is conditional upon a maximum net debt to EBITDA ratio of 3x for Oi. According to this dividend policy, PT will receive around €130m annually from its direct stake in Oi.
Conclusion
This dividend policy from Oi is positive for PT, and can dissipate some fears of a dividend cut. Next month PT will pay €0.435 to shareholders (ex-dividend date 22 May), after the interim dividend of €0.215 paid last December.
The shares are trading near all time lows and with an undemanding 8.7x forward P/E ratio. At current price levels, downside risk seems limited, unless a worst-case scenario of a Portuguese default materializes.
Disclosure: I have no positions in any stocks mentioned, and no plans to initiate any positions within the next 72 hours.