Consumers worldwide are becoming increasingly environmentally aware—and that awareness is affecting the products they purchase, from the hybrid cars cruising quietly around town to the compact fluorescent bulbs efficiently illuminating houses across the country. PowerShares Cleantech Portfolio (NYSEARCA:PZD) aims to position itself to benefit from the trend.
A recent report by Dow Jones VentureOne and Ernst & Young found that global venture capital invested in the clean technology industry has grown 35% since 2006 and now totals more than $1.1 billion. Investor enthusiasm has spread to the public markets, powering PZD to a year-to-date return of more than 30% as of October 12. That performance, which ranked in the top percentile of Morningstar's small-growth category, brought PZD to number two on the Sector Momentum Table recently, though it slipped back to number five last week. The strong showing isn't a new development: PZD has existed for only one week short of a year, but the fund spent the last seven months on the Sector Momentum Table.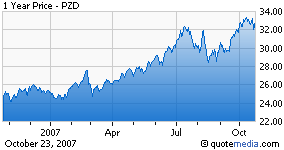 PZD tracks the Cleantech Index, which includes companies from a broad range of sectors that are leaders in clean technology innovation. Holdings in PZD include stocks of biofuel producers, wastewater-treatment firms, transportation companies, energy storage manufacturers, and many other types of businesses that produce and commercialize products supporting environmental sustainability. Although PZD may share its philosophical foundations with clean energy funds such as PowerShares WilderHill Progressive Energy (NYSEARCA:PUW) or PowerShares WilderHill Clean Energy (NYSEARCA:PBW), it offers a very distinct, and much broader, take on green investing.
The Cleantech Index focuses keenly on companies with innovative and emerging technologies, so most of the stocks that occupy the index are shares of very small cutting-edge firms. The benchmark won't include stocks with floating market caps of less than $150 million, but nevertheless, PZD recently held nearly 12% of its assets in microcaps and its portfolio's average market capitalization stood at just $2.77 billion. That said, not all of the fund's holdings are tiny: Number six holding Corning, a maker of fiber- optic cables, among other things, has a market cap of nearly $40 billion.
The clean technology industry is likely to benefit from the race to develop low-carbon and carbon-free technologies that can reduce the global economy's reliance on fossil fuels and therefore the risk of severe global warming. Technologies designed to curtail car- bon emissions, increase energy efficiency and prepare for the effects of global warming are proliferating around the globe, in many cases spurred by govern- ment regulations and subsidization. Another reason for the surge in clean technology investments: Companies and consumers are getting tired of paying the energy bills that come with $80-per-barrel oil.
Clean Edge research predicts that such alternative fuels as biodiesel and ethanol will grow into a $52.5 billion industry by 2015, up from $15.7 billion in 2005. Similarly, the firm predicts that sales of solar photovoltaics, an $11.2 billion industry in 2005, will nearly quintuple by 2015 and wind power sales will grow from $11.8 billion in 2005 to $48.5 billion in 2015.
Clean energy stocks such as top two holdings First Solar (NASDAQ:FSLR) and SunPower (NASDAQ:SPWR) have a large presence in PZD's portfolio, but the industrials and information technology sectors dominate the fund. Although nearly every company in which PZD takes a stake concerns itself with energy, only 1.11% of the fund's assets resided in the energy sector as of October 15, according to PowerShares. Industrial stocks such as First Solar accounted for more than half of assets, while technology shares made up more than a quarter of the portfolio.
PowerShares picked a good time to inaugurate a clean technology fund. The industry has soared this year, with First Solar in the lead with an astonishing 352% year-to-date gain as of October 15. The firm is rapidly expanding its production capacity and has signed numerous contracts recently, including deals with several major European clients. SunPower, which has inked a deal with Wal-Mart to explore converting many of the retail giant's stores to solar power, jumped 147% during the same period.
The clean technology industry currently appears to have everything going for it—from powerhouse stock returns to high energy prices to political correctness. But while our economy is almost inevitably headed in a more environmentally sustainable direction, there's no way of telling which of the many emerging technologies will succeed and which will go the way of the plug-in electric car. Moreover, unexpected challenges are bound to arise for this brand-new industry. Take, for example, ethanol firms, which recently were caught off guard by the narrow distribution channels — or solar-power companies, which have had to absorb rocketing silicon prices. These sorts of obstacles could prove devastating for some of the small, narrowly focused companies in which PZD tends to invest. Still, PZD may offer an early entrance to the wave of the future—so intrepid investors may want to hold a small stake here.