Bolt Technology (AMEX: BTJ) shoots the ocean floor with powerful and precise air guns to uncover deep beds of oil. The company's seismic attacks have pushed it to the pinnacle of the marine gun market, and business is enjoying a surge of ocean exploration.
Incorporated in 1962, Bolt invented the marine air gun in 1963. Thirty years later, the company introduced the long-life marine air gun, which now is the most widely used air gun for marine exploration. Bolt recently added the annular port air gun to its arsenal, which has more output than other guns.
Operating in two business segments—geophysical equipment and industrial products—the company's fortunes mirror the value of oil. Geophysical equipment, which makes up about 90% of revenue, includes developing and selling seismic energy sources, such as guns, underwater electrical connectors and cables, hydrophones and other industry gear. The industrial products division sells precision pneumatic clutches, brakes and small motors.
Air guns drive the company. The guns thrust waves into the earth that detect variations in underlying rock. Deviations are sent back to ship as reflected energy and the seismic signals are read on board by a hydrophone and analyzed by geoscientists.
Because it's so costly to drill oil and gas wells, decisions on whether or where to drill are critical. Energy explorers have become increasingly willing to pay higher upfront costs to raise success rates and advanced seismic survey technologies have become a significant exploration risk management tool. Three-D—and even 4-D—techniques are gaining in acceptance; the accuracy and reliability of Bolt's air guns make them especially valuable for use in these surveys. They are encouraging some customers to retest areas that they'd previously given up on.
"Bolt's marine air guns have been the industry standard for years because of their precise shot-to-shot repeatability," wrote oilfield services analyst Neal Dingmann of Dahlman Rose and Co. in July, when he initiated coverage of the company at a "hold" because of valuation. He expects Bolt's sales of new guns and replacement parts to increase—the more guns sold, the more need for new parts.
The price of the guns is a meaningful variable. Seismic exploration vessels may tow 60 to 70 air guns along with multiple hydrophone streamers of 6,000 to 10,000 meters in length. The guns cost between $9,000 and $28,000 each—the average price is $11,000 to $12,000. Price increases are expected because of the demand for oil, a lack of new entrants into the market and capacity-constrained existing suppliers.
Oil demand projections are another plus for Bolt. The 2007 World Energy and Economic Outlook projects total world energy consumption will increase 57% from 2004 to 2030. By 2015, consumption will rise 25% percent to 559 quadrillion from 447 British thermal units (Btus) in 2004.
Bolt, with 72% of sales overseas in fiscal 2007 ended June 30, should benefit too, because demand for oil will grow fastest in non-OECD countries, including India and China: non-OECD Asia demand is projected to grow at an average rate of 3.2% per year, more than doubling over the 2004 to 2030 period. In Central and South America, energy consumption will rise at average annual rates of 2.4%. In the Middle East and Africa, the annual rate is projected at 2.3%.
Says Standard and Poor's: "Overseas, we expect that higher spending by major oil companies and state-owned oil companies will be the main growth driver for drilling, as they continue to search for low-cost drilling opportunities, mainly in new regions around the world, with greater emphasis on the deepwater."
After a slowdown in 2003, seismic spending increased to $7.0 billion in 2006—up a compound annual rate of 16% from 2004, according to another industry source. Because 70% of the earth's surface is water, this segment will stay strong to Bolt's benefit.

Bolt also expects growth to continue in fiscal 2008 because of the continued imbalance between supply and demand for hydrocarbons, low reserve replacement rates and high commodity prices. The company says in its annual report that it sees increased use of technologies such as 4-D and wide-azimuth surveys, which can more effectively manage proven reservoirs.
Bolt already has taken its share of gains from the rush of marine exploration. Revenues have more than tripled to $50.5 million in fiscal 2007, from $14.8 million in 2004. Earnings are up more than ten-fold over the same period, to $1.87 per share from $0.16. For the fourth quarter, revenues increased 61% to $15.5 million and earnings were up 109% to $0.60.
Strong fundamentals, strong balance sheet: working capital on June 30 was $26.9 million, an increase of 79% year over year. Bolt has no long-term debt.
And the company's returns have led the industry. A $100 investment in 2002 turned into a $1,087 gain by the end of fiscal 2007. Value Line's Oilfield Services Industry would have returned $387, according to the company's annual report.
As of Friday's close, Norwalk, Conn.-based Bolt, with a market cap of $233 million, is up 83% year to date. Bolt's air guns compete directly with a unit of $9.0-billion-market-cap Paris-based CGG Veritas (NYSE: CGV), which is up 50%. CGG is also a large customer of Bolt's, accounting for 19% of sales in fiscal 2007.
ION Geophysical (NYSE: IO), formerly called Input/Output and a chief competitor, is up 7%. Smaller caps Mitcham Industries (Nasdaq: MIND), which sells seismic equipment—including Bolt guns—is up 71%. And TGC Industries (AMEX: TGE), which operates in the U.S. conducting 3-D surveys and supplying seismic data, is up 37%.
Bolt's extravagant advance has kept many investors from buying shares, waiting instead for momentum traders to exit and for calmer hands to enter. Volatility has been ballistic, but a reasonable valuation may be near: Bolt hit a 52-week high of $59.35 in early July and Friday's close at $40.76 marks a 46% pullback. It also puts Bolt's P/E at 13 based on the average of two analyst earnings of $3.13 for fiscal 2008. Bolt shares closed at $38.33 on Monday.
Dahlman's Dingmann is not yet convinced on the valuation issue. He still has a "hold" on BTJ, and sid in a Sept. 21 note that the stock—having at that point sold off to the mid-$30 level—is relatively fairly priced.
"We believe seismic should warrant a premium to the other oilfield services because of sector leading growth, and we believe Bolt should warrant a premium to its peers because of its leading growth rate," Dingmann said.
Speaking with SmallCapInvestor.com Monday, when shares dropped midday below $40, Dingmann said: "We do believe the growth for the company is there, provided they have enough capacity"—a concern for any company, particularly a small cap, in the industry. "There is no question they have the best gun out there," Dingmann added, noting too that he likes Bolt's management.
Fasten your seat belts. Even with the top gun on your side, it's going to be a bumpy ride.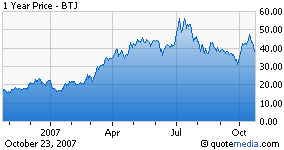 Disclosure: none