Randgold Resources (GOLD) maintained its production guidance for 2012 despite the recent political unrest in Mali. Mali is important to Randgold due to heavy reliance on the Loulo-Gounkoto complex in the western portion of the country; these mines are expected to represent over 50% of Randgold's production in both 2012 and 2013. Recently the company stated there was no material disruption to production and that fuel and other consumables remained available.
The recent unrest drove the stock price down 25%. However, fears surrounding the unrest may prove unfounded. Seeking Alpha contributor Michael Allen explained the volatile political situation well in his recent article "Randgold And The Secret To Successful Contrarian Investing." We agree with Allen's assessment of the effects of the political situation on Randgold and believe the recent pullback is an opportunity to enter a fundamentally strong company at a discounted price.
Fundamentals
When compared with other gold miners, Randgold has a relatively high P/E ratio at 21. However, growth in production is rapidly increasing earnings and the company compares more favorably on a PEG ratio basis. Production was up 58% in 2011 and the company predicts a 19% production increase this year. This trend should continue for the mid term. For comparison basis, the chart shows forward P/E ratios for Newmont (NEM), Barrick (ABX), and Goldcorp (GG).
| | Forward P/E | Total Debt/Equity |
| --- | --- | --- |
| Randgold | 12 | 1.1 |
| Newmont | 8.5 | 27 |
| Goldcorp | 12 | 3.4 |
| Barrick | 6.8 | 52 |
Source: Yahoo Finance
Randgold also performs favorably when one considers the strong cash and low debt position compared with its peers. Randgold has a current net positive cash position of $450 million, representing over 5% of its market cap. This is in stark comparison with the aforementioned Newmont, Barrick and Goldcorp, who each service 100s of millions of dollars of debt. See chart above for a rough estimated of the total debt/equity for each company.
Key Assets: Loulo-Gounkoto, Tongon and Kibali
Randgold operates two major mining complexes and has a third under development/construction. The first and most important complex is Loulo-Gounkoto in Mali. Loulo and Gounkoto are separate mines 25 km apart; ore from Gounkoto is processed at the Loulo plant. Combined the two mines yielded 346,179 ounces at a cost of $822/oz. in 2011. Interestingly, costs declined in the fourth quarter to $636/oz. Costs were driven down by increased throughput and, more importantly, by running a high percentage of gold rich ore from the Gounkoto mine. The company is working to continue these trends by adding a third mill and commissioning additional specialized trucks to move ore from the Gounkoto mine to the Loulo plant. Randgold plans to double production by 2016 at the Loulo-Gounkoto mines with the fastest growth coming this year and next.
(Click charts to enlarge)
Source: Randgold Annual Report 2011
The company's second major complex is the Tongon mine in the Ivory Coast. For those who follow "Gold Rush" on the Discovery Chanel, 2011 at the Tongon mine had similarities to the Hoffman crew's season in Alaska. Gold production was 250,390 ounces at a cost of $557/oz. However, significant plant downtime (14% below availability target) reduced anticipated throughput. Political upheaval early in the year led to a lack of spare parts and personnel (note: we have not seen a similar situation develop this year in Mali). The mine also battled the weather and the rainy season caused difficulties in treating and mining ore. The mill suffered a major breakdown when the barring gear failed. By the end of the year the majority of these issues at Tongon were addressed.
Under construction/development in the Democratic Republic of Congo, Randgold has a 45% stake in the Kibali project. This mine will rank among the largest in Africa and deposits exceed 10 million ounces. The first full year of production at Kibali will be 2014 and Randgold projects production of 600,000 ounces per year. If targets are met, the addition of Kibali will increase Randgold's gold production by 20% in 2014.
Summary
Randgold's focus on gold mining gives it relatively undiluted exposure to the gold price. However its growth profile, taken together with the company's strong balance sheet, offers an interesting alternative to those holding bullion ETFs like the SPDR Gold Shares (GLD), especially in light of the recent stagnation in the price of gold. The SPDR Gold chart below highlights the recent stagnation.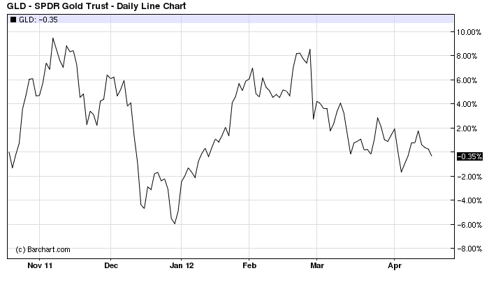 Source: barchart.com
While there are political, equipment, and weather risks, Randgold is delivering in West Africa. Guidance for 2012 consolidated production is 825,000 - 865,000 ounces at a cost of $650/oz. The company is driving overall costs down by increasing throughput and mining higher grade ores in Mali (Loulo-Gounkoto). In the Ivory Coast (Tongon) production is back on track after falling short of estimates in 2011. The pipeline of organic growth is strong with the new project in the DRC (Kibali). This year's capital expenditures of $660 million are not expected to significantly degrade the strong balance sheet.
Disclosure: I am long GOLD.