The same Prospect Probe tool, which helps us screen for 35 technical indicators, and pulled up our big winner Vringo, Inc (VRNG) in February, is detecting a couple of big board listed biotech plays with upcoming milestones which may be technically set up to run.
The last time we published, we told our Seeking Alpha followers to buy some Vringo when the stock was trading at only $1.45 (the stock ran to $4.50) and continues to trade at levels much higher than when we found it.
Now, first at bat as a break-out candidate is Neptune Technologies and Bioresources (NASDAQ:NEPT). This stock has been getting a lot of positive attention lately (read the positive headlines here). From what we gather, analysts have been telling us one thing: Neptune shares appear fundamentally undervalued and now it looks from a technical perspective that the pressure building on the chart may confirm that with a pending eruption to the upside.
The chart has developed a robustly bullish Ascending Triangle Pattern that is coupled with some visible indicators which point ahead to higher prices. Note the potential "Golden Cross" in which the 50-day moving average is about to cross over the 200-day moving average. The Positive Volume Index, Max Value and Linear Regression jump out at us too.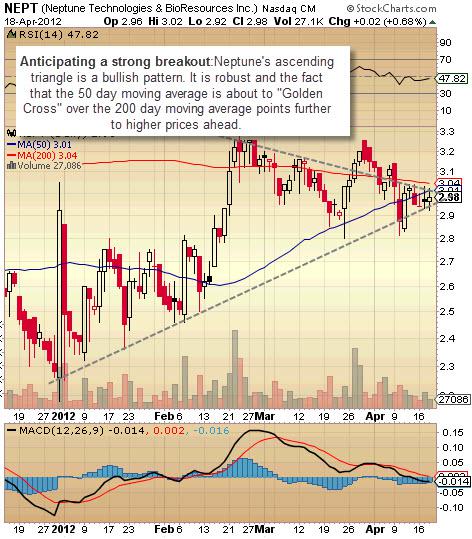 Fundamentally speaking, we like the fact that Neptune has stakes in two different biotech spin-offs - each going after big need, big market opportunities in both the cardiovascular health and neurological space and each using Neptune's own proprietary Phospholipid-Omega-3 and antioxidant formulation of Krill Oil.
The firm's technology has very solid patent protected composition and processes and its latest investor presentation hints at some incredible growth in its manufacturing capacities and profits.
Since one of the biggest concerns investors have with biotech stocks is whether the company has enough liquidity to last into the future, NEPT looks like a solid bet with multiple shots on goal and great cash flow. Analysts have slapped a $9 price target on the stock.
We would be accumulating NEPT at these levels with an eye toward some nice profits ahead.
Next up is Medgenics, Inc. (MDGN) a company that just filed an Investigational New Drug application for Epodure Biopump Phase 2b anemia study in dialysis patients.
We're hearing very positive things about this firm and their technologies including its innovative biopump technology - INFRADURE, that produces interferon-alpha and is currently under development for the treatment of hepatitis-C, which ranks second only to alcoholism as a cause of liver disease. This technology has the potential to treat multiple versions of hepatitis and the world-wide market potential for those treatments alone is tremendous.
Medgenics is on target to become a big player in the $90 billion protein therapy market that is projected to grow to over $140 billion over the next several years.
We like this stock. It's got a low float and no overhang so when it decides to move, it moves big. It started moving when volume increased slightly in February and if they have any more positive news coming as we anticipate that they do, it will continue to break out. Watch the trading activity on this one closely. The chart and technicals are telling us it may be ready to pop, yet again.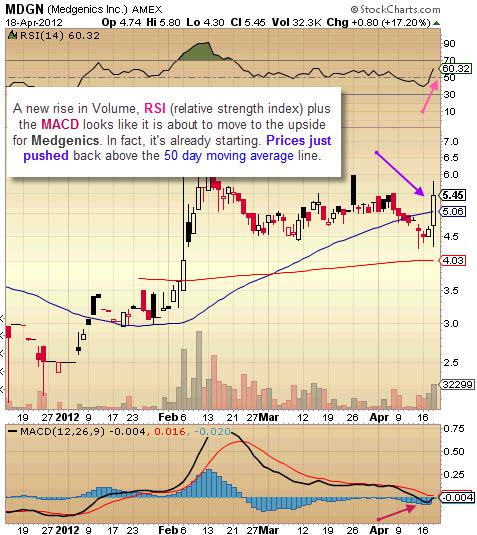 Disclosure: I have no positions in any stocks mentioned, and no plans to initiate any positions within the next 72 hours.