The April 27 weekly Apple (NASDAQ:AAPL) options opened for trading on Thursday morning. Implied volatility was high, well more than 60%. As a comparison, the May options have implied volatilities more near 45%.
Apple releases it earnings Tuesday night April 24, but if you're thinking of buying these weeklies, consider that after earnings, the implied volatility will likely fall - by a lot.
For example, late Thursday morning, with Apple at around $600, here were the prices for a 640-strike call
April 27 expiration: $7.57
May 19 expiration: $14.45
Yes, those April 27 calls seem cheap, but if you think the stock will move sharply higher next Wednesday after the earnings announcements, consider this. Even if Apple trades at 640 Wednesday morning, that call is only likely to be worth about $5.70 if implied volatility moves back down to 30%.
You'd lose money on that call, even though it will be at the money. But the May call would be worth more than $19, so you'd make a profit. If you're deciding between the two, here's a look at the percentage gain or loss you can expect if implied volatility collapses, as I expect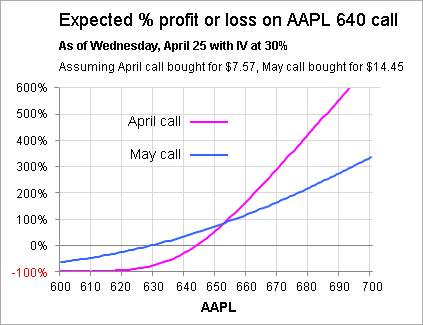 Your breakeven point is a lot lower for the May calls than for April, even though the May calls are more expensive. But you can certainly make more money if you're really right.
On the downside, maybe you think Apple is heading down. Perhaps you're interested in buying a 560 put. Here's how those were priced late Thursday morning with Apple at about $600
April 27 expiration: $7.75
May 19 expiration: $13.52
Even if Apple trades at 560 on Wednesday morning, you'd lose $3.20 on the April put with implied volatility falling 30%, but you'd make $3.60 on the May 560 put.
Here's a similar percentage gain/loss chart for that put: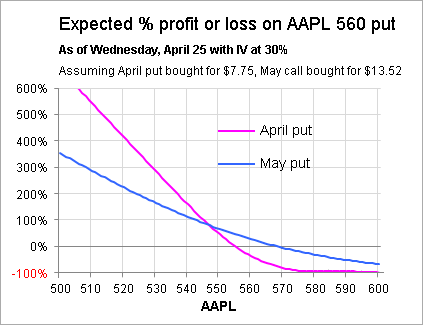 Implied volatility for those April 27 options is like to remain high until Tuesday's close. Then watch out!
As for selling those options? Well there's a lot of premium there. I wouldn't be selling naked puts or calls.
But if you're interested in being put the stock, you're likely to be paid quite well. As for selling upside calls, I'd wait for Apple to move higher before I did that, if I did it at all.
Disclosure: I am long AAPL.