A big story for those invested in gold mining stocks will want to be aware of is the proposed nationalization of YPF (NYSE:YPF), the Argentine oil unit of Spanish energy firm Repsol. Spain has responded harshly by recalling its ambassador to Argentina. Is there more to follow? What are the implications here for other natural resource companies operating in Argentina? Argentina has an abundance of mineral wealth, with much of it being extractable at very favorable prices, and so for many mining firms it is an appealing country to operate in.
First, it should be noted that the nationalization of YPF is a bit of an anomaly; YPF is being singled out, as other resource companies have not been nationalized along with it. It should also be noted that Argentina is experiencing a bit of an energy crisis, so that may be why YPF was nationalized - as Respol chairman Antonio Brufau suggests. In spite of being an oil-producing nation, Argentina still needs to import more than $10 billion in gas. From this perspective, the nationalization of YPF is reminiscent of Argentina's nationalization of railways in 1948. Both constitute attempts on the part of Argentina to secure control over resources vital to its economy that were currently owned by foreign entities.
From this perspective, it seems as though gold miners could possibly be spared from any form of nationalization. Gold may be a monetary asset, but it is not a strategic asset in the same way that railways or energy fuels are. Argentina may find that its monetary interests are better served by allowing gold miners to operate, and levying a sufficient tax on them accordingly (perhaps even payable in gold, so as to provide the country with the monetary insurance that only gold can provide). And in light of how controversial the YPF nationalization is shaping up to be, it is also possible that Argentina will find it increasingly difficult from the perspective of international politics to try to nationalize other foreign-owned resource companies operating in its jurisdiction.
Personally, my take on this situation is basically the same as it was when I previously wrote on Argentina in December of last year. I stated then that the political risk in Argentina was too much for non-diversified miners, and I maintain that assessment. One company that I'm always tempted to buy that is focused on opportunities in Argentina is Extorre (XG), which I think has outstanding property and management. Extorre is down over 6% today at the time of this writing, and is trading at $4.62 - an all-time low - with a market capitalization of $500 million. The chart below illustrates.
(Click to enlarge)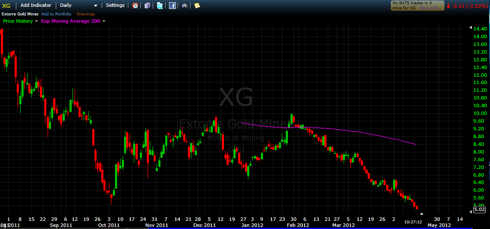 I'm in no rush to buy this stock, although at some point it may become too cheap to ignore. I'll check back when it looks like the stock may have found a bottom and some signs of bullishness are emerging. If all looks good, it may be worth a small risk. I'd prefer to see price fall below $3, though, as otherwise there are simply too many other opportunities I'd rather focus on.
I'm still happy to invest in companies that operate in Argentina - provided they are diversified in other jurisdictions as well. Newmont (NEM), Goldcorp (GG) and McEwen Mining (MUX) are all companies I am a shareholder of that operate in Argentina, but they also have operations elsewhere. I'm especially comfortable with Newmont and Goldcorp as they are huge companies. McEwen Mining is much smaller - a market cap of just over $1 billion - but I view that as a special case as it is an investment in Rob McEwen, and I'm willing to overlook many other factors out of a desire to be a part of his companies and trust that he is a uniquely qualified mining executive.
You can find a full list of mining companies operating in Argentina here. In terms of the best jurisdictions to invest in, I think it's best to diversify across the globe, although I regard Canada as the safest choice.