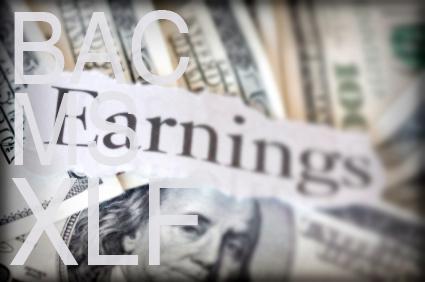 Earnings news is breaking for several firms in the financial sector. Leading the headlines are both Bank of America (NYSE:BAC) and Morgan Stanley (NYSE:MS) with results affecting the performance of the SPDR Financial Sector ETF (NYSEARCA:XLF).
Morgan Stanley reported first-quarter net income of $1.4 billion, or 71 cents a share, topping forecasts for earnings-per-share of 44 cents. Revenue of $8.9 billion also beat expectations of $7.37 billion. The neat way the firm did this was to devalue its own debt by $2 billion which was added to results. Without this adjustment MS actually lost $94 million. But trading algos are headline readers and don't look under the hood too often so they rallied the stock 6% in premarket trading. Another bearish event in the future which may already be priced in is Moody's has warned MS debt could be downgraded soon by three notches.
Bank of America reported earnings of $653 million or 3 cents a share. However, negative valuation adjustments were $4.8 billion and included $1.5 billion in DVA (Debt Valuation Adjustment) resulting from the narrowing of the company's credit spread and added 28 cents to earnings. This allows headlines to read a 31 cent earnings report and large beat pushing the stock higher by nearly 4% in premarket trading.
The SPDR Financial Sector ETF has Bank of America as a 5.40% weight and Morgan Stanley as a 1.50% weight. Of course these combined with recent releases from JP Morgan (NYSE:JPM), Goldman Sachs (NYSE:GS), Citigroup (NYSE:C) and American Express (NYSE:AXP) is what pushes XLF in one direction or another.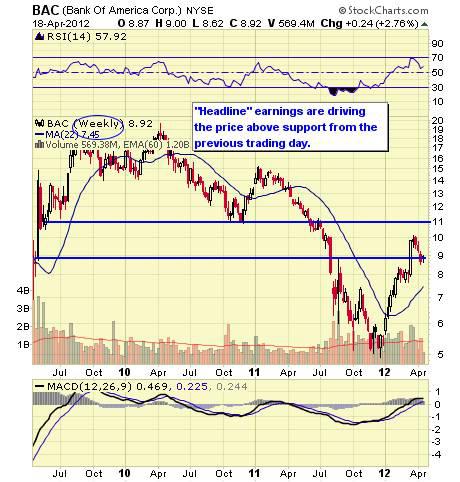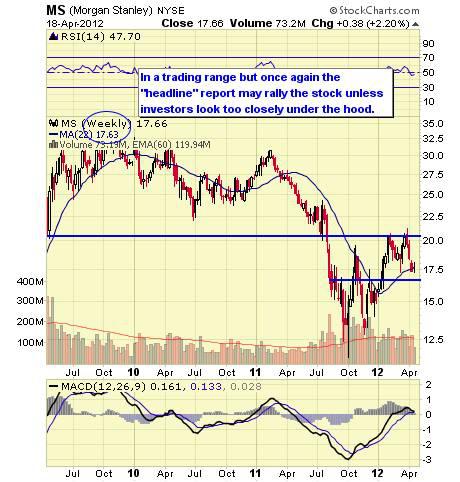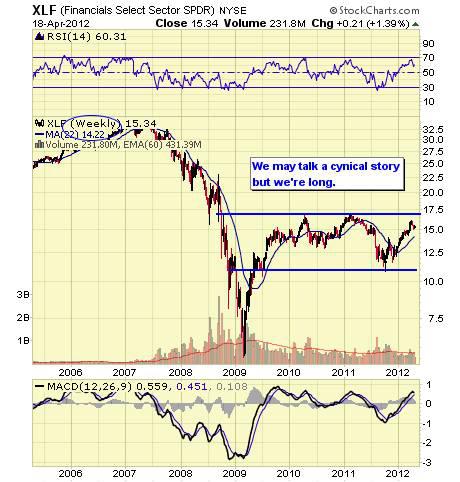 Disclosure: I have no positions in any stocks mentioned, but may initiate a long position in XLF over the next 72 hours.