BillionairesLife.com recently released a report on all of the mega yachts owned by executives of publicly traded companies. Mega yachts are also known as luxury yachts, and super yachts.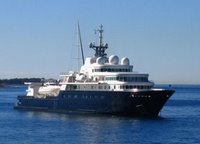 Here are the companies that provided the wealth to the CEO's so that they can afford their yachts:
Rising Sun is 452'8" long, and is owned by Larry Ellison, founder and CEO of Oracle (NYSE:ORCL). Oracle has a P/E of 25, and a PEG of 1.20.

Octopus is 413'4" long, owned by Paul Allen, founder of Microsoft (NASDAQ:MSFT), and chairman of Charter Communications (NASDAQ:CHTR). He also owns the Tatoosh at 301'8" long. Microsoft has a P/E of 22, a PEG of 1.53, and a yield of 1.4%. Charter has had negative earnings.

Limitless is 315'7" long, is owned by Leslie Wexner, chairman and CEO of The Limited (LTD). The Limited has a P/E of 11, a PEG of 1, and a yield of 2.8%.

Lone Ranger is 255' long, and is owned by Peter Lewis, chairman of Progressive Corporation (NYSE:PGR). This insurance company stock has a P/E of 10, a PEG of 1.66, and a yield of 0.2%.

Ilona IV is 241'8" long, and owned by Frank Lowy, of the Westfield Group (OTCPK:WEFIF), which owns shopping centers in Australia, New Zealand, the U.K., and the U.S. The stock has a P/E of 9.
Disclosure: The author owns MSFT and CHTR. The picture shown is the Le Grand Bleu, owned by Eugene Shvidler.