Part 2 of this mini series looks at another dividend growth powerhouse, McDonald's (NYSE:MCD). You can find part one here, which talked about the power of even conservative compounding.
Over the last 4 years, McDonald's has increased its annual dividend by an average of about 17%. As in the previous article, let us be conservative and use a 10% annual dividend increase instead. MCD's payout ratio is slightly above 50%, a fantastic number that gives the firm a lot of room to increase its dividends over the years. Also, let us not forget it is expanding globally to further its growth.
Let's see what are we looking at in 10 years.
Assume you purchase 1000 shares at the recent price level of $94 for a total initial investment of $94,000
The current yield works out to almost 3 % as shown in the table below
Notice how the dividend payments and the yield on original cost almost triple in 10 years, leading to $7200 in annual dividends
We have left out the DRIP part from this piece as some investors choose to reinvest the dividends and some do not. Some DRIP during bad times to accumulate more shares and opt out of DRIP when the price per share seems to be at a fair value.
Capital gains will almost certainly contribute to the overall returns as well. MCD ran from the $50s range in 2008 to the $90 to $100 range in 2012. However, in case the price dips, turning on the DRIP will be helpful in maximizing the returns when things turn around, as one would accumulate more shares.
Inflation has been ignored in this calculation as stocks are the best hedges against inflation when compared to other assets.
One might think why not purchase a current 10% yielder instead of waiting for MCD to grow into a 8% yielder in the future. Fair question. MCD is a staple and is highly unlikely to reduce its dividend. The same cannot be said for junk high yielders.
10 years is a reasonable time period for this exercise as the market typically moves through many cyclical highs and lows in a decade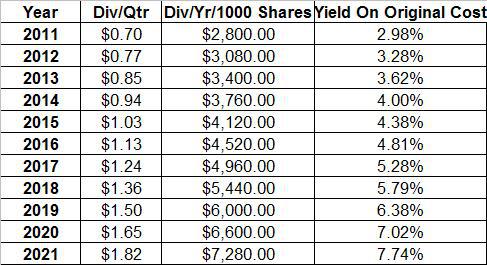 Conclusion: No doubt one might look at the current yield of 3% as a low number. However, investors with a longer time horizon please consider looking at potential future yield on original cost for dividend growth companies when evaluating purchases.
Disclosure: I have no positions in any stocks mentioned, but may initiate a long position in MCD over the next 72 hours.