We have had a volatile start to earnings season. One positive to this is that volatility based on macro issues often provides buying opportunities in solid stocks. Five banks recently reported earnings in the past week - Bank of America Corporation (NYSE:BAC), Citigroup, Inc. (NYSE:C), Goldman Sachs Group, Inc. (NYSE:GS), Morgan Stanley (NYSE:MS) and Wells Fargo & Company (NYSE:WFC). All five of the banks beat estimates but haven't really moved on the news. I believe the issue at hand is once again eurozone sovereign debt issues. Many investors were wary of today's Spanish bond offering. The auction went fairly well as the yield did not rise above a five handle.
It's true - the banks have been on a tremendous run this year. On the other hand, they were extremely sold off last year due to macroeconomic fears rather than fundamentals. The banks are still trading at very attractive valuations and are in uptrends. As of late, these banks have pulled back from the top of the trading range trend channel which is a positive technically. Additionally, all these banks passed the recent stress tests with the exception of Citigroup which failed by a hair.
Macro Catalysts For Banks Moving Forward
I believe there are several macro reasons for the banking sector to continue its upward thrust. First, the eurozone has not fallen apart as many have predicted. The eurozone seems to be taking the proper actions to calm its tumultuous financial markets. Recently bond yields of the eurozone fringe sovereigns that were rocketing higher have sunk vastly lower with the back-door liquidity injections engineered by the ECB via the LTRO.
Secondly, U.S. banks are well ahead of their European peers with regard to capital requirements. Many have excess capital and excess reserves. The sector is flush with liquidity, capital and reserves. U.S. banks have improving fundamentals and EPS growth projections. U.S. bank earnings are up 40% this year and EPS growth rates are expected to come in at 20% next year. U.S. banks are trading at low price-to-earnings multiples even when taking into account lower earnings expectations and are trading at approximately five multiples below normal. The EU banks will inevitably have to retract certain credit lines to meet new requirements, creating an opening for U.S. banks to take market share.
Possible Headwinds To Consider
There are always headwinds for every sector and the banking sector is no different. A major headwind for the banks is the Dodd-Frank Wall Street Reform and Consumer Protection Act, which was included in an amendment from U.S. Sen. Dick Durbin, D-Ill., halving the fees banks can charge retailers each time a customer swipes a debit card. The regulation cut the fees from 48 cents for an average purchase of $38 to 24 cents, costing banks $8-$10 billion a year. Additionally, other federal regulations changed the ways banks are allowed to charge overdraft fees on checking accounts, costing them more money.
Secondly, it isn't just regulations that are taxing banks' profits. Additionally, it's hard for banks to lend money in the current environment. The issue is they have money to lend, but the guidelines are too strict, rates are too low, and banks are reluctant to lend money in a soft economy.
And finally, some people are counting on the resurgence in the housing market to facilitate the banks' accent. However, mortgage regulations are so tight many potential homeowners are finding it difficult to take advantage of the multi-year low rates. Many people have recent blemishes on their credit due to the great recession and it will take time for credit scores to recover.
Top Five Bank Picks
Please review the following summary table of my top five bank picks followed by a brief review of each stock. Each of these companies appears fundamentally undervalued.
(Click to enlarge)

Bank of America Corporation
(Click to enlarge)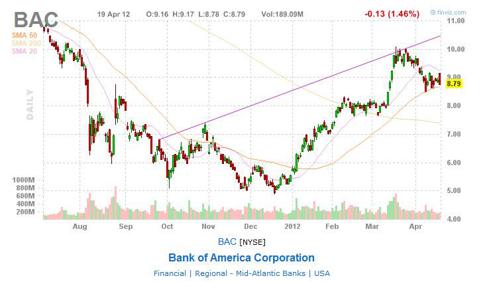 BAC has almost doubled in three months. The entire financial sector has been on fire since most passed the recent Federal Reserve stress tests. The fact that BAC is still trading at approximately half its book value means BAC has much more room to run. We are still in the early stages of the recovery in the financial sector. I don't think the rally is over for the banks. BAC is currently trading at its 50 day sma of $8.81. The stock has pulled back over 10% from its recent high of $10. This appears to be an ideal entry point to start a position.
Citigroup, Inc.
(Click to enlarge)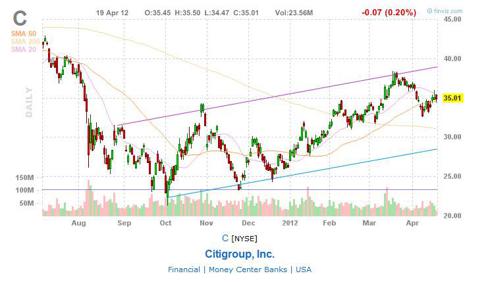 Citigroup looks vastly undervalued with a forward PE of 7.51 and a price to book ratio of .58. Although Citi did not pass the stress tests, it spiked along with other banks after the stress test results were announced. Citi recently traded at nearly $40 and is now bouncing off its 50-day moving average of 35. This is the ideal time to start a position. Citigroup has significant upside potential with a mean consensus estimated price target of 22 analysts of $43 and a current share price of $35, Citigroup has 25% upside potential.
The Goldman Sachs Group, Inc.
(Click to enlarge)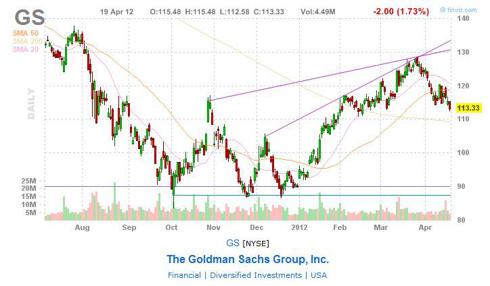 Goldman is trading at slightly less than book value. Goldman recently traded at almost $130 and is now pulled back to near its 200 day sma of $110. I see the 200 day as an ideal time to start a position. M&A activity is currently soft which is a near term issue for Goldman. Nevertheless, I see this as a buying opportunity. Once CEOs gain more confidence that the recovery is intact, I see M&A activity picking up substantially.
Morgan Stanley
(Click to enlarge)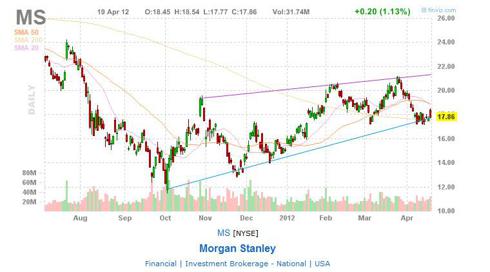 Morgan Stanley looks undervalued with a forward PE of 7.68 and a price to book ratio of .58. Morgan Stanley scored the Facebook (NASDAQ:FB) IPO which may not have that material of an impact on Morgan Stanley's revenue, although it is brand building to be sure. Much like Goldman, I see an uptick in M&A activity as a catalyst for the stock going forward. Morgan recently touched $22 and is now trading down to the 200 day moving average of 18 and the bottom of its upward trend channel. This is the ideal time to start a position.
Wells Fargo & Company
(Click to enlarge)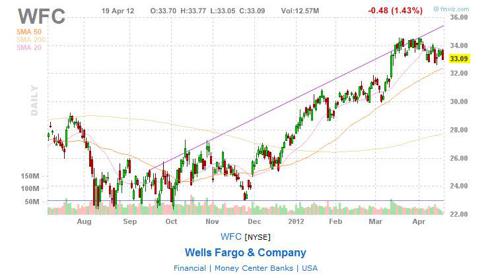 Wells is currently trading at 1.22 times book with a forward PE of 9.17. Wells is seen as one of the more stable banks so it commands a premium to the other stocks in this article. Wells is seen as having little exposure to the European banks. Wells is tied to the U.S. housing sector. The turnaround in the housing sector will be a major catalyst for the stock. The bulk of business for the housing sector has yet to be seen as most homes are closed during the summer months. I believe this will be a good year for housing. Not a blockbuster year, but it should be incrementally positive over last year. This will be a positive for Wells.
Conclusion
I believe the financial sector has continuing upside potential based on these geopolitical and macroeconomic catalysts. As the issues of the eurozone, U.S. and the world fade from the forefront of investors' minds and a renewed focus on fundamentals and company specific catalysts emerges, I expect these banks to continue their upward march. One caveat is the outcome of the upcoming U.S. election. A Republican may provide another positive catalyst for the banks. Most of these banks are trading down 1 to 2% today based on European sovereign debt fears. I see this as a buying opportunity for these bank stocks.
Perform a review of each of these stocks to ensure their suitability regarding your current situation. Use this information as a starting point for your own due diligence and research methods before determining whether or not to buy or sell a security. If you choose to start a position in any stock, I suggest layering in a quarter at a time on a weekly basis to reduce risk and setting a 5% trailing stop loss order to minimize losses.
Disclosure: I have no positions in any stocks mentioned, but may initiate a long position in BAC, C, GS, WFC, MS over the next 72 hours.