Having followed the audio entertainment sector for years now, I find myself scouring the net for any news related to companies like Pandora (NYSE:P), Sirius XM (NASDAQ:SIRI), Slacker, Spotify, MOG and others. I write about several of these companies on a regular basis and offer my own insight into what is happening with them and how events may impact the sector as a whole or interrelate to other companies in the sector.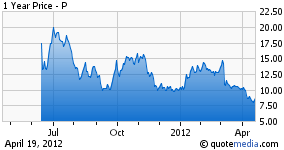 For whatever reason there are many fans of audio entertainment who get so passionate about a company that they instantly consider any other company in the sector an "enemy." Pandora suffers this dynamic at the hands of some of the more passionate - dare I say cult-like - fans of Sirius XM. Rather than look at these companies in their own space, there are throngs of people that simply want to slam one company and praise another. Look at the comments under any Pandora article and you will see the dynamic in action. It gets so bad that some even assign sentiments to writers that simply do not exist.
I am a fan of Sirius XM. I have a website dedicated to news on the service and I am a subscriber. I follow Pandora because it is publicly traded and in the audio entertainment universe. I have never held a share of Pandora and rarely listen to the service. In terms of IP-delivered radio I actually prefer Slacker and have stated such many times. With all of that being said, it does not mean that I can not appreciate the strides Pandora is making or the challenges it faces.
For quite some time Pandora exhibited a trading range that was a decent play for traders. My personal opinion is that the company would not sit in my portfolio until it had some quarters under its belt and had demonstrated a clear path for its business model. In my mind that day has not yet arrived.
In an article last week titled "Pandora Finds Support - Will It Hold?" I posed the theory of the old trading range and what appeared to be a new one developing. In the piece I stated:
"With a much narrower trading range, the volume on the equity may begin to lighten. This would mean that traders are moving on to greener pastures that present more range. The mantra of sell approaching $14 and buy below $11 seems to be yesterday's strategy now and will be replaced with a buy at about $8.50 and sell at about $9.50.

The key here is the news flow surrounding the company. Any perceived negative could break support at $8.50 and any perceived positive could send the stock above $9.50. At current levels around $9 a battleground between short speculators and long speculators should take shape. The longer this battle lasts the more likely Pandora will sit in a narrow range."
Within a couple of trading sessions of that article Pandora found itself trading down into the $7s. Clearly what I thought was the development of a new trading range was broken. The question was how long the slide would continue. In a follow-up article titled "Pandora Continues Slide - When Will It Stop?" I noted that it would take some bold moves by the company to reverse the trend.
"It looks like I was wrong about the trading range that would be established, and now all we can do is watch and wait until this company does something to defend itself and its business model against a continued slide. What is amazing about this slide is that it is happening on lower-than-average bottom. What this tells me is that there are many simply sitting on the sidelines waiting for a concrete signal it is time to re-enter. Meanwhile, the downward trend will continue until something significant happens."
Today Pandora went into a sudden reversal of fortune and the equity has jumped from $8.20 to a high of $8.91. This happened with the release of news of a deal between Pandora and Dish Network (NASDAQ:DISH). Is this the news that will reverse the trend on Pandora? My short answer is no. This news was actually announced during the Consumer Electronics Show (CES) in January, and covered by me in an article titled "Pandora Starts 2012 With A Bang." What we have for news today is simply the implementation of the deal that was struck months ago. A stock going up on old news is more of a knee-jerk reaction rather than a fundamental shift. Watch as this news evaporates and Pandora once again goes adrift.
In my opinion the news today is simply an overall desire to see something positive in this equity to react to. It also shows a relative weakness to the short side of a Pandora trade. In essence we still need to see Pandora find support, confirm it, then find resistance and test it. This will establish the new range. The challenge is that the trend is still to the downside at the moment despite the perceived positive news today. Pandora still needs a fundamental shift in business metrics to truly find true support. Simply stated Pandora is still a "wait-and-see" equity.
Disclosure: I have no positions in any stocks mentioned, and no plans to initiate any positions within the next 72 hours.