Saudi Arabia is blessed with the world's largest oil reserves. However, for a country so rich with oil, it has poor conventional natural gas reserves. Only 25% of Saudi conventional gas is free from sulphur and thus easily recoverable, while 55% of its natural gas production is associated with oil production. Associated gas production fluctuates based on the level of oil production, and for a swing oil producer they do fluctuate.
This has all recently changed; Baker Hughes (BHI) announced last week that Saudi Arabia sits on the world's fifth-largest natural gas shale reserves at 645 Trillion cubic feet. "This number will put Saudi Arabia as the fifth-largest holder of shale gas behind China, the U.S., Argentina and Mexico," Robert Kennedy, lead petroleum engineer at Baker Hughes, said today at a Society of Petroleum Engineers conference in Khobar, Saudi Arabia.
This is a major win for Saudi Arabia. The Saudi Arabia Oil Company (Aramco) has been working actively to increase natural gas production in the Kingdom in order to use the gas as feedstock for its electric power generation and industrial expansion, rather than burning oil that can be exported.
The discovery of shale gas in Saudi Arabia is even more relevant when we learn that its extensive efforts to find conventional natural gas have been met with limited success against expectations of a tripling of natural gas demand in the country by 2030.
Shale Gas Development Challenges
Saudi Arabia faces two problems with developing its natural gas reserves:
Lack of water to undertake large scale fracturing (or fracking)
Very low reservoir permeability
Water issues
Saudi Arabia is basically a desert; a large portion of the country's fresh water comes from the very energy-intensive process of sea water desalination. The country already burns 1.5 million barrels of oil a day to satisfy its domestic demand for potable water. Meanwhile, domestic water demand continues to soar.
Thus, it is inconceivable that the kingdom will be able to allocate the massive amounts of fresh water required for wide-scale water fracturing, which often requires 3 to 12 million gallons of water per well.
Click to enlarge image.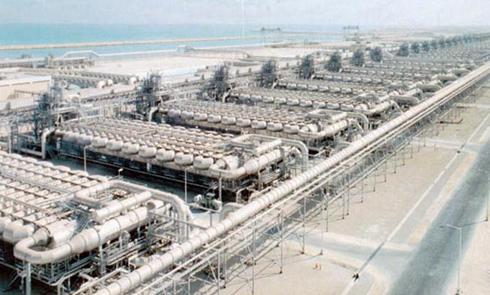 Pictured above: Al-Jubail desalination installation, Saudi Arabia. Source: desalination.com
Very Low Reservoir permeability:
Earlier this month. Aramco had this to say about the quality if their shale reserves: "Developing shale gas in Saudi Arabia will be a challenge as most of it is in deep reservoirs with very low permeability."
It is interesting that both of those challenges can be solved with one technology: LPG (propane) Fracturing by Gasfrac Energy (OTC:GSFVF). Gasfrac LPG technology is both waterless and ideally suited for low permeability reservoirs due to propane proprieties.
Aramco Considering The Use Of Propane Fracturing
Naturally, I was curious about the possibility of Aramco using LPG (propane) fracturing in Saudi Arabia. Thus I contacted Mr. Adnan Kanaan, general supervisor for Gas Reservoir Management at Aramco. In response to my inquiry, Mr. Kanaan said the following: "We are already considering a lot of fracing options including the propane."
This response has serious implications for Gasfrac. Propane fracturing is the exclusive domain of this company. No other company in the world has the technology or the patents to fracture with propane. Furthermore, the first propane fracturing operation only took place four years ago. Yet Aramco, the world's largest oil company, is already considering Gasfrac's LPG (propane) fracturing technology to unlock the country shale gas reserves; a real testimony to the potential of the technology in key international oil and gas basins.
Saudi Arabia has a long history of collaborating with western oil and gas service companies in the extraction of their oil and gas reserves. Aramco has already indicated that it is planning to invite Halliburton (NYSE:HAL), Schlumberger (NYSE:SLB) and Baker Hughes to assist with their Shale gas extraction efforts. None of those companies have access to propane fracturing technology.
Halliburton already indicated on an April 18 Q1 earnings conference call that it is very optimistic about the prospects of developing Shale Gas reserves in Saudi Arabia. Timothy J. Probert, president of Strategy and Corporate development, had this to say:
Saudi Arabia feels a lot more positive than it was six months ago. So I think we're starting to see, if you like, the three key factors of shales, the combination of the geology, the infrastructure and the pricing and regulatory environment sort of start to come to the fore. And those that have all 3 in the right measure will be the ones that'll move forward the fastest.
This immense international potential further confirms to me that Gasfrac Energy will be acquired in the next 18 months. LPG fracturing technology has far-reaching implications on the development of shale gas and shale oil resources throughout the planet, and not just in North America. Gasfrac Energy may be too small to transport its technology across the oceans, but North America's largest oil and gas service companies certainly can.
Disclosure: I am long OTC:GSFVF.