Shares of U.S. Airways Group Inc (LCC) are up over 85% so far in 2012. While this move is impressive, there are four reasons why the rally in LCC may not be over.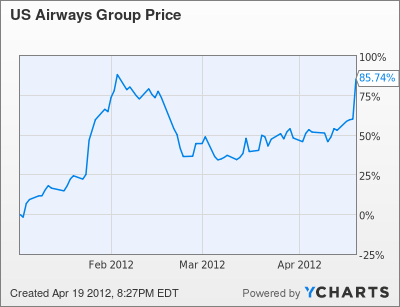 Options Activity
Avafin recently reported on the bullish activity in LCC options. Over 18,606 calls were traded on LCC, this compares to just 3,843 puts. Call volume of this size indicates that institutional money is betting LCC shares will move higher. Institutional money is usually smarter, thus worth following.
Short Interest
As of the end of March (when short interest was last updated), short interest stood at just over 12% of the float or 16.69 million shares. While this number has likely declined some in April, the short interest likely remains very high. The high short interest means that LCC is a candidate for a short squeeze because investors are skeptical about prospects for the company. The only other airline stocks with such a high short interest is United Continental (NYSE:UAL) with a short interest of 11%.
Declining Oil Prices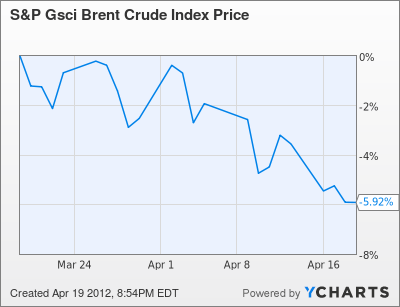 Oil prices have recently declined some from levels seen just a short time ago. As shown above, Brent prices are down almost 6% over the past month. One of the major headwinds for LCC and other airlines is rising fuel prices. The chart below shows the long-term inverse relationship between airline stocks and oil prices.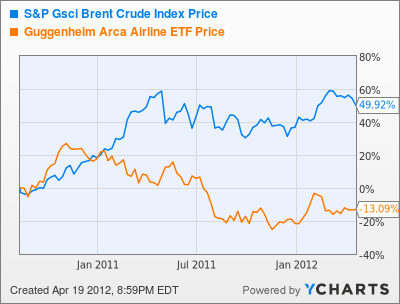 AMR Takeover
Over the past few trading sessions, there have been rumors that LCC is making progress in attempting to gain union support for its proposed acquisition of bankrupt airline carrier AMR Corp (AAMRQ.PK). If the deal goes through, it will likely be bullish for LCC shares.
Conclusion
While LCC has had a massive run so far in 2012, it remains likely that the stock will continue to rise. The high short interest, bullish options activity, recent decline in oil prices, and AMR takeover progress point to a higher stock price.
Disclosure: I have no positions in any stocks mentioned, and no plans to initiate any positions within the next 72 hours.