Sixty two years ago, Dr. Suess penned one of his venerable books containing the wisdom of Yoda in the form of a children's story. In his 1950 classic "If I Ran the Zoo", Dr. Suess wrote a verse that has been a guiding principle of my career as an analyst and portfolio manager:
"if you want to catch beasts you don't see everyday, You have to be out-of-the-way, You have to go places no others can get to. You have to get cold, and you have to get wet, too."
To find value, you have to dig, to explore, to follow roads less traveled and be prepared to work for your results. Gerald McGrew knew this would be the best way to create a zoo that added value and attracted customers.
The same can be said of a portfolio. To find value, one must look for those securities that are undervalued, attractive and ultimately add value. One way to accomplish this goal is to look for companies that are often overlooked and yet have a proven track record, experienced management and a history of performing.
The following are five REITs that Dr. Suess (or more specifically, Gerald McGrew) might consider including in their REIT portfolio. The REITs are:
Here is a snapshot of the REITs (data provided by Bloomberg and BMO):

Lexington Realty Trust is a real estate investment trust that invests in, owns and manages commercial properties net leased to major corporations throughout the United States. In addition, the company provides investment advisory and asset management services to investors in the net lease area.
Like many REITs, Lexington is also an investor in loan assets and debt securities related to real estate. This, when combined with an advisory business adds some diversity in their earnings (although it is not really significant.
It is also important to note that Lexington whacked their dividend in 2009-2010 in response to the crisis, but it has begun to grow again.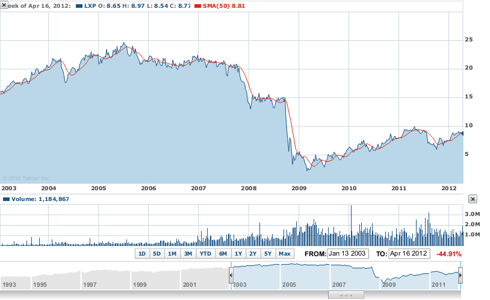 Lexington Properties Preferreds:
Once again, digging for value, we unearth some REIT preferred stock with healthy yields and positive yield-to-call:

In my opinion, I am taking the yield with this one. I don't think the Series B will be called and if it is, my annualized YTC is north of 11%. Keep in mind that as the preferreds trade dirty, I strip out the accrued to determine the yield to call.
CapLease, Inc. is a diversified real estate investment trust, or REIT, that invests primarily in single tenant commercial real estate assets subject to long-term leases to high credit quality tenants. The Company provides owners of single tenant real estate with a full range of equity, debt and mezzanine financing options. The company's target is to maintain a portfolio mix of 75% to 90% owned real estate, and 10% to 25% mortgage loans and other debt investments.
CapLease is not your typical net lease REIT. In addition to the traditional net lease model, the company also provides funding to their tenants across the capital structure. While this may compound problems in the event of a tenant bankruptcy, it can also be accretive. Like many, CapLease got into the CDO craze a couple years back as they have knowledge in real estate and real estate related securities, but they have been winding down their investments/CDO (less than 5% now) and will soon be back to being a "pure" REIT.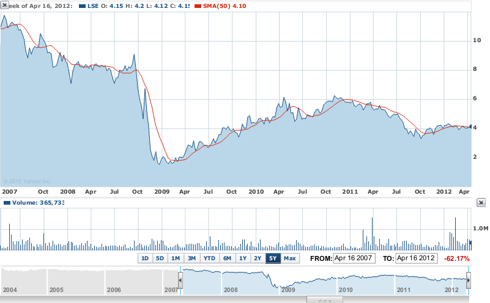 CapLease preferreds:
As always, I try to provide alternatives to straight equity investing for those who want a known income stream and are willing to give up some of the potential appreciation of an equity investment. CapLease has one series of preferred stock available, the Series A, which has a yield of 8.22%. Prospectus.

I like these preferreds and believe that they make sense for income focused investors as they are below par with a strong yield
Sabra Health Care REIT, Inc, is a self-administered, self-managed real estate investment trust that through its subsidiaries, owns and invests in real estate serving the healthcare industry. As of December 31, 2011, Sabra's portfolio included 97 real estate properties (consisting of (i) 76 skilled nursing facilities, (ii) ten combined skilled nursing, assisted living and independent living facilities, (NASDAQ:III) five assisted living facilities, (iv) two mental health facilities, (NYSE:V) one independent living facility, (vi) one continuing care retirement community, and (NYSEMKT:VII) one acute care hospital. As of December 31, 2011, Sabra's 97 properties had a total of 10,877 licensed beds, or units, spread across 23 states. Sabra was incorporated on May 10, 2010 as a wholly owned subsidiary of Sun Healthcare Group, Inc. ("Old Sun"), a provider of nursing, rehabilitative and related specialty healthcare services principally to the senior population in the United States. Pursuant to a restructuring plan by Old Sun, Old Sun restructured its business by separating its real estate assets and its operating assets into two separate publicly traded companies, Sabra and SHG Services Inc. (which has been renamed "Sun Healthcare Group, Inc.").
Sabra is one of the "newer" REITs on the block, having been the product of a real estate monetization. The REIT is focused on diversifying their tenant base away from Sun Healthcare (NASDAQ:SUNH) and, in my opinion, will be following the Ventas (NYSE:VTR) model as they grow. This could truly be the case of the early bird gets the worm.
Unfortunately, there are no preferreds for Sabra, but the equity is attractive and pays a robust yield of 8.10%.
Brandywine Realty Trust is a self-administered and self-managed real estate investment trust that provides leasing, property management, development, redevelopment, acquisition and other tenant-related services for a portfolio of office, mixed-use and industrial properties. As of December 31, 2011, it owned 207 office properties collectively, the Properties), 20 industrial facilities and five mixed-use properties that contain an aggregate of approximately 25.2 million net rentable square feet.
I like the diversification that this REIT has to offer and they have had a successful track record over time. They are the biggest REIT (by market cap) in the Suess portfolio, but I do not think they have been mainstreamed in the mind of analysts and investors.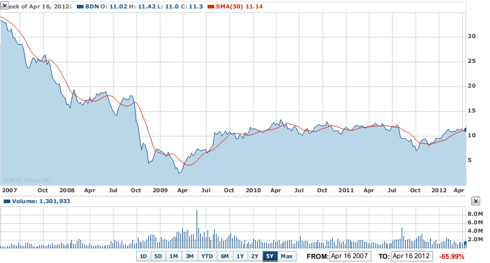 Talk about a fall from grace. Due to speculative purchases and building, this REIT got hammered. They are slowly climbing back out and have significant opportunity for organic growth. This is, perhaps, the weakest link in the Suess portfolio, but I thought it warranted inclusion due to the opportunity for organic growth and the renewed focus of management.
Brandywine Preferreds
Once again, looking under stones and peering into holes, we find some interesting alternatives to equity in Brandywine.

This is quite a conundrum. The E's have call protection, but the D's have more yield and I don't think they will be called (as the series C was with the proceeds of the series E), but I will err on the side of caution (and positive YTC) and say that the series E are the better option for most investors.
Bottom line: I buy Brandywine Series E preferreds and outyield the common until I see the common show more progress in their stated goals. At that time I might look to swap into common shares.
Retail Opportunity Investments Corp. is a fully integrated and self-managed real estate investment trust. It operates in two business segments: the shopping centers segment and the real estate finance segment. The Company is primarily focused on investing in, acquiring, owning, leasing, repositioning and managing a diverse portfolio of shopping centers. It supplements its direct purchases of retail properties with first mortgages or second mortgages, mezzanine loans, bridge or other loans and debt investments-related to retail properties, which are referred to collectively as real estate-related debt investments. As of December 31, 2011, the Company's portfolio consisted of 30 wholly owned retail properties totaling approximately 3.2 million square feet of gross leasable area, two retail properties owned through joint ventures, consisting of approximately 500,000 square feet of gross leasable area, and a 50% interest in a 407,952 square foot shopping center.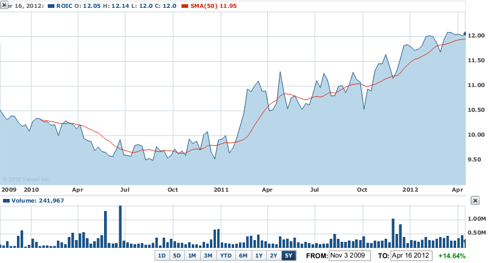 ROIC has been deploying capital over the last few years and is growing their property portfolio. The dividend will continue to increase as the REIT grows and capital appreciation will also be part of the growth driver.
Bottom line: A combination of the equity and preferred of the Dr. Suess portfolio contains both yield and growth for investors. In order to keep your portfolio fresh and attractive, you have to look for those new and different creatures to put in your REIT zoo.
Disclosure: I have no positions in any stocks mentioned, and no plans to initiate any positions within the next 72 hours.