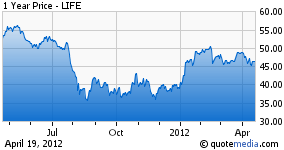 As a holder of Life Technologies (NASDAQ:LIFE), I was thrilled by two events in the last couple of days. First, there was the news of Human Genome Sciences (HGSI) spurning a $13 a share takeover offer from GlaxoSmithKline (NYSE:GSK). Not only did I make 100% on my HGSI shares I acquired late last year but the news focused attention on the value of the biotechnology space. More important was Roche's (OTCQX:RHHBY) decision to drop its takeover attempt of a peer of Life Technologies, Illumina (ILMA). I believe these two events make LIFE's value proposition more enticing.
Key Catalysts For LIFE.
The HGSI news could kick off an M&A wave in biotechnology as slow growing large Pharma firms step up to buy future growth.
I don't know if Roche and Illumina are done with their dance, but the failed attempt could push Roche or another Pharma firm to take a hard look at LIFE given their similar products and focus.
The stock is looking for its third straight quarterly earnings beat when it reports earnings on Tuesday.
4 additional reasons LIFE offers solid value at just $46 a share:
The company has had net insider buying over the last three quarters.
The stock has a forward PE of just under 11, which is an over 25% discount to its historical average.
The median price target by the 15 analysts that cover the stock is $55 a share. S&P has a "Buy" rating and a $58 price target on the stock.
Over the last nine years the stock has grown revenues by north of 22% a year on average. It also grew net income by over 150% from FY2009 to FY2011.
Disclosure: I am long LIFE.