Another day, another round of selling at Redwood Trust (NYSE:RWT). The pattern has become fairly entrenched since Redwood briefly bounced to $40/share in mid-September. Since then, the stock has steadily dropped, lately trading as low as $26.50/share.
Redwood is in one of the most-hated sectors in the market right now: residential-focused mortgage REITs. One of the few residential mREITs to have yet to announce bad news, short-sellers have targeted the stock, figuring it must eventually suffer the fate of its peers like Luminent Mortgage Capital (LUM) and Thornburg Mortgage (TMA). However, Redwood has a strategic advantage that other mREITs don't possess – its funding structure.
Redwood currently match-funds about 88% of its mortgage investments with CDOs, which enables the company to largely avoid the use of repurchase agreements and commercial paper as a source of funds. Redwood's CDOs have a strong reputation and have performed well over time, making them desirable even in the current credit environment. This is evidenced by the Company's ability to complete a securitization deal in July, even as the CDO market was growing cold.
Although Redwood's portfolio of mortgage securities is exposed to significant downward valuation adjustments, the GAAP impact of mark-to-market adjustments has relatively limited economic exposure for the Company. Because of Redwood's extensive securitization programs, the mortgage securities are permanently funded and not subject to cash-draining margin calls. The GAAP losses are not deductible for tax purposes, so there is no hit to taxable income (which drives the dividend).
On a valuation standpoint alone, Redwood Trust is a screaming buy. Shares have recently traded at just 0.84x June 30 book value, and the yield considering just the regular dividend alone has climbed to 11%. Redwood's dividend appears very stable for several quarters ahead, as the company has $2.11/share of taxable income remaining to distribute – enough to support the dividend at current levels through the second quarter of 2008. If Redwood continues to earn taxable income at the current run rate through the second half of 2007, they will finish the year with approximately $5.25/share of undistributed taxable income. Based on Redwood's past distribution policies, that level of taxable income would support a special dividend of $3.00/share.
Short-sighted shorts, beware of the special.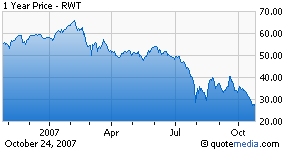 Disclosure: none