For Seeking Alpha's interview with Thomas L. Ward, CEO of SandRidge Energy, click here.
There is deep value hidden in many of the small- to mid-cap oil and gas names. Some of the better management teams realized United States oil and gas would be changing, and as the business did, so did these companies. During the natural gas land grab, there were several companies that continued to acquire gassy acreage even after the price of natural gas began to fall. Others thought tight gas was a risky prospect and went in another direction.
Tom Ward, chairman and CEO of SandRidge Energy (SD), seems to have had a crystal ball, as he has changed his company in a very short time. Mr. Ward left Chesapeake (CHK) in 2006, after 23 years of service. He functioned as the president, COO and co-founder. SandRidge was founded in 2006 and began as a natural gas story. In 2008, it made a change with the purchase of assets in the Permian. This was an important purchase as conventional oil had fallen out of interest with oil at $39/barrel. Mr. Ward knew that conventional oil was not only less expensive, but it also reduced risk and was repeatable. SandRidge made two large purchases in the Permian. The first was from Forest Oil (FST) for $800 million and the second from Arena Resources for $1.2 billion. Much of the deeper assets were sold and used to develop the shallow areas of the Permian and acquire leases in the Mississippian. The image below shows the Permian.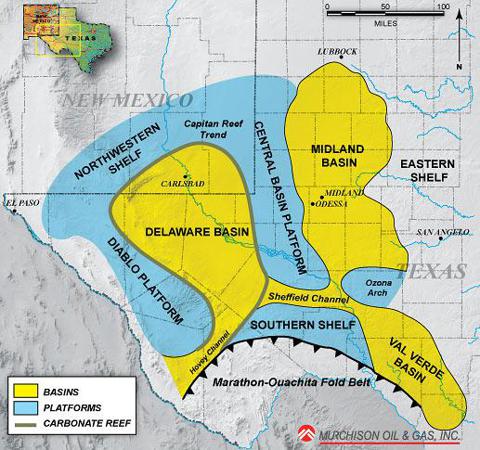 (Click to enlarge)
The Central Basin Platform is not as exciting as the Delaware or Midland Basin as unconventional wells produce much more oil in a short period of time, but these wells are at a much higher cost. The Delaware Basin is seeing a very large amount of activity as a play on the Bone Spring and Wolfcamp. The Midland Basin is known for the Wolfberry. These two basins are some of the hottest areas in the United States. SandRidge prefers its conventional Permian program for several reasons:
Lower Costs – Vertical wells do not have a horizontal leg, which decreases drilling and completion costs
Decreased Drill Times – Wells require less drilling so the rig can finish and be moved to a new location in less time.
Less Complex Rigs – Rigs that drill horizontal wells are more complex, and in greater demand. Rigs able to drill vertical shallow wells are also less expensive.
Costs per well are $643,000. There are 7,600 possible locations on 225,000 acres. Its resource target is between 4,500 and 9,000 feet below the surface. It has 13 rigs drilling 759 wells in 2012. There are multiple pay zones:
Grayburg
San Andres
Clearfork
Wichita Albany
Penn
Ellenburger
The image below shows the different pay zones. Estimated Ultimate Recoveries (EURs) in the Central Basin Platform are 58,000 barrels of oil equivalent (boe) per well with 85% being crude. These wells have an internal rate of return of 72% using the Nymex futures strip pricing on 1-17-12. SandRidge will spend $479 million in cap ex here in 2012.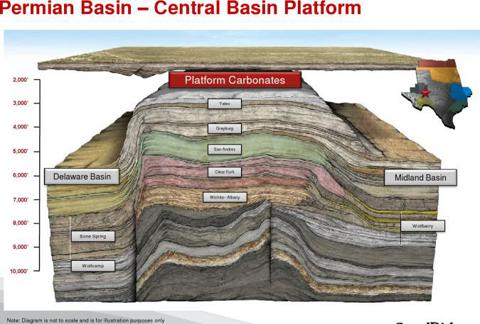 (Click to enlarge)
The Permian has a net asset value of $7.2 billion. SandRidge has been active in the Furhman Mascho field. In 2011, it has proved its 5-acre infill program and saw no decrease in EURs. This alone added 3.4 million boe in proved extensions.
Although Mr. Ward's purchase in the Permian has turned out to be a steal of a deal, it doesn't measure up to his move in the Mississippian. There, he acquired 2 million acres in leases for approximately $200/acre. The Mississippian is a huge prospect of over 17 million acres. To give an idea of how large of an area it covers, the Bakken covers 10 to 15 million acres. Tom Ward understood the Mississippian could be a success and bought in early, knowing the high water ratio it produces was something he could take care of cost effectively.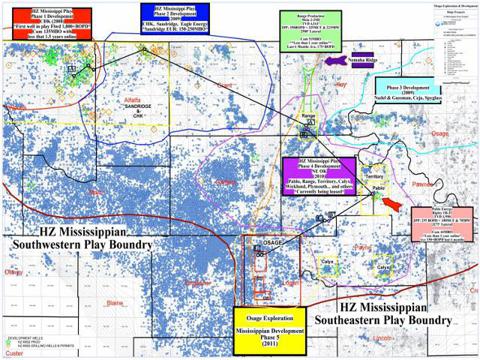 (Click to enlarge)
SandRidge plans to drill 380 Mississippian wells in 2012. It has 21 rigs working the acreage, with the number increasing to 32 rigs by year's end. Well cost is $3.2 million. It will spend $457 million in cap ex for 2012 on the Mississippian. This is another play that does not have explosive type numbers with respect to production, but it's definitely a low-cost play. Much of this low cost is due to salt water disposal. Not only does it keep water costs down, but more importantly creates a barrier for other large companies to enter. The average SandRidge Mississippian well has produced EURs of 456, 000 boe, although more recent wells have averaged closer to 512,000 boe. The 30-day IP rate is 275 boe/day. The internal rate of return is 91%. This shale runs between 200 and 700 feet thick.
The key to success in the Mississippian is water disposal. SandRidge is currently adding four disposal wells and 20 miles of pipe per month. As of the end of 2011, it had 51 disposal wells and 312 miles of pipe to transport produced water. SandRidge has also began the process of using produced water to frac wells. The process uses mobile tank systems to store produced water. By doing this, it eliminates the need for:
Fresh Water Sources
Transportation
Pit Construction
Water Transfer
Most importantly, it is a green technology. By filtering the produced water and then blending it with fresh water, much less is needed. Another benefit is the use of the Poseidon (OTCPK:POOSF) mobile tank systems. Reserve pits are not only expensive to construct, but have been known to leak. Since these pits are in the ground, it can be near impossible to know if they are draining into the ground. Reserve pits have also been known to overflow due to flooding. These mobile units will warn if there is any leaking of produced water, plus it is heated and does not allow the water for freeze in cold conditions.
The Mississippian purchase unlocked significant value for the company. Its 2 million acres were purchased for $400 million or $200 per acre. This 550,000 acres were monetized through two JVs and two Mississippian trusts. This produced $2.33 billion or $4,236/acre. Its current 1.5 million acres have an implied value of $6.35 billion. Mr. Ward believed monetizing these assets were best for SandRidge as it still has 15 years worth of drilling prospects in inventory.
The reason these two plays have not received more press is they do not produce big initial production rates. Given the low cost of both plays, the bottom line numbers are not only good, but also better than some of the big plays in the United States. The truth is Mr. Ward has used his old-school mentality to purchase large acreage positions in good plays on the cheap. I realize this is not the perfect investment (find one that is), but I believe his three-year plan is not only sound, but feasible:
EBITDA>$2 billion by 2014
Double Oil Production
Capex Funded Within Cash Flow (EOY 2014)
Continue To Improve Credit Metrics
I think Tom Ward summed things up perfectly when I asked if SandRidge was for sale. He stated all publicly traded companies are for sale, but we believe our stock price will triple in the next three years, so why would we?
Disclosure: I am long SD.
Additional disclosure: This is not a buy recommendation.