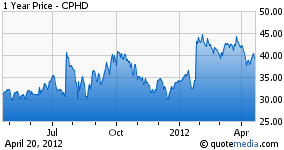 Growth investors have an unspoken pact with companies - they'll ignore valuations and keep pushing stocks higher so long as there are no interruptions in the growth trajectory. Unfortunately, Cepheid (NASDAQ:CPHD) is not only a growth stock favorite but a fairly small company as well, and variability and occasional stumbles is just part of the learning curve. While the earnings-related sell-off won't bring these shares anywhere near cheap, business continues to develop along very encouraging lines.
Cepheid Tackled By Its Own Side
Analysts love to talk about the "blocking and tackling" that goes into efficient operations. Unfortunately, the company found itself underneath the pile this quarter.
Revenue was just a touch light, as the total grew 28% from last year and dropped 4% from the fourth quarter. While product revenue was stymied by sluggish system growth (up 4% yoy, down 37% sequentially), reagent revenue rose 38% and 11%, respectively.
Margins is where management really messed up. Product gross margin dropped three and a half points, and significantly higher R&D spending contributed to a sizable miss on the operating line (as a year-ago profit reversed to a loss).
The explanations of what went wrong are credible enough. Higher freight (especially for international sales), higher scrap and lower yields hurt the gross margin line, while costs tied to the CT/NG trial swelled R&D. That's all well and good, but the Street is likely most upset by the lack of warning they got about these developments.
Penetration Good … And About To Get Better?
I suspect some investors will be troubled by the big sequential drop in system sales, but I don't share that concern. Hospitals spent a lot on capital equipment in the fourth quarter of 2011 ("use it or lose it" budgets) and cut back significantly this quarter. That sell-side analysts didn't catch that is on them, not the company. To wit, other companies selling into the hospital capital goods market - including Stryker (NYSE:SYK), Abbott (NYSE:ABT), and Roche (OTCQX:RHHBY) have reported similar trends.
Where it really counts, though, Cepheid seems to be doing well. The company has over 3,000 GeneXpert systems in the field and has grabbed a good slice of the MRSA/c. dif surveillance market. While Quidel (NASDAQ:QDEL) recently got approval for its own c.dif test (to run on AmpliVue), I believe that will be more of a threat to Meridian (NASDAQ:VIVO) than Cepheid.
Looking ahead, I see ample reason to be enthusiastic about Cepheid's future. It looks as though the company is going to price its CT/NG (chlamydia and gonorrhea) test at a price where it will be cost-neutral or cheaper than outsourcing to a reference lab. Many hospitals that already have a GeneXpert for MRSA may then be incentivized to switch to in-house testing.
That's a big advantage for Cepheid when it comes to going up against Gen-Probe (NASDAQ:GPRO), Becton Dickinson (NYSE:BDX), Abbott, and Roche in the CT/NG market, as Cepheid can compete effectively on machine costs (and footprint).
Approaching Emerging Markets From An Interesting Angle
I don't think Cepheid gets quite enough attention for its HBDC program ("High Burden Developing Country"). Under this program, Cepheid sells systems to emerging market countries for a lower price, with the idea of eventually covering the discount with higher usage volume.
So far, demand has been pretty impressive in terms of systems and modules. Moreover, this program could create an opportunity for substantial test revenue in product categories that might not otherwise be so lucrative in developed markets (including tuberculosis and HIV, for instance). At a minimum, this is not a bad way to establish a beachhead in emerging markets.
The Bottom Line
As mentioned previously, these shares are not cheap. That said, as a Roche owner, I'd rather see Roche overpay for a company like Cepheid than Illumina (NASDAQ:ILMN), as the GeneXpert is a legitimately exciting diagnostics platform. On its own merits, though, I will continue to admire the company from afar as I just cannot create a credible free cash flow build that leaves any appreciation potential from today's level.
Disclosure: I am long OTCQX:RHHBY.