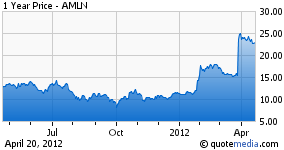 In the cutthroat real-world market of selling pharmaceuticals, anything that's bad for your competition is probably good for you. In that sense, a recent Citizen's Petition filed with the FDA calling for the removal of Novo Nordisk's (NYSE:NVO) Victoza from the market is certainly not a bad development for Amylin Pharmaceuticals (AMLN). Unfortunately, given the often over-heated debate and pancreatitis in GLP-1 drugs, this is not likely to have much real-world influence.
An Old Issue Comes Up Once Again
On April 19, an organization called Public Citizen filed a Citizen's Petition with the FDA calling for the agency to remove Novo Nordisk's once-daily injected GLP-1 drug Victoza from the market. By way of background, Victoza has been a very successful drug for Novo Nordisk - claiming more than half of the U.S. GLP-1 market and bringing in more than one billion dollars in revenue in 2011.
Public Citizen is making multiple allegations that Victoza is not safe enough to be on the market, and that the FDA has overlooked/overruled concerns about the safety of the drug. Specifically, the group cites risks tied to pancreatitis, kidney failure, and thyroid cancer. The agency will have up to 180 days to respond, at which point they can grant, deny, or offer a "tentative response" to use the agency's own language.
While this sounds scary, and the petitioner was sure to site a number of studies and collections of anecdotal data, it's nothing new. There have been concerns about pancreatitis with GLP-1 analogs for a long time now and many of the same concerns were expressed by Amylin's first drug Byetta and its new drug Bydureon.
Unfortunately for the petitioners, this is an issue more interesting to class-action lawyers than doctors. I talked to a few endocrinologists about this, and their response was basically "oh, this again?". There have been numerous studies of GLP-1 drugs and pancreatitis and no definitive link has been established (as readers can see here).
It has been proven, though, that simply having diabetes increases the risk of pancreatitis by three or four times. What's more, it seems as though any (and perhaps every) diabetes medication shows some increase in pancreatitis versus non-diabetic control groups, including metformin (which has been used in some countries for over 50 years) and Merck's (NYSE:MRK) Januvia.
As for kidney failure and thyroid cancer, diabetes again is a known risk factor in kidney dysfunction and Victoza already carries a black box warning for thyroid c-cell tumors.
Don't Expect Anything To Change Because Of This
While this petition may be a nuisance to Novo Nordisk, as it raises the issue of pancreatitis once again, I doubt it will have any real-world impact. Perhaps GLP-1 drugs and certain other diabetes drugs do increase the risk of pancreatitis in some patients. What I can say, though, is untreated or under-treated diabetes definitely increases the risk of death from a wide range of diseases and conditions. Perhaps some doctors will choose to treat patients more conservatively and delay transitioning them to GLP-1 drugs, but the medical community seems quite aware of the "pancreatitis issue" and is comfortable with the drugs.
Bydureon Looking A Little Stronger?
It is also worth mentioning that Bydureon is starting to look a little stronger in terms of prescriptions. For the week ended April 6, prescriptions climbed 10% and Bydureon now holds about 10% share of new prescriptions in the GLP-1 category (and 5% overall).
The bad news is that virtually all of this share is coming from Byetta, as Victoza prescription share fell only 0.3% week on week and new prescription share fell just 0.1% (compared to 0.6% for Byetta), while Bydureon gained 0.6% share. Given the present limitations of Amylin's marketing, this is not surprising, but Bydureon is still lagging the launches of both Byetta and Victoza.
And for the Amyliniacs who come out of the woodwork whenever I dare breathe a bad word about Bydureon, I get it. Yes, Bydureon is a great drug, and yes it has shown significant benefits in HbA1c reduction, weight loss, and cardiovascular protection. But the numbers are what they are, and Amylin is going to have to commit significant resources to pull share away from Victoza and into Bydureon.
At a minimum, this performance would explain the elevated interest in Amylin as a takeout candidate - a strong marketing effort is going to be the difference in Bydureon being a great-selling drug instead of a good-selling drug and many potential suitors could just drop this drug into existing sales infrastructures and run with it.
The Bottom Line
Unfortunately, neither Amylin nor Novo Nordisk offer a great stock play on diabetes at present.
While I could see maybe 20-25% upside to Amylin in a takeout bid, it's odd that there has been no formal statement from either Amylin or Bristol-Myers (NYSE:BMY) on the rumored bid that spiked the shares. Even companies whose policy is "no comment", there's usually at least a "no comment".
Nevertheless, Amylin would be a logical target for a wide range of Big Pharma companies, including Glaxo (NYSE:GSK), Merck , Sanofi (NYSE:SNY), and Takeda (OTCPK:TKPHF).
As for Novo, high valuations have proven to be no impediment to the stock going ever-higher, but I simply would not be comfortable paying this premium (seven times trailing revenue) for this stock today.
Disclosure: I am long AMLN.