According to the CME, silver stocks at warehouses hit a 10-year high this week. This seems to be bad news for silver (SLV, PSLV, AGQ) investors, but I will present a different picture on this. Brother John already pointed out that stockpiles are at record lows in one of his silver updates. I'll present a more detailed analysis about this matter.
In February 2009, just after the heat of the financial crash, the silver warehouse stocks, total, registered and eligible, for all four warehouses at the CME, was 124.7 million ounces. In April 2010, there was only 116 million troy ounces of silver deposited at the CME due to high demand. Today it's at 138.0 million troy ounces, up 10% from 2009. Notable is that J.P. Morgan Chase Bank has been added recently in March 2011 to the COMEX with its 13 million ounces of deposited silver. At that time, suddenly the COMEX silver inventory rose upward.
If we look at the long-term chart though (Chart 1), we see that we are at an all-time low since 1992.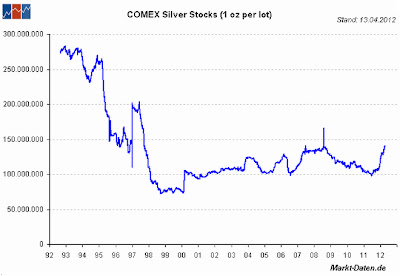 Chart 1: Long Term COMEX silver stocks
Although total (registered and eligible) silver inventory went up 10% since 2009, we need to analyze carefully what really happened. The registered silver for delivery kept going down and down. Today on 18 April 2012, the registered silver hit an all time low of 29 million troy ounces, while it was 80 million troy ounces at the end of 2008 (Chart 2).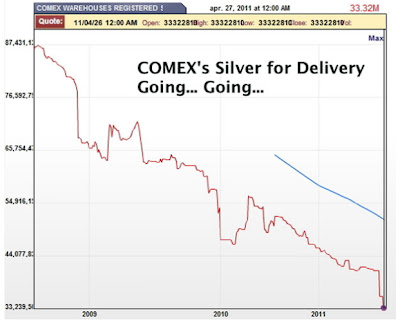 Chart 2: Registered Silver at Comex for delivery
It is important to know the difference between "Registered" and "Eligible" silver. Registered is actual physical silver at the COMEX and can be readily delivered to longs. Eligible silver is silver that cannot be used to make delivery under a futures contract. Theoretically, if people would take all registered silver (in this case 29 million troy ounces), the COMEX would default. While looking at this down trend in Chart 2, a default would be looming in about three years from now (a drop of 10 million/annum in registered silver) .
This downtrend in the registered silver indicates that investors are taking physical delivery. As a consequence there is less available physical silver in the warehouses.
In 2011, Ted Butler said that we have about 3 billion ounces of silver shorts, which is $90 billion of silver shorts. J.P. Morgan has been holding almost half of the COMEX short silver positions. The silver production is only $15 billion/annum. So there are six times more shorts in silver than production. To give another number, the amount of available silver today is $30 billion. Around a billion ounces of silver at $30/ounce is still left above ground as opposed to 10 billion ounces of silver during the 1950s. So there is no way you can short 3 billion ounces of silver.
I still stand by the idea that silver has been heavily manipulated, both on the markets (JP Morgan) as in the media (CME article). But soon this manipulation will end. I will give it another three more years before the CME theoretically defaults.