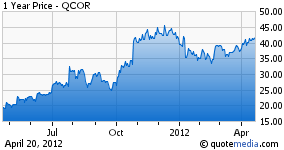 Questcor Pharmaceuticals (QCOR) has donated nearly $50 million dollars of Acthar medication to patients in need. Acthar medication costs $50 for patients, and a 100% co-pay option is available for multiple sclerosis patients. Questcor's commitment to its patient base as well as its generous donations have paid off. Doctors are beginning to prescribe Acthar with preference over other medications in treating multiple sclerosis. Questcor is making a substantial amount of capital due to its popularity.
In early March, Questcor stated that it has generated $248 million this year in cash and cash equivalents. Share price is beginning to rise accordingly. However, Questcor does not seem to be forward looking while it has this upside momentum in generating capital with its multiple sclerosis treatment.
The pipeline for Questcor is lacking to say the least. The company says that it is developing treatments for multiple sclerosis, nephritic syndrome, infantile spasms and opsoclonus myoclonus syndrome, but Questcor lists the drugs being developed to treat these conditions as Acthar.
So, what is Questcor really doing? Why is it listing the same FDA approved drug as a developing drug for its entire pipeline? Why is Questcor not trying to research and develop novelty molecules for these and other diseases? It is possible that Acthar also has properties that can treat the diseases being studied in Questcor's pipeline. Nonetheless, the market size for these rare diseases are small and won't help to generate much more cash flow than Acthar already is. Questcor has a very good standing in the market right now due to Acthar's usefulness, but it is not looking to develop any new drugs.
This could be very bad news for Questcor if another multiple sclerosis drug is created within the next few years that is more effective than Acthar. That event could cripple Acthar sales and Questcor will have no pipeline drugs to fall back on. Questcor is a good investment for the next year, but keep an eye on the companies developing multiple sclerosis drugs over the next few years. If phase 3 clinical data suggests that a multiple sclerosis treatment is going to become FDA approved, it will be time to sell your Questcor share.
Sanofi (NYSE:SNY) sleep medication, Ambien, completely outsold Questcor's FDA approved Doral medication for insomnia. Ambien sold $951,108 thousand worth of medication in 2010, whereas Doral only made $450,000 in sales in 2010. Sanofi is unable to compete when comparing its multiple sclerosis treatment, Aubagio, with Questcor and Novartis. Aubagio did not perform very well in its phase 3 clinical trials. The trial was conducted on 324 patients that had relapsed multiple sclerosis. Only 37% of patients that received Aubagio treatment reached the predetermined endpoint. Aubagio was also deemed to be very safe at the doses it was administered. While this data is promising in terms of FDA approval, it is not positive in terms of market sales. Questcor and Novartis' multiple sclerosis drugs are better than Aubagio, making Aubagio obsolete in the market.
Novartis AG (NYSE:NVS), along with Merck (NYSE:MRK) and Pfizer (NYSE:PFE) are the most secure stock for investment in the biotech market. Novartis is moving over 130 drugs through its pipeline. While it is not safe to invest in companies that are moving only a few drugs through its pipeline, Novartis is a very safe investment. The fact that Novartis has 130 drugs for a variety of ailments and diseases makes it a safe bet. While there are always great chances that a drug will fail FDA approval, when Novartis has 130 drugs, the chances are in its favor of at least a few of those drugs gaining approval and generating capital. Novartis' acquisitions of Sandoz and Alcon (NYSE:ACL) diversify the company and extend its marketing reach, making its pipeline more valuable. Novartis has the lowest price to earnings ratio and pays the highest dividends out of its competitors. Novartis is looking at an upside momentum for the following few years, making Novartis a much more desirable long-term investment than Sanofi or Questcor.
Novartis is also regarded as the leader in multiple sclerosis treatments. Its multiple sclerosis drug Gilenya has been FDA approved since 2010. Gilenya has been proven to reduce the size of brain lesions up to 54%, making it a very significant treatment for the patients that have experience multiple sclerosis relapse. The side effects of Gilenya are slowed heart rate, liver problems, breathing problems, infection and muscular edema. These seem pretty serious, but Acthar has even more dangerous side effects, such as congestive heart failure, anxiety, asthma, infections, muscle weakness and changes in behavior. Therefore, Gilenya seems to be the more desirable choice even though the effectiveness of both drugs is the same.
Acthar is a very good treatment for multiple sclerosis and its sales reflect that quality. Novartis is providing the only competition for multiple sclerosis treatment, but Acthar is still generating over $200 million in cash flow this year.
However, Questcor is not a safe investment for the future. Drugs take at least 15 years from start to finish for development and release on the market. Questcor has no new drugs in its pipeline and therefore has no foreseeable income if Acthar ever becomes obsolete within the next decade. The fact that Questcor is complacently attempting to sit back and reap the benefits of its only successful drug should make investors very wary.
Disclosure: I have no positions in any stocks mentioned, and no plans to initiate any positions within the next 72 hours.