Warren Buffett's Cancer And What It Means For Investors
There has been a great deal of discussion about the news of Warren Buffett and his Stage I Prostate cancer revelation. Certainly a lot of the discussion in the investment community has been about succession of his leadership at Berkshire Hathaway (BRK.A). But the reality is that Buffett will likely do well. He is 81 and his Stage I diagnosis means that the cancer is found only in the prostate, and if found by needle biopsy, the PSA is lower than 10, and generally has a Gleason score (if known) of 6 or less.
Fortunately for Buffett and shareholders of Berkshire Hathaway, those with Stage 1 cancer generally do quite well. Prostate cancer is not a rare disorder as the latest statistics (2007) showed that 223,307 men were diagnosed with prostate cancer and that in that same year 29,093 men died from the disease. Even with these statistics, there is still some controversy about the benefits of screening with regular PSA testing as the treatment has its own share of morbidity.
For those who choose to treat early-stage cancer of the prostate, there are several options that are available. These include surgical removal of the prostate (prostatectomy) which may allow for actual pathologic examination and more accurate Staging, or radiation of the prostate gland. The surgical option may be broken down into 'open' or more traditional radical prostate surgery or small-incision robot-guided prostatectomy. The radiation route may also be broken down further into external beam irradiation or implantation of radioactive 'seeds' into the prostate gland itself.
Advanced prostate cancer treatment involves other modalities including hormonal manipulation and chemotherapy. And experimental treatments with immunotherapy remain costly but may extend the lives of patients by months or years.
I write this to provide investors with some background about Prostate Cancer; understanding the treatment options highlights some very interesting stocks that are involved in addressing this problem.
Varian Medical Systems (VAR) offers radiation treatment for prostate cancer. This company has a terrific record of growth in revenue the past 5 years from $1.8 billion in 2007 to $2.6 billion in 2011, Earnings have increased from $1.83/share in 2007 to $3.36 in 2011, they have a current ratio of 1.64, and have increased free cash flow from $236 million in 2007 to $332 million in the trailing twelve months.
Looking at the Varian 'Point & Figure' chart from StockCharts.com, we can see that the stock has been trading in a range between $49 and $71 the past two years and currently is at $66.25.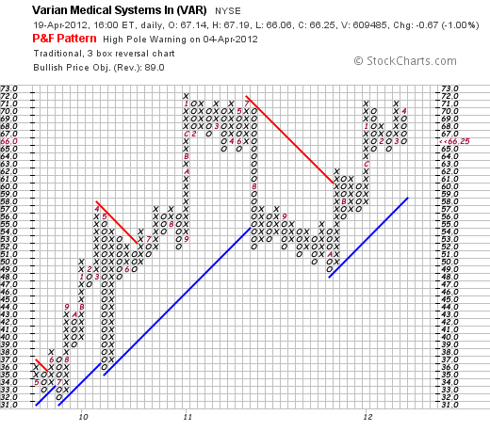 Another radiation option is implantable seeds. The company that comes to mind in this field is Theragenics (TGX), which closed at $1.7750 Thursday (4/19/12).
On February 23, 2012, TGX reported 4th-quarter and full-year 2011 results. Revenue for the 4th quarter dropped 4% to $19.9 million while for the year came in at $82.7 million up 1% over 2010. Earnings for the quarter were flat at $.01/share unchanged from the year-earlier period and $.09 for the full year, up from $.06 last year. Certainly on the face of things, a very lackluster report.
This tiny $61 million micro-cap stock has revenue that has increased from $62 million in 2007 to $78 million in 2009 but has been little changed since. Earnings have been even less impressive with $.17/share reported in 2007, dipping to $.06/share in 2010 and increasing to $.09/share in 2011. The company appears solvent with a current ratio over 2, and did produce $4 million in free cash flow in 2011, down from $16 million in 2007 per Morningstar.
The 'point & figure' chart from StockCharts.com is also less than convincing: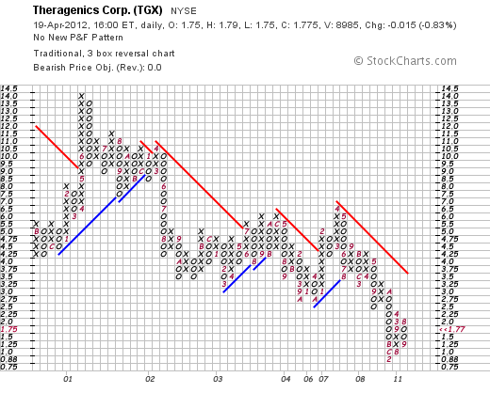 Finally, the real 'star' of the three prostate-cancer related stocks that I wanted to share with you is Intuitive Surgical (ISRG), the only one of the three that I personally own in.
Recently the safety advantages of robotic surgery over conventional surgery have been reported with less surgical morbidity and mortality than conventional open prostate surgery.
ISRG has also had a meteoric ride in the business of the daVinci Robotic surgical system which is also useful for other procedures besides prostatectomy including GYN and urologic procedures. Intuitive, per Morningstar, has seen revenue grow from $601 million in 2007 to $1.76 billion in 2011. During this same time earnings have increased from $3.70/share to $12.32/share. Outstanding shares have held steady with 39 million shares in 2007 increasing to 40 million in 2011.
The 'point & figure' chart from StockCharts.com is nothing less than mind-blowing: (the stock closed today at $579.22 (4/19/12).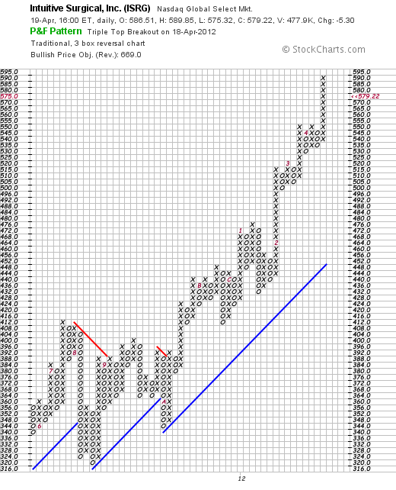 It is my hope that this discussion not only raised your understanding of the controversies and options over the testing for and treatment of Prostate Cancer, but also added to your understanding of the role that several medical technology companies play in this disease.
Disclosure: I am long ISRG.
Additional disclosure: I am a physician and survivor of Stage I Prostate Cancer.
This article was written by
Robert Freedland is a medical professional by trade and an amateur investor who has been blogging on Stock Pick Bob's Advice since 2003. He has been investing in the stock market for 46 years, having made his first purchase at the age of 13 of five shares of Global Marine in September 1967. He enjoys sharing his philosophy and perspective on investing, both by blogging and podcasting. Visit Bob's blog: Stock Pick Bob's Advice (http://bobsadviceforstocks.tripod.com/bobsadviceforstocks/). Since 2009, he has been managing portfolios on Covestor, which now include Growth and Momentum (http://covestor.com/robert-freedland/growth-and-momentum), Sustained Momentum (http://covestor.com/robert-freedland/sustained-momentum), Healthcare (http://covestor.com/robert-freedland/healthcare) and Large Cap Momentum (http://covestor.com/robert-freedland/large-cap-momentum).