Kimberly-Clark (NYSE:KMB), the maker of Huggies diapers and Kleenex tissues, among other brands and products, reported first-quarter profit that beat Wall Street analyst average estimates. Earlier this year, KMB announced it expected full-year growth below analyst estimates due to both currency exposure risks and low growth in developed markets.
See a recent performance chart for KMB: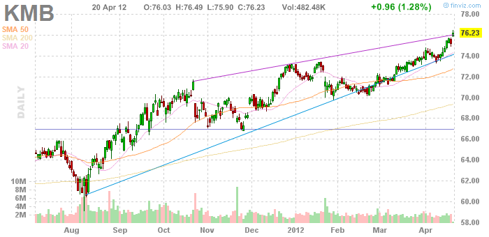 Kimberly-Clark's net income rose 34 percent to $468 million, or $1.18 per share, compared with $350 million, or $0.86 last year. If excluding one-time items, KMB's profit was $1.24. Revenue increased 4.2 percent to $5.24 billion.
The company's profit was supported by both price increases and cost reductions. Kimberly-Clark and many other consumer-product companies raised prices in the past two years due to rising commodity prices that have since declined. For KMB, pulp paper costs were 10 percent lower than they were one year ago.
Kimberly-Clark gets about 50 percent of sales in North America and about 16 percent in Europe. Kimberly-Clark's Huggies business has been hurt by less expensive diapers competing against it, as well as families having fewer children. The company has reported reduced North American diaper and training pant demand over the past year.
Procter & Gamble (NYSE:PG), the large-cap consumer goods maker, should also benefit from reduced pulp costs helping margins on some of its competing paper product brands, such as Pampers, Puffs and Bounty, though the conglomerate does have exposure to many other commodities, industries and goods.
More specifically, this report could bode well for paper and paper products companies yet to report, such as Domtar (NYSE:UFS) and International Paper (NYSE:IP), though many of these businesses have performed well in the last few months.
Disclosure: I have no positions in any stocks mentioned, and no plans to initiate any positions within the next 72 hours.