The Economic Cycle Research Institute (ECRI), a New York-based independent forecasting group, released its latest readings for its proprietary Weekly Leading Index (WLI).
For the week ending April 13, 2012:
WLI is at 123.9, plunging 2.0 from the prior week's revised reading of 125.9.
The lowest reading for WLI on record was 105.3 for the week ending March 6, 2009.
WLI growth fell to a positive 1.2%, down from last week's revised higher reading of 1.7%.
The lowest reading for WLI growth on record was -29.9% on Dec. 5, 2008. It turned higher months before the stock market [S&P 500 (NYSEARCA:SPY)] bottomed on March 6, 2009, at 666.79.
Occasionally the WLI level and growth rate can move in different directions, because the latter is derived from a four-week moving average.
WLI growth: Although lower, this marks the 4th week of positive WLI growth. A year ago, on April 15, 2011, WLI stood at 131.7, so its growth rate is negative 6.0 on an annualized basis.
Click to enlarge all images.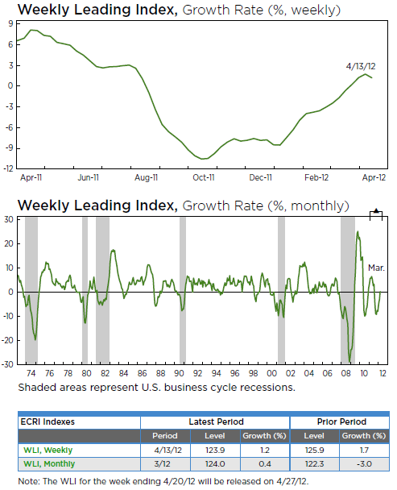 On Friday, April 6, I asked Lakshman Achuthan, ECRI's co-founder and chief operating officer, about the latest data on the U.S. Economy -- specifically, positive WLI growth matching a three-month upturn in the Ceridian-UCLA Pulse of Commerce Index. Achuthan said year-over-year (YoY) growth of WLI has barely improved from its lows and remains "solidly in negative territory." In addition,
please note that PCI growth (YoY) is still -2.2%, and even quarter-over-quarter is -4.9%.

With YoY growth in all the coincident indicators (GDP, industrial production, personal income and sales) all staying in cyclical downturns and YoY payroll job growth, which had been the only holdout, now rolling over -- as we had predicted a few weeks ago -- it's pretty clear that for now U.S. Economic growth is worsening, not improving.
Could this downturn in WLI and the stock market be the start of the larger negative move for the economy that ECRI has taken much heat for predicting?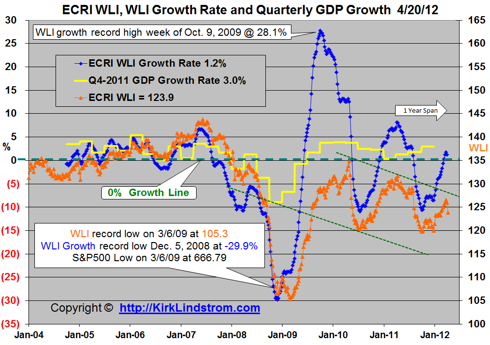 Looking Ahead
Since ECRI releases WLI numbers for the prior week, and the stock market is known in real time, you can sometimes get a clue for next week's WLI from the weekly change in the S&P 500 or its exchange traded fund, SPY. Notably, in the lead-up to the last two recessions, the WLI turned down months before the stock market did.
Chart Of S&P 500 Vs. ECRI's WLI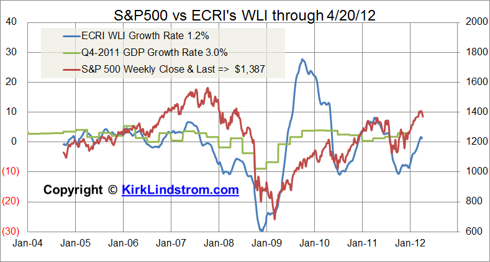 The markets fell for two weeks and WLI fell those same two weeks. This week the DOW is back above its April 6 levels while the S&P500 and the NASDAQ are lower.
With the markets currently all up over last week, will WLI move higher again next week reflecting this move by the markets?
Does the good news from Microsoft (NASDAQ:MSFT) that puts it near 52-week highs offset the recent sell-off by Apple (NASDAQ:AAPL) that has it nearly 10% below its 52-week high?
Notes:
Occasionally the WLI level and growth rate can move in different directions because the latter is derived from a four-week moving average.
ECRI uses the WLI level and WLI growth rate to help predict turns in the business cycle and growth rate cycle, respectively. Those target cycles are not the same as GDP level or growth, but rather a set of coincident indicators (including production, employment income and sales) that make up the coincident index. Based on two additional decades of data not available to the general public, there are a couple of occasions (in 1951 and 1966) when WLI growth fell well below negative 10, but no recessions resulted (although there were clear growth slowdowns).
For a better understanding of ECRI's indicators, read its book, "Beating the Business Cycle."
SPY is the exchange traded fund for the S&P 500 Index.
QQQ is the exchange traded fund for the NASDAQ 100 index. It is dominated by Apple and Microsoft .
QQQ Holdings as of Feb 29, 2012