On April 18, SXC Health Solutions (SXCI) and Catalyst Health Solutions (NASDAQ:CHSI) announced that they would merge to create a Pharmaceutical Benefit Manager with $13 billion in annual revenue. SXC is to pay CHSI shareholders $28 per share in cash plus 0.6606 shares of SXC for every share of Catalyst. At today's price of $92.50, this equates to about 37x 2012 Non-GAAP EPS and 53x 2012 GAAP EPS. Despite this rich valuation for a service-based company, investors seem to be thrilled about the acquisition, as SXC shares have climbed 25% since the deal was announced. However, a closer look at the deal reveals that this rise in shares may be overdone.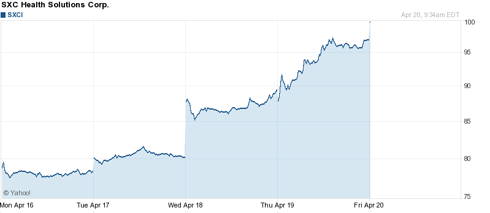 The first a red flag on this acquisition is that on a GAAP basis, it is at least 20% dilutive in 2013 in my estimation. However, in the company's announcement, and in many of the analyst notes, the focus is on the deal being "highly accretive" on a Non-GAAP basis in 2013. In some instances, Non-GAAP is a useful tool. For example, if a company underwent restructuring once over the past few years and all of the costs show up in one quarter, it could be argued that investors should take these expenses out to get to a normal operating figure. In this case, both SXC and Catalyst have been frequent acquirers of companies. Since 2008, the companies have made combined purchases in excess of $1 billion. Over the years, analysts have used the Non-GAAP numbers to make the stocks look more attractive: this continues to be the case. The combined company will produce $200 million of deal-related amortization in the first 12 months. The reason this number is so high is because on a $4.5 billion acquisition, SXC is attaining negative net tangible assets. Historically, Depreciation and Amortization count as real costs because there is a replacement value associated with the purchase causing the D&A. If these companies were not frequent acquirers, the argument could be made that the extra cash flow that comes from the deal amortization would not have to be used for future purchases. However, in this case, it's hard to imagine the company will not continue to acquire other businesses. In fact, on yesterday's conference call discussing the deal, a participant was already asking about the pipeline of acquisitions and where/when the next deal might be. This type of investor stance implies that there will be a continuation of deal making and that the cost of acquiring businesses should in fact be priced in to the stock.
The second red flag concerning this deal is the estimated synergies announced between the two companies. Management expects, after spending $40-$45 million to restructure, it will attain approximately $125 million in synergies. As separate entities, SXC and Catalyst spend approximately $150 million and $200 million on SG&A each year, respectively. Currently, Gross Margin at both companies is around 6%, while the gross margin at the combined Medco/ Express Scripts (NASDAQ:ESRX), a competitor with more than 10x the revenue, will likely be around 6.5% when fully integrated. Unless the combined SXC is arguing it can attain the same type of margin with significantly less economies of scale, we are to assume that all of the cost savings will come out of SG&A, equating to a third of operating expenses. While not impossible, its difficult to argue that investors should price these savings with any real certainty.
The third problem is how SXC will be perceived among its client base. Previously, these companies claimed that their more limited size forced them to focus more on customer service. Now, after doubling in size, it will be more difficult for the combined company to make this argument to its clients.
Additionally, while SXC management completely denied on yesterday's call that the merger of Medco and Express Scripts had anything to do with its purchase of Catalyst, its difficult to reconcile the timing and valuation of the purchase. The ESRX deal, which created far and away the largest PBM in the country, closed only two weeks prior to the SXC deal being announced. In comparison, as mentioned previously, while Catalyst was purchased for 37x 2012 Non-GAAP, Medco was purchased for 16x 2012 Non-GAAP, including the assumption of debt. If management can't even admit that the game changing Medco/ESRX deal contributed to the decision to make an expensive acquisition, where does that leave management's credibility with the investment community?
Finally, there's no reason to think that competition in the industry is going to abate any time soon. In fact, the primary reason that the FTC allowed Express Scripts and Medco to merge was because management argued that the dramatic increase in scale would lead to lower healthcare costs. Even at $13 billion in combined sales, SXC will have a hard time price competing with ESRX. As health providers, whether it be the government or private insurers, become larger, they are increasingly demanding competitive pricing for their vendors, pharmaceutical benefit management being no exception.
Right now, most investors will stick up for SXC. They will say that the company has done a good job of growing over the past five years and that the latest deal is a testament to that. Current investors should be left with the following. Right now SXC trades at what will be $10 billion post the deal close. That's about 25x anticipated 2013 Non-GAAP earnings and about 44x 2013 GAAP. Does the current valuation at all price in competitive pressures, integration risks and the potential that this company will need to continue to spend on acquisitions to remain competitive? It doesn't look it.
Disclosure: I am short SXCI.