By Paul Carton
With Apple's (NASDAQ:AAPL) iPhone capturing so much attention these days, it's not surprising that Research In Motion (RIMM) caught Wall Street off guard earlier this month.
The BlackBerry-maker reported a doubling of earnings in the second fiscal quarter and a glowing outlook moving forward. Investors rewarded the company handsomely, driving up shares 13% the following day.
ChangeWave readers weren't surprised at all by the developments. For the past year, our smartphone surveys consistently tracked the astonishing momentum of RIMM amidst the virtual collapse of its arch rival Palm (PALM).
The green arrows on the chart below show each time a ChangeWave smartphone survey registered bullish market share gains for RIMM in the past 12 months:
Research In Motion One-Year Stock Chart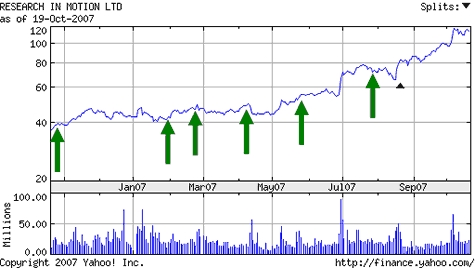 Our surveys consistently showed RIMM taking over the smartphone market and Palm losing market share in the same 12-month period.
In sum, as the headlines of our past four smartphone reports clearly showed, our Alliance surveys have forecasted with astonishing accuracy the ascent of Research In Motion and the ongoing woes of Palm.
Oct. 2006: Who Has Momentum Going Forward? It's RIMM
Mar. 2007: Buying Surveys Show RIMM on Move and Palm Stalling Out
Below is a comparison of RIMM and Palm's stock price during the past 12 months:
One-Year Stock Chart Comparison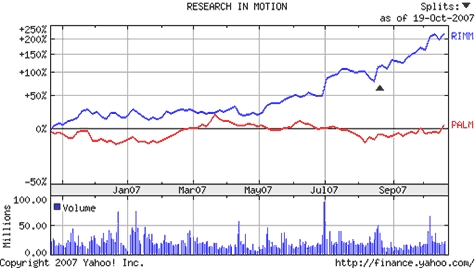 Note that in Palm's latest earnings announcement on Oct. 1, it announced yet another quarterly loss along with a disappointing forecast going forward.
Stay tuned. Our next smartphone report will be released in the coming weeks, and it will show what's going to happen in the next quarter with RIMM, Palm and the newest arrival on the smartphone block -- the Apple iPhone.
-----------------------------------------------------
This article summarizes the results of a recent ChangeWave Alliance survey. The Alliance is a research network of 11,000 business, technology and medical professionals who spend their everyday lives working on the front line of technological change. For more info on the ChangeWave Alliance, or if you are interested in joining, please click here.