On Friday, April 20, Honeywell International Inc. (NYSE:HON) and General Electric (NYSE:GE) reported earnings for the first quarter of 2011. Both companies reported better than expected earnings on the strength of strong industrial demand. These reports both bode well for United Technologies, a competing company scheduled to report next week, on Tuesday, April 24, among others.
Honeywell, maker of industrial products including flight controls, turbochargers and fertilizers, among many others, reported a first quarter of 2012 profit that beat average Wall Street analyst estimates. Honeywell's Q1 net income increased 17 percent to $823 million, or $1.04 per share, from $705 million, or $0.88, last year. The company also raised its 2012 forecast, largely on the back of strong demand for aircraft parts and energy technology.
See a recent performance chart for HON: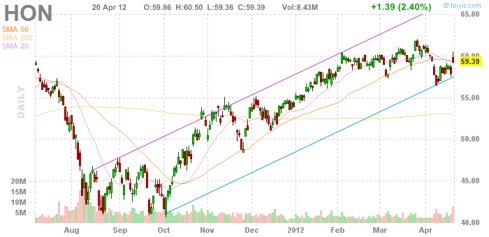 Honeywell reported that sales increased by 7.3 percent to $9.31 billion, above the $9.15 billion average Wall Street estimate. Honeywell narrowed its revenue forecast for 2012 to the higher end of its former range, between $38 billion and $38.6 billion, from $37.8 billion to $38.9 billion.
On a per-share basis, HON now expects earnings for this year to be $4.35 to $4.55, compared with a previous forecast of $4.25 to $4.50. Honeywell is now benefiting from moves by multiple airlines that need to restore older planes for use within their fleets as air travel demand continues to grow, especially within Asia. Moreover, the company stands to benefit from growing demand for its petroleum refining catalysts and processes.
Honeywell also reported that its aerospace sales rose 9.4 percent to $2.95 billion, even as defense aviation revenue declined by one percent compared to Q1 of 2011.
Honeywell's Performance Materials & Technologies division increased its revenue by about 19 percent to $1.62 billion, as demand for HON's energy maximizing products continued to grow. The company's Automation & Control Solutions division, its largest, grew its sales by 3.6 percent to $3.79 billion
General Electric also reported strong industrial division revenue growth on robust demand for its energy-related products. On Friday, April 20, 2012 General Electric Co. reported Q1 earnings above Wall Street analysts' average estimates. Earnings from continuing operations, excluding one time costs, increased by less than one percent to total $3.59 billion, or $0.34 per share, compared to $3.56 billion, or $0.33 cents per share last year.
After including pension expenses and excluding GE's NBC Universal stake sale during Q1 of 2011, GE's net income dropped approximately 12 percent to $3.03 billion, or $0.29 per share, from $3.43 billion, or $0.31 cents per share.
See a recent performance chart for GE: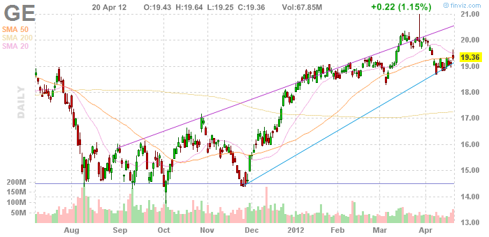 Though GE's revenue did decline by about eight percent, to $35.2 billion, revenue was still about half a billion above expectations. Some of the decline is due to reduced advertising revenue following the NBC Universal deal. Organic industrial revenue gained 11 percent. GE also reported that it now has an industrial order backlog valued at $201 billion.
GE's results noted strong performance from its energy business within its industrial division, which includes businesses that produce turbines and engines, among other products. Earnings from GE's energy infrastructure business grew by 10 percent to $1.52 billion, and the GE industrial division totaled $3.27 billion in profit. The company noted that customers purchased 696 wind turbines during Q1 2012, compared with 327 during Q1 2011.
Chief Executive Officer Jeffrey Immelt has announced plans to grow these industrial businesses globally, while reducing the conglomerate's exposure to its financial division. During the first quarter of 2012, GE Capital's earnings were basically flat at $1.79 billion, compared to the same quarter last year.
These reports bode well for United Technologies (NYSE:UTX), which also has considerable industrial and aerospace exposure. United Technologies is scheduled to report its Q1 2012 earnings on Tuesday, April 24. UTX is expected to report about $1.20 in earnings for Q1 2012, compared to $1.06 during the same quarter last year.
See a recent performance chart for UTX: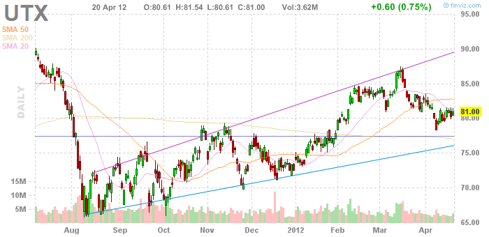 UTX competes with GE and HON in various industries, including building systems, aerospace, engineering and defense. United Technologies even attempted to acquire Honeywell several years ago, but was outbid by GE, which ended up being denied approval to take over HON by the European Union. GE and UTX are the two largest makers of engines for aerospace, and both are likely to benefit from modernization of legacy fleets, as well as growth of new airlines and air forces within the emerging world.
General Electric, Honeywell and United Technologies are all members of the industrials sector of the S&P 500. Each is also a top ten holding within the Industrials Sector SPDR ETF (NYSEARCA:XLI), and the three combine to total about 21 percent of the ETF's holdings.
Disclosure: I am long GE.