Capstead Mortgage Corporation (NYSE:CMO) released third-quarter results yesterday afternoon, posting a shocking loss of $0.43/share versus earnings of $0.04/share in the second quarter of 2007. Driving the loss was the sale of $809 million of its lower-yielding, faster prepaying agency-guaranteed securities incurring a loss on sale of $5.9 million and a loss of $2.3 million from terminating related longer-dated repurchase arrangements. Net interest spread improvement was a disappointing six basis points.
Most notably, Capstead admitted that:
With asset values falling and lenders becoming more cautious, many investors in non-agency securities were forced to liquidate substantial amounts of their holdings. These distressed sales placed downward pressure on market values of all residential mortgage securities, including agency issued and guaranteed securities.
This statement leads me to believe that agency RMBS may be facing more serious mark-to-market adjustments for the third quarter than first thought. If even agency securities lost some pricing visibility and liquidity, competitors like MFA Mortgage (NYSE:MFA) and Annaly Capital (NYSE:NLY) may post results that are considerably short of expectations. While these downward valuation adjustments will not affect taxable income, they will push down book value, which is typically the metric off which passive REITs trade.
Capstead's book value fell to just $7.57/share as of September 30, which excludes the $0.60/share accretion to book value from the recent common offering.
Capstead's failure to disclose the impact of portfolio sales during the quarter via a press release or even in a separate 8-K is troubling given the timing of the common offering. The information was disclosed in the offering prospectus; however, existing Capstead shareholders may have easily missed this information.
Based on the pro-forma book value of $8.17/share (including the accretive offering), Capstead is trading at a lofty 1.4x book value.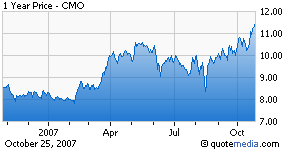 Disclosure: none