Inspired by fellow Seeking Alpha contributor Tim McAleenan, I wrote an article this past week on two stocks I want to see drop. I got my wish on Intel (NASDAQ:INTC), as it dipped after its earnings report. We'll see what happens to Pandora (NYSE:P) come May when it releases its numbers for the previous quarter.
In this article, I consider the prospects of Amazon.com (NASDAQ:AMZN) pulling back considerably when it reports earnings Thursday, April 26.
On Friday night, Jim Cramer noted that he thinks it will be difficult for Amazon to beat estimates because its CEO Jeff Bezos spends too much money. In one respect, I agree with Cramer. I think Wall Street is prepared to send Amazon for a loop if the company misses or does not come up with impressive inline results (or a beat) and encouraging guidance. As a long-term investor, I want AMZN to crash in a hysterical post-earnings fit for two reasons:
AMZN tends to retrace old highs after a considerable price decrease (see chart below, courtesy of Yahoo Finance).
The long-term, as it has for more than a decade, looks solid.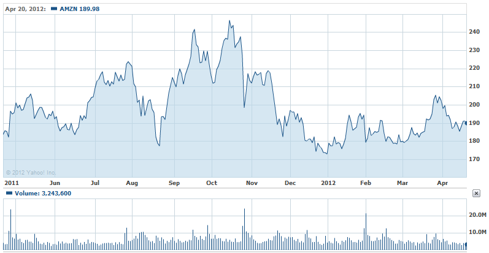 Now I would be as blind as a bull if I did not acknowledge something that stands out on that chart. On the left half, AMZN kept achieving higher highs. On the right, it kept on notching lower highs. After its latest dip back below $200, it needs a strong performance if it expects to break out, sustain that key psychological level and retest its 52-week high of $246.71.
As a long-term investor, however, that relatively short-term technical stuff doesn't mean much to me. In fact, I would like to see this report trigger a breakdown in the stock that knocks it below $180.
Jeff Bezos is spending too much. Really? I guess we're just not very good students of history. He's been "spending too much" for longer than my 8-year old has been alive. And his company has grown faster over the last decade than my kid has in the last 8 years. Hey, it's not her fault that her father is only 5' 6" and a half.
In any event, I was doing some research on Amazon the other day and came across this question and answer volley from 1999 between a Bloomberg Businessweek reporter and Bezos:
Q: Do you have a goal for when you can throttle back on expenses and become profitable?

Our strategy is very, very clear: We're focused on long-term returns for investors. And to throttle back on investment now would be shortsighted. When we have less opportunity, that will probably happen. But as long as we have lots of opportunity, we're going to continue to invest commensurate with that opportunity in a very disciplined and methodical way, but in a long-term context. To do anything else, we believe, is irrational. But we also don't claim that that's the right strategy. We just claim it's ours. And then people get to decide. But we're clear about it. And we do passionately believe it's the right strategy.

Make no mistake about anything I've said here: Long-term profitability and building an important and lasting and sustained company is incredibly important to us. We just believe that, by investing now, we increase our chances of achieving those things.
I have an idea why Bezos doesn't do many interviews these days. He's sick and tired of answering the same questions repeatedly.
Had you bought AMZN back when Bezos gave that answer (which can also serve as a textbook definition of "perpetual startup"), you would be quite a bit wealthier today. And just imagine if you had bought the dips when others were worried about Bezos "spending too much."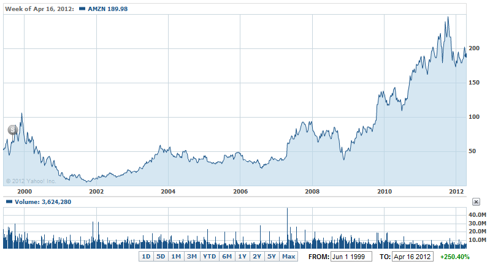 While past performance is not necessarily indicative of future results, I plan on buying any dips in AMZN from here on out.