Huh? That's the only reaction I have to the recent performance of dry bulk stocks as there has been a significant disconnect between the Baltic Dry Index and dry bulk stocks over the past few months. For some background, one of the main, if not the main, indicator of how the industry is doing is the Baltic Dry Index (BDI). The BDI is a shipping and trade index created by the London-based Baltic Exchange that measures changes in the cost to transport raw materials such as metals, grains and fossil fuels by sea. The Baltic Exchange directly contacts shipping brokers to assess price levels for a given route, product to transport and time to delivery (speed). For shipping companies, a higher BDI is better than a lower one as it means that they will get to charge more for their services.
As the BDI reached very high levels leading up to the credit crisis and global world economic slowdown, numerous ships were ordered by companies as the return on investment at those shipping rates was astronomical. Unfortunately, the economic slowdown brought trade to a halt and therefore, shipping rates fell. Notably, the order those new vessels dry bulk stocks took on plenty of debt. Since the turning point of the economy in the 2008 period, the industry has been plagued by low economic growth that leads to less demand for its services and over capacity as the number of ships being delivered has sent rates to all-time lows. Over that time period the BDI dropped more than 90% because of the after mentioned issues. Dry Bulk stocks have tanked as well, which isn't surprising.
The story in 2012 and more accurately since February has been a bit different and has brought some optimism to the sector. The Baltic Dry Index has risen over 60% over the past 2.5 months, recovering some of the losses from the December through January time period. As the fundamentals of the industry have improved, dry bulk stocks haven't seen that optimism translate into a higher stock price. All but Dry Ships (NASDAQ:DRYS) have fallen back to late-January and early-February Levels. Below is a closer look at the performance of some of the notable dry bulk stocks year to date.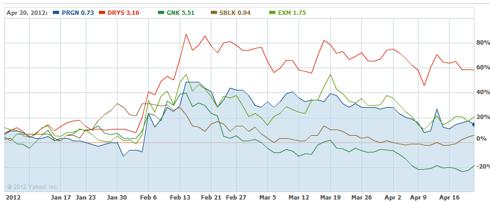 The performance of the stocks suggests that either the market thinks that the BDI improvement will be short lived or that the dry bulk stocks listed were overvalued in February and now are just less overvalued. I can't answer the former but I can answer the latter. Dry bulk stocks are still being valued as there is no future in the industry. The P/B ratios for some of these stocks are very low. Yes, it's reasonable to assume that the values of the vessels on the books are a bit high but not to the extent the market is estimating. Below is an in depth look at 4 dry bulk stocks and their respective P/B ratios.
DryShips is an owner of drybulk carriers and tankers that operate worldwide. Through its majority owned subsidiary, Ocean Rig UDW (NASDAQ:ORIG), DryShips owns and operates 9 offshore ultra deepwater drilling units, comprising of 2 ultra deepwater semisubmersible drilling rigs and 7 ultra deepwater drillships, 3 of which remain to be delivered to Ocean Rig during 2013. DryShips owns a fleet of 47 drybulk carriers (including newbuildings), comprising 11 Capesize, 29 Panamax, 2 Supramax and 5 Very Large Ore Carriers (VLOC) with a combined deadweight tonnage of about 5.2 million tons, and 12 tankers (including newbuildings), comprising 6 Suezmax and 6 Aframax, with a combined deadweight tonnage of over 1.6 million tons. DRYS's P/B ratio is 0.43.
The company recently made an announcement that could act as a catalyst for the shares. On April 9, DRYS announced it is offering 9,000,000 common shares of Ocean Rig UDW. As the company begins to monetize some of its assets, investors may begin to see clearer the value in DryShips.
Genco Shipping & Trading (GNK) transports iron ore, coal, grain, steel products and other drybulk cargoes along worldwide shipping routes. Excluding Baltic Trading's (NYSE:BALT) fleet, GNK owns a fleet of 53 drybulk vessels, consisting of nine Capesize, eight Panamax, 17 Supramax, six Handymax and 13 Handysize vessels, with an aggregate carrying capacity of approximately 3,810,000 dwt. In addition, its subsidiary Baltic Trading Limited currently owns a fleet of nine drybulk vessels, consisting of two Capesize, four Supramax and three Handymax vessels, with an aggregate carrying capacity of approximately 672,000 dwt. The stock has a P/B ratio of 0.16.
Paragon Shipping (PRGN) is a Marshall Islands-based international shipping company with executive offices in Athens, Greece specializing in the transportation of drybulk cargoes. The company's current fleet consists of ten drybulk vessels with a total carrying capacity of 704,772 dwt. In addition, Paragon Shipping entered into contracts for the construction of four Handysize drybulk carriers that are scheduled to be delivered in 2012 and two 4,800 TEU Containerships that are scheduled to be delivered in 2013 and, as a result, will increase the fleet size to fourteen drybulk vessels with a total carrying capacity of 853,572 dwt and two containerships with a total carrying capacity of 9,600 TEU. Paragon Shipping has granted Box Ships (NYSE:TEU), an affiliated company, the option to acquire its two containerships under construction. PRGN's P/B ratio is 0.2. The ridiculous valuation and the upside that the stock offers was documented in more detail here.
Star Bulk (SBLK) is a global shipping company providing worldwide seaborne transportation solutions in the dry bulk sector. Star Bulk's vessels transport major bulks, which include iron ore, coal and grain and minor bulks such as bauxite, fertilizers and steel products. Star Bulk was incorporated in the Marshall Islands on December 13, 2006 and maintains executive offices in Athens, Greece. Currently, Star Bulk has an operating fleet of fifteen dry bulk carriers, consisting of seven Capesize, and eight Supramax dry bulk vessels with a combined cargo carrying capacity of 1,625,945 deadweight tons. The average age of our current operating fleet is 10.7 years. Notably, SBLK pays a 6 cent annual dividend for a yield of 6.4%. The stock has a P/B ratio of 0.17.
Disclosure: I have long positions in PRGN and SBLK.