Financial stocks have been on a rally, which, in a normal market, means it is a good idea to watch and wait for the perfect time to sell part, if not all, of the position - but this is not a normal market. Instead, stock prices are exceptionally volatile and what rises today could rise exponentially tomorrow, especially if that stock is in one of the industries hit hardest by the financial crisis, such as finance companies.
Take JPMorgan (JPM) for example.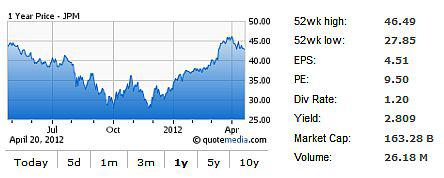 The company's share price swelled over 32% in the first quarter of 2012, and at least one man believes that growth will continue. In a 38-page letter to shareholders, JPMorgan CEO Jamie Dimon makes a compelling argument as to why he thinks the company is a good long-term investment. He talks about some of the issues affecting the finance industry, such as uncertainty over regulation, and the commonly cited reasons for avoiding investment in the industry, such as the current low interest rate environment, high economic uncertainty and the poor housing market.
Obviously, these are temporary issues and Dimon thinks that once they are resolved there will be just as many hurtful consequences as beneficial ones - in other words, business as usual. So, why invest in JPMorgan over another such company?
Dimon says that JPMorgan is a good investment for a couple reasons. He cites the company's high tangible book value, valuable intangibles, organic growth, capital generation capabilities and stock buy backs. However, he only discusses JPMorgan in all this; what about the company's competition? How does JPM stack up compared to companies like Bank of America (BAC), Capital One (COF), Citigroup (C) and Wells Fargo (WFC)?
JPMorgan has a book value per share of $47.64 and it is trading at just over $43 a share, but other financial companies represent a far greater value. Bank of America is trading at less than $9 a share with a book value of over $20 a share, Citigroup is trading at less than $35 a share with a book value of almost $61 a share and Capital One is trading less than $54 a share with a book value of over $65 a share. In fact, Wells Fargo was the only one of the group that was priced unfavorably to its book value ($34 a share vs. $25 a share).
Dimon goes on to talk about JPMorgan's high intangible value, saying:
Our brand, our clients, our people, our systems and our capabilities are not replicable - even if I gave you hundreds of billions of dollars to do it.
That may well be true but Bank of America, Capital One, Citigroup and Wells Fargo also have strong names and could boast the same. Dimon goes on to say:
We have many businesses that earn extraordinary returns on equity because there is very little equity involved; e.g., much of our asset management business, our advisory business, parts of our payments businesses and others.
But is JPMorgan's return on equity really so extraordinary compared to its peers? Right now, JPMorgan has a return on equity of 10.15%. This may eclipse Bank of America's return on equity of 0.63% and Citigroup's 6.43%, but it is significantly less than Capital One's 11.58% or Wells Fargo's 12.03%.
Dimon makes a case for JPMorgan's focus on organic growth as well, explaining that the company finds greater value investing within itself - opening new offices, expanding operations, looking toward emerging markets, diversifying interests - than in acquisition alone, especially those that require large amounts of capital. But, is that really so different from its competitors?
Not so much. Wells Fargo is using a blend of acquisitions and organic growth to grow, as is Capital One. The latter, which is much smaller by market cap than others in this peer group, is growing through a mix of acquisitions and organic growth. But, given its size, acquisition may be the easiest and most effective way for Capital One to gain access to growing markets.
Bank of America, which did grow largely through large acquisitions said that last year that it would no longer be following that strategy, instead retaining its resources for more organic growth. And, point in fact, the company has opted not to increase dividends, even though it could, presumably in order to bolster its position. Citigroup is also focused on organic growth.
Dimon cites capital generation as a major strength for JPMorgan, but Capital One says the same thing. Moreover, according to American Banker, the issue of capital generation is an industry-wide benefit:
Analysts at RBC Capital Markets predicted that bank stocks could increase 20% to 25% over the next 12 months as overall credit quality improves and 'loan growth and capital generation lead to more normalized earnings at some point in late 2013'.
Dimon also spoke of stock buybacks -
We also bought back $9 billion of stock and recently received permission to buy back an additional $15 billion of stock during the remainder of 2012 and the first quarter of 2013.
Citigroup, which failed the Fed's stress test is, of course, prohibited from initiating any type of capital return plan and, as mentioned above, Bank of America is opting to avoid raising its dividend or buying back stock, for now anyway. Wells Fargo recently boosted its dividend by 83% while JPMorgan had increased its dividend pay out by just 20%.
All in all, I have to say that JPMorgan looks really good; in fact, I think that the company shows a lot of promise over the short-term. But for a longer term position, Bank of America looks much better. Its return on equity is low right now, but its price is less than half its book value and, by retaining its capital instead of issuing dividends or buying back stock, it is setting itself up to be much stronger going forward.
Disclosure: I have no positions in any stocks mentioned, and no plans to initiate any positions within the next 72 hours.