It has been a frustrating stretch in the gold trade for some time now. After peaking last September, the yellow metal sold off and has been grinding sideways for the eight months since. And now with the Fed's latest stimulus program set to end in June, it is reasonable to consider whether gold is likely to struggle even more under such a scenario. While much is made about how the lack of Fed stimulus is negative for gold, the reality is that gold has been a proven performer regardless of Fed stimulus.
While I will be focusing on the SPDR Gold Trust (NYSEARCA:GLD) in this article, the same principles apply to the iShares Gold Trust (NYSEARCA:IAU), the ETFS Physical Swiss Gold Shares (NYSEARCA:SGOL) and the Sprott Physical Gold Trust (NYSEARCA:PHYS).
To begin with, the fundamental thesis for gold remains fully in tact. First, gold stands to benefit over time in a world marked by competitive currency devaluation including a secularly weak U.S. dollar policy dating back over a decade. Also, with the destabilizing threat of crisis mounting in Europe coupled with persistent pricing instability, gold also represents an attractive safe haven and store of value. These characteristic advantages have enabled gold to generate a cumulative return in excess of +100% since the beginning of the financial crisis during a time when the stock market is still barely positive.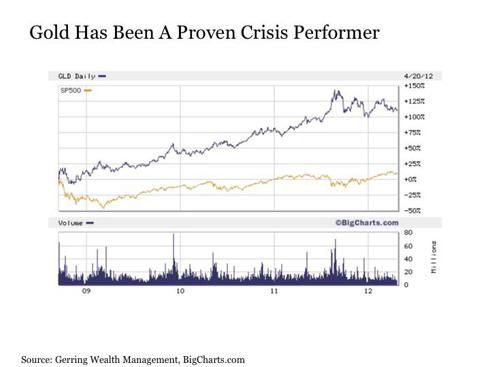 But what about the impact of Fed stimulus on gold? After all, the Fed's latest program in Operation Twist is set to expire in June 2012. And it is well known that the performance of Stocks (NYSEARCA:SPY) has been dismal in the recent past once the Fed removes active policy support. Should we expect the same for gold?
Despite the widespread perception that gold rises with Fed stimulus and declines without it, this has not been the case throughout the financial crisis. To the contrary, gold has demonstrated the ability to rise with or without Fed stimulus.
A review of gold during the most troubled periods for the stock market dating back to September 2008 highlights this point. From September 15, 2008 to March 6, 2009 when the stock market was effectively cut in half and the Fed had yet to fully launch what is now known as QE1, gold regained its footing after an initial stumble and went on to gain nearly +30% over this same time period.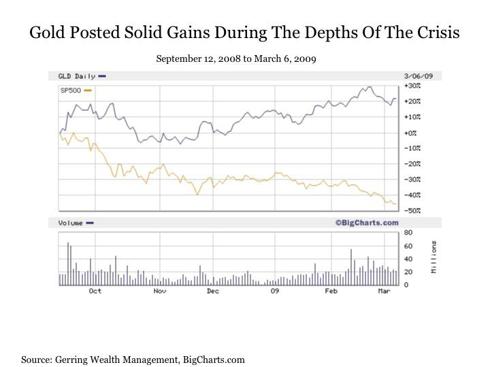 And following the end of QE1 in April 2010, gold was able to steadily advance by nearly +10% at a time when the stock market dropped by over -15%.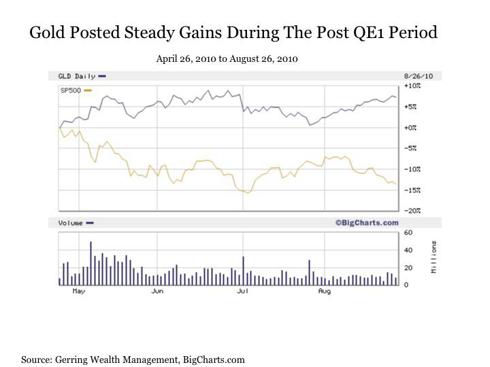 Most recently, following the end of QE2 in July 2011, stocks once again faltered badly. But gold immediately accelerated to the upside, gaining +20% before pulling back in late September 2011 once Operation Twist was announced.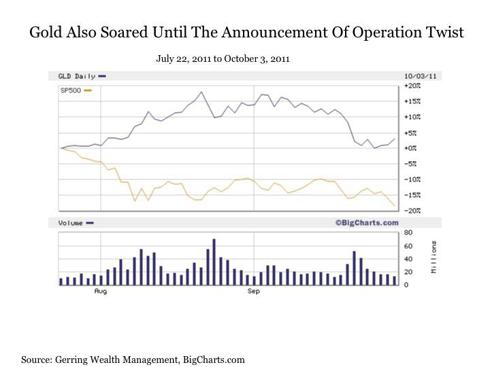 So as we approach the end of Operation Twist in June 2012, it may be worthwhile to consider establishing or supplementing gold positions for those investors that have the risk tolerance for higher price volatility. For just as gold is trading sideways today, so too was it trading sideways in the final few months prior to the conclusion of past Fed stimulus programs. It was only after these programs had ended that gold made a decisive move to the upside. And the yellow metal is setting up in a very similar fashion once again this time around.
Disclosure: I am long GLD.
Disclaimer: This post is for information purposes only. There are risks involved with investing including loss of principal. Gerring Wealth Management (GWM) makes no explicit or implicit guarantee with respect to performance or the outcome of any investment or projections made by GWM. There is no guarantee that the goals of the strategies discussed by GWM will be met.