Summary:
This is a short version of a presentation that was given at NYU Stern School of Business this week. I would like to credit Amit Bapat, a Stern MBA student, for working with me on the presentation and providing the majority of the Discount Cash Flow analysis. All tables and figures are either author's calculations or taken directly from SEC filing, unless noted otherwise.
After I wrote this article last week, EZPW reported somewhat disappointing Q2 2012 results on April 19. The stock plunged over 13% the next day. Ironically, some of the inventory issues related to the price of gold were already anticipated in this article. With the price of forward P/E around 9, little net debt, and a still very respectable top line and bottom line growth of over 15%, EZPW is very attractively priced. However, there are some serious legislative threats and governance issues which should not be overlooked by a discerning investor (caveat emptor!).
I have updated a few numbers and graphs after the reported earnings, while keeping the old financial statements as the basis (Q1 1012), but the overall thesis remained intact.
Investment thesis:
EZCorp is the largest U.S. pawn-shop broker and pay day lender chain in the United States, with significant and fast growing foreign operations. The equity price is depressed due to perceived legislative threats from a newly created Consumer Financial Protection Bureau (CFPB) as its new head, Richard Cordray, was hostile to pay day lenders in the past as Attorney General of Ohio.
In addition, the company suffers from some governance issues. A single investor, who gets paid a handsome fee for vaguely specified "consulting services", holds all voting class B shares. Yet, I believe EZPW is still selling at a significant discount to its fair value, even after considering the worst possible scenarios.
While EZPW stock price has been exceptionally volatile in the last several years, it has not always moved with the direction of the market (Beta = 0.72, GSPC - S&P 500, RUT - Russell 2000):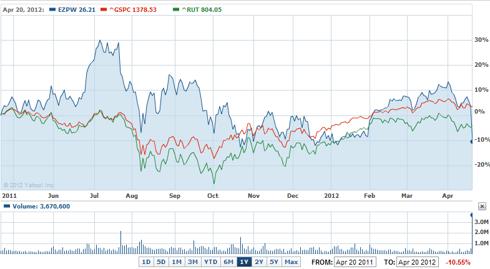 Source: Yahoo finance
Any patient investor who bought EZPW on "the dip" in the last five years was greatly rewarded, usually within a year.
Pay-day and pawn shop loan in plain English:
A typical pay-day loan averages around $560 and is given for a 30 day term, with a possible roll-over extension for another 30 days. Generally, all states regulate the amount, duration, and number of rollovers of the pay-day loans, but not the fees and the interest the lender is allowed to charge. A typical target fee and interest for a pay-day loan is 20% per 30 days, or 240% annualized.
A pay-day loan is non-recourse -- a lender has little legal leverage to collect the defaulted amount. A lender does not check the borrower's credit score, but only requires that he or she have a checking account with some history of cash flow. The borrower gives the lender a check for a borrowed amount plus a fee valid on the date when the loan is due. The lender will deposit the check on a due date.
In contrast, the pawn shop loan is secured by an asset that usually exceeds the value of the loan. The terms of the pawn shop loan are very similar to that of pay-day loan: 30-day period with possible extension and a 20% per 30-day target fee. A typical amount of a pawn loan is smaller: $80 to $120. If the loan is not re-paid on time, the collateral is seized and sold by the lender. There are relatively little Federal or State regulations concerning pawn-shop operations, but some States (and Congress) are considering introducing laws capping the pawn shop fees.
Industry overview:
The pay-day advance and pawn-shop industry is benefiting greatly from favorable macro-economic conditions. As many consumers are turned down from obtaining short-term credit and squeezed financially to get to the next paycheck, the industry should prosper.
There are four dominant U.S. chains that provide pay-day loans and pawn-shop services as the core of their business: EZCorp Inc. (NASDAQ:EZPW), First Cash Financial Services Inc. (NASDAQ:FCFS), Cash America International Inc. (NYSE:CSH), and Advance America Inc. (NYSE:AEA).
In addition, several other diversified financial services companies offer pay-day advances and similar short-term high interest loans: World Acceptance Corp. (NASDAQ:WRLD), Dollar Financial Corp. (NASDAQ:DLLR), and several banks.
EZPW business segments:
Two thirds of EZPW's revenue and about 70% of its operating profit comes from pawn shop business (EZPawn). EZmoney, its pay day lending segment, is responsible for 17% of revenue and 15% of income. A smaller but faster-growing pawn-shop chain in Mexico, Empeno Facil, contributes 6% to its 2011 revenue. Finally, EZCorp holds a minority stakes of 30% and 33% in UK (Albemarle & Bond) and Australian (Cash Converters) pay-day lenders and pawn brokers.
EZPW is sporting an enviable 3-year revenue growth rate of 22% with an even more phenomenal 29% growth of its net income:
Source: EZPW investor presentation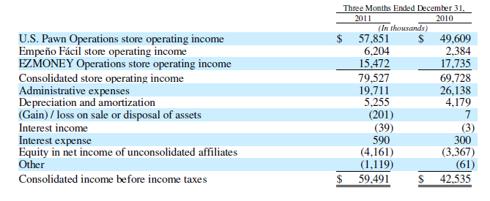 Comparative valuation:
We can easily compare EZPW with a typical company from the Russell 2000 and Russell 200 Growth index to see what it could be worth if its investors did not have "idiosyncratic concerns":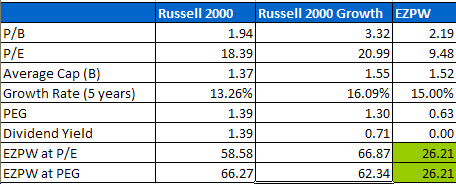 If we were to assume a typical P/E or PEG ratios of Russell 2000, we would value EZPW between $58 and $67 a share!
EZCorp is also very favorable compared to its peers:

On a relative scale, EZPW has several distinct advantages over its competitors: It has better gross and operating margin, no debt, higher growth rate, higher insider ownership, and small short interest compared to its publicly traded competitors, while trading at generally comparable P/E and PEG multiples.
So why is it so cheap?
What do the bears say about EZPW (and some of it is right):
1. Pay Day loans are in mortal danger:
Its Pay Day loan business is under constant existential legislative threat. One person (who is neither founder nor officer) controls all voting rights:
Richard Cordray, Director of the Consumer Financial Protection Bureau, January 20 2012:
"We already have begun examining the banks, and we will be paying close attention to deposit advance products at the banks that offer them. And this month, we have launched our examination program for nonbank financial firms as well.

Today we are releasing our Short-Term, Small-Dollar Lending Procedures, the field guide for our examiners across the country who will be visiting both banks and payday lenders to see first-hand how they conduct business."
My take:
He also said that he understands the importance of short-term consumer credit to "under banked"
The Community Financial Services Association of America, a lobby group launched by pay day lenders, is very active and already provided "best practices" to "avoid worst abuses"
Pay Day Loans are about 17% of revenue and less than 15% of income
2. Poor governance:
Phillip E. Cohen is the beneficial owner of all of our Class B Voting Common Stock and controls the outcome of all issues requiring a vote of stockholders. EZPW cannot pay dividends to Class A without paying the same dividends to Class B. Class B is convertible into Class A (non-voting common) on a one-to-one basis. Cohen founded Morgan Schiff & Co., an investment house specializing in Mergers and Acquisitions and Private Equity firm from its founding in the mid 1980s to the late 1990s. The firm was discontinued after the bankruptcy of Friedman's Inc. due to accounting fraud, the largest jewelry bankruptcy of all time. His company, Madison Park LLC was paid by EZPW $4.8 million in 2011, $3.6 million in 2010 and $2.4 million in 2009 for unspecified "consulting services".
My take:
Yes, it looks bad, but Cohen wasn't accused of fraud-- nor was he barred from the security industry
Many prominent companies have super-voting shares: Google (NASDAQ:GOOG), Berkshire Hathaway (NYSE:BRK.A), News Corp. (NASDAQ:NWSA).
Class B shares are only 5.91% of common. If Cohen decides to convert into class A and EZPW declares a dividend, the stock may take off
I acknowledge that compensation paid to Mr. Cohen and some other board compensation (Brinkley and Rotunda) seems rather generous
3. Quality of earnings:
The growth is no longer organic - EZPW has become an acquirer (Cash Converters, Albemarle and Bond, and just recently a transaction - $68 million purchase of Mexican pay-day lender Crediamigo).
My take:
True, but we will take a critical look at acquisition valuations
Acquiring foreign companies will offset legislative threats at home
On the one hand, Mexican subsidiaries as "stand-lone" companies have a much higher cost of funding due to a less mature loan market. Re-investing U.S. profits in Mexican subsidiaries at lower cost of capital is close to a "free lunch". On the other hand, a recent purchase of Crediamigo is somewhat opaque as we learn little about the target until EZPW this quarter 10Q comes out.
4. About 2/3 of EZPW inventory is gold or gold jewelry:
Should the price of gold collapse, EZPW will have to mark down its inventory and its customers will have less valuable collateral to borrow in its pawn shops.
My take:
Management understands the risk and entered into "option collars" last year, which should make its inventory more "market-neutral" to the price of gold
Q2 miss was somewhat related to the stagnant price of gold: the pawn inventory mix tilted to general merchandise from gold jewelry
I acknowledge that at least some of the rapid sales growth of last decade was supported by the bull gold market
Valuation approach:
I valued the company as a sum of its parts using both relative (multiples) and intrinsic value analysis (NYSE:DCF). EZPW uses "equity method" to account for its minority stakes ($4,161 million below), fully consolidates its Mexican subsidiary (Empeno Facil), and shows its pay-day loan operations as EZMONEY stores.
Detailed financial information is available on each of its fully consolidated subsidiaries (EZMoney - pay day loans, EZPawn - pawn shop, Empeno Facil - pawn shop). Its minority stakes: Cash Converters and Albemarle & Bond's are publicly traded in Australia and UK and can be evaluated on "mark-to-market" basis.
I valued EZPW under four different scenarios:
Optimistic - legislative threats disappear, CFPB abolished, EZPW starts paying dividend and converts class B shares into class A
Base - status quo: CFPB is making noises but no major adverse legislation, the governance stays "as is", gold prices hold steady
Adverse - CFPB slowly forces pay day lending out, gold prices fall, the growth rate stalls
Extremely adverse - CFPB abolishes pay day lending, gold price collapses, minority stakes only get dividend
I will not provide the detailed DCF calculations in this article, as it would take several pages (you can email me if you want a copy of more detailed presentation).
I made several assumptions in my analysis. In the "extremely adverse" scenario, EZPW will be forced to shutter its Pay Day loan stores at a cost of $200K impairment each based on its cost of closing stores in prior years to get out of a lease (EZPW stated that lease conversion to a pawn shop is usually possible in case of an adverse legislative action).
I used a comparative analysis to arrive at EZMoney value by comparing it to AEA sales and P/E multiples (AEA is an almost pure U.S. pay day loan play). Most of my DCF analysis assumed a slowdown of growth rate to about 8-10% for next 5 years (depending on a segment) and terminal growth of 2% afterwards. I looked at market price, discounted dividend payments, and DCF to arrive at Cash Converters and Albermarle valuations.
The table below shows my segment valuation summary:

Even in the most adverse scenario, the price still exceeds today's market price of $26.21.
While I recognize that many of the concerns of EZPW bears are valid, I still believe that this company represents a very good risk/reward ratio, just be ready for a wild ride and hold your nose!
My take on Q2 earnings miss:
EZPW missed its analysts' guidance on Q2 (March 31) earnings-- $0.73 vs. expected $0.76-- while it beat on revenues of $256 million vs. $248 expected. The management blamed an unfavorable inventory/sales mix this quarter, where general merchandise increased 11% since last year but the gold jewelry declined 15%. While both general merchandise and gold jewelry have similar margins, the latter has a much better inventory turnover of 4-4.5 times vs. 3-3.5 for general merchandise.
EZPW management was at a loss to explain the sales shift, which apparently persisted for a year but was "masked" by the rising price of gold in the prior quarters. To EZPW's credit, FCFS (its main competitor) complained about similar issues during this quarter conference call.
Just to hedge my bet, I will point out two issues which concern me the most:
Phlip Cohen's past history indirectly linking him to accounting fraud and his "skimming off the top" of nearly $5 million of EZPW money last year. There is an excellent summary of governance concerns here.
A lack of information on recent purchase of Crediamigo. Until I see the 10Q for Q2, my paranoia will keep me awake at night. Could it be that the Q2 numbers would've looked much worse without this late acquisition?
Disclosure: I am long EZPW.
Additional disclosure: I also hold an offsetting short position in EZPW call options.