Technology stocks continued to decline again last week, the third straight week of declines. The S&P 500 closed the week nearly flat, the Dow Jones Industrial Average rose 0.5%, and the Nasdaq dropped close to 1%. The negative sentiment was especially devastating for small-cap and stocks trading at below $4. There are four stocks that fell much faster than the Nasdaq Index last week: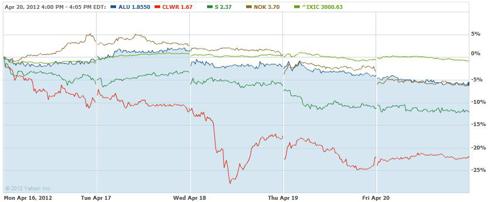 (Chart Source: Yahoo Finance)
1) Alcatel-Lucent (ALU) - Buy
Alcatel-Lucent is down -20.26% for the month, and closing at $1.85. Shares are still up 18.59% year-to-date. Speculators drove shares up on optimism that Alcatel-Lucent would benefit from the continued growth in wireless broadband. Key events and statistics supporting a bullish call for Alcatel-Lucent are that the company:
Benefits from sales in software that will grow with LTE: year-over-year forecast of a tenfold growth in LTE phones to 67.0 million in 2012
Last month, Wi-Fi technologies that offload cell phone traffic was promoted at the Mobile World Congress show in Barcelona
Wi-Fi offloading has a high gross margin
Trades below book value ($2.23) and has a price/book value of 0.84
The company remains a long-term speculative buy. Alcatel-Lucent is still reliant on the older CDMA business.
2) Clearwire Corporation (CLWR) - Avoid
Clearwire, a wireless-broadband wholesaler, fell 32.11% in April, and closed recently at $1.67.
The reasons to avoid Clearwire at this time are:
Verizon Wireless (NYSE:VZ) is selling 700 Mhz A and B spectrum, making the value of Clearwire spectrum less valuable
Company has not reported an annual profit in five years
Clearwire may be forced to sell its spectrum to improve its weak balance sheet: its total value estimated to be worth $4 billion
NetZero 4G has an attractive price for consumers and requires no contract (unlike offering from AT&T and Verizon), but its limited availability also limits consumer appeal. The service is only available in 70 cities.
3) Sprint-Nextel (NYSE:S) - Buy
Sprint-Nextel is down 14.75% in April. It closed at $2.37. Two reasons to avoid Sprint-Nextel are:
Company is being sued in New York, and is being accused of underpaying $100M in sales tax. The company claims the suit is without merit. Sprint said it "intends to stand up for New York consumers' rights and fight this suit."
Deal to buy about $15 billion worth of Apple (NASDAQ:AAPL) iPhones during the next four years continues to hurt sentiment for shares
The strong consumer focus on lower price is a reason to be bullish on the company. Sprint-Nextel is offering customers a price-advantage for upgrades over Verizon Wireless, which is now charging a $30 upgrade fee. Existing Sprint-Nextel customers who upgrade phones on a 2-year plan pay just $3. Sprint-Nextel has an annual meeting set for May 15, with earnings report due April 25 before market open.
4) THQ Inc. (THQI) - Speculative Buy
THQI shares are up 19.05% this month, closing at $0.75. Shares outperformed the Nasdaq last week but underperformed the index for the year. The company is inherently risky, since its market capitalization is just $51.3 million. In 2007, the company traded at around $36.00. THQ experienced a cash flow crunch after launching uDraw, a game tablet that failed to interest consumers.
Investors have reason to be more optimistic, after the company gave a stronger forecast for earnings:
Net loss will be between $0.10 and $0.20
Sales will be $160 million - $170 million, compared to a previous forecast of $130 million - $150 million
Sales for the "Saints Row" game will be up after its price was cut during the holidays.
THQ will be reporting results on May 15 2012.
5) Nokia Corporation (NYSE:NOK) - Speculative Buy
Nokia shares closed at $3.70, a price not seen since 1997. Shares are down 30.58% for the month, and down 7.96% for the week after the company reported earnings. Nokia launched the much-awaited Lumia 900 in the United States. The launch will prove to be successful. Verizon is also onboard a third ecosystem. The company's CFO tweeted that:
We created the Android platform from beginning … we are looking to do the same thing with a third ecosystem (Windows Phone).
The highlights from the Q1 conference call are:
R&D support from Microsoft (NASDAQ:MSFT) for Windows Phone will be $1 billion this year
Sales expectations in the U.S. were met
Q2 will be the first quarter where full sales for Lumia in major markets are included
Company has EUR 4.9 billion in net cash
OpEx dropped by EUR 700 million
Gross margins for Lumia is 16%
Lumia just started to arrive in stores in China
Benefit of cash flow from Microsoft outweighs royalty payments
The negative points from the conference call are:
Company faced challenges in establishing momentum in the United Kingdom
Competition from Chinese manufacturers and from Android is putting pressure on pricing
Sales for devices and services dropped 29% sequentially, and 40% year-over-year
OpEx run rate for devices and services is still EUR 4.6 billion
Nokia Siemens Networks is still a drag, with operating margins negative 5%
Disclosure: I have no positions in any stocks mentioned, but may initiate a long position in THQI, NOK over the next 72 hours.