Apricus Biosciences' (NASDAQ:APRI) main drug is Vitaros; a topical treatment for erectile dysfunction (ED) that has found partners in many countries but is waiting for Abbott to start Canadian sales and get European approval. Potentially, approval in Europe will allow the drug to reach millions of men -- Italy and Germany have already signed marketing contracts for Vitaros.
The company also has some other drugs in various stages of development: Femprox, a topical cream for the treatment of female sexual arousal disorder; MycoVa, a topical treatment for onychomycosis (nail fungal infection); PrevOnco, a treatment for hepatocellular liver carcinoma; RayVa, to treat Raynauds Syndrome (bad blood circulation in finger and toes); and Nupen, for the post-chemotherapy recovery of Neutrophil. In addition, Apricus has acquired some new drugs: Totect to treat anthracycline extravasation (leaking of chemotherapy drugs); NitroMist, a nitrate vasodilator for acute relief of an attack of angina pectoris, (chest pain); Granisol, an oral granisetron solution to prevent nausea and vomiting; and Aquoral for the treatment of Xerostomia (dry mouth). Apricus has many other drugs in development including some generics that use the NexACT technology.
Vitaros: The Drug
Many male patients will find Vitaros cream to be more convenient and safer than the current oral medications. Instead of being a pill, Vitaros is applied directly as a cream. When absorbed through the skin Vitaros directly boosts blood flow, thereby causing an erection within minutes -- much faster than results from oral medications. The topical application helps to reduce side effects and offers patients a substitute to the current drugs. Vitaros (topical alprostadil and DDAIP for the treatment of Erectile Dysfunction) offers rapid onset with efficacy, tolerability and a favorable safety profile. It has been studied in over 3,300 patients, including difficult to treat populations, those with (diabetes, cardiac issues, sildenafil failures, prostatectomies, patients on nitrates and alpha blockers).
Vitaros Sales in Canada
Vitaros was approved by Health Canada in late 2010. For many months everyone was waiting for a deal to market the drug. Finally, on January 9, 2012 Abbott (NYSE:ABT) signed an agreement to market Vitaros in Canada and sales are expected to start in 2012. The agreement included $16 million in up-front, and sales milestone payments, as well as royalty payments based on Abbott's sales in Canada. According to IMS Health data, the annual ED market in Canada in 2010 was about $180 million. In addition, there will probably be some cross-border sales as people from the United States search for a safer and more convenient alternative than the current oral drugs.
Vitaros Approval in Europe
On June 28, 2011 Apricus announced that its marketing application for Vitaros had been accepted for review through the European Decentralized Procedure (EDP). The EDP takes approximately 240 days from the time of acceptance to final approval. Approval would give Apricus the right to sell Vitaros in multiple countries within the European Union. The period of 240 days has passed, which means we should have a decision soon. But Apricus Biosciences stated in their annual report that they expect approval in the first half of 2013 and also expect royalty revenues beginning in late 2013. Apricus' Vitaros is already partnered in Germany and Italy so sales should start at once.
The deal with Sandoz, a division of Novartis for marketing in Germany, includes $28 million in regulatory and commercial milestones as well as royalty payments. Once Vitaros is approved, other European countries will make deals similar to the Sandoz deal to market Vitaros in countries such as France, Austria, and Spain.
Raising Money
On February 9, 2012 Apricus made a $20 million public offering of common stock and warrants. The price was $4.05 per unit; each unit consists of one unit of stock and one warrant to purchase half a share of common stock. The price to exercise a warrant is $5.25 per share of common stock. This offering gave Apricus $18.4 million, which excluded any proceeds for the warrants being exercised, after deducting underwriting discounts and commissions.
Apricus: Recent Interview (see here)
In a recent interview, Chief Executive Officer Dr. Bassam Damaj said that his company had acquired its own sales force, and has nearly $25 million in cash, and now is moving into a potentially high-growth phase. The key goal behind the recent $20 million offering was three-fold. The first was to advance the products towards commercialization by filing for approval in several important territories this year. The second was to provide capital for the re-launch of many of the company's recently acquired products. The final reason was to expand shareholder base to include institutions and broaden our analyst coverage. Going from a development company with something always on the horizon, to a commercial company with possibly 5 products selling by the end of the year is a monumental and permanent accomplishment.
Chart of Apricus Biosciences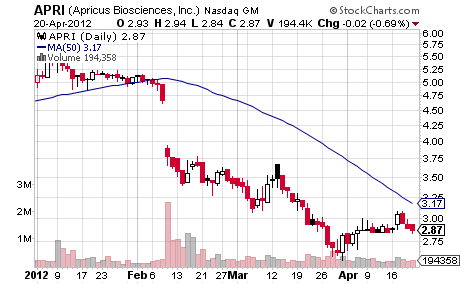 The selloff that occurred in February was the result of a small company raising $20 million and changing its focus from development to marketing with a sales force. As of April 2012, the stock had apparently dropped to its lowest price. If Vitaros is approved in Europe and starts selling in Germany and Italy, the price of the stock should rise again -- or again if the newly acquired drugs Totect, Aquoral, and Granisol sell well, they will likely push the stock higher.
Disclosure: I have no positions in any stocks mentioned, and no plans to initiate any positions within the next 72 hours.