My last post on Synchronoss Technologies (NASDAQ:SNCR) back in June outlined the company's successful IPO, and the prospects for growth in advance of the Apple (NASDAQ:AAPL) iPhone launch. Since then, the provider of on-demand transaction management software has been on a tear, maintaining a strong stock price well above analyst expectations. On its 3Q earnings call Friday, Synchronoss announced the following achievements:
The company is in the process of finalizing an agreement with what will be its second major Tier-One wireless carrier in the US (this deal is anticipated to close in 4Q 2007)
Its ConvergenceNow platform has activated 1.2 million Apple iPhones (for its customer AT&T (NYSE:T)) since the launch in June
Charter Communications (NASDAQ:CHTR) is now its fourth cable operator, joined by existing customers Cablevision (NYSE:CVC), Time Warner Cable (TWC), and Comcast (NASDAQ:CMCSA)
Launched its international growth strategy with the "operation and deployment phase" of ConvergenceNow in France, Germany, Spain, and the United Kingdom
The company increased guidance (again) for the fiscal year to $121.9 to $122.6 million (from $118 to $121). I had the opportunity to attend a media event in July hosted by Synchronoss in New York City. During his presentation, I asked CEO Steve Waldis about the company's plans for growth outside of the US. He hinted that Synchronoss was exploring its options abroad, and that 2008 would likely be the year for something to materialize.
With Friday's announcement, it seems like the company is well on its way to address Europe's insatiable appetite for converged devices and services. Regarding the company's involvement with the iPhone, Apple earlier this week announced that it was on track to meet its goal of selling 10 million phones by the end of 2008. If so, this gives Synchronoss (and its ConvergenceNow platform) an opportunity to activate at least another nine million units, in addition to the transaction volume that will continue to flow in from its other telecom and cable operators (as well as the new Tier-One wireless customer yet to be named).
Synchronoss is a very dynamic company and its transaction-based business model uniquely positions the company in the marketplace. In less than 18 months since its IPO, the company is on track to hit the $1.5 billion valuation milestone. Looking forward to seeing where they will be in the next 18 months.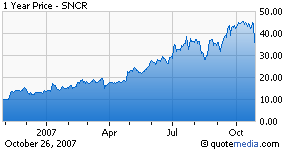 Disclosure: none