A recent article pointed out that Intuitive Surgical's (NASDAQ:ISRG) growth is slowing down pointing to 2012 estimates being below 2011 actuals which were significantly below 2010 actuals.
Lets plot what this slowdown really looks like:
EPS in $/share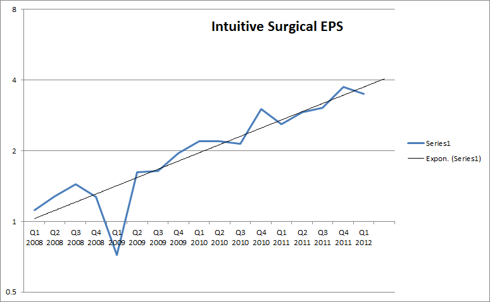 So the major contributor to the stellar growth in 2010 was a dismal Q1 2009. EPS was 16% in 2009, 61% in 2010 and 29% in 2011 giving us an average of about 35%. So a 2012 growth rate of 14-21% would be a slowdown. However Intuitive Surgical generally beats estimates. If Intuitive EPS stays with this trend, the predicted Q2 2012 would be $4.
However, I agree with the widely held opinion, including that of the company itself, that the stock is currently overvalued and wait for a correction to buy. I'm not selling right now though.
Disclosure: I am long (ISRG)