Friday's spike in financial share prices may have been from rising rate cut expectations, or investors thinking Merrill Lynch's $8.4 billion Q3 writedown constituted a bottom for brokerages. But Barron's cautions that the industry's $20B mortgage securities writeoff—to date—is not done. Merrill alone could erase another $2B-$4B. Analyst Richard Bove of Punk Ziegel expects earnings to trend 5-10% lower industry-wide as mortgage originations and securitizations decline alongside M&A activity. Shares, however, reflect a projected earnings growth rate of 9% for the "weaker" Merrill and 18% for the "savvier" Goldman Sachs. Bove cites the 1990 credit crisis, when some savings & loans lost half their book value. He thinks financials' book values will be further re-evaluated downward and sees an industry bottom only when their shares trade for less than book and offer higher dividend yields. As for Merrill, Barron's says a rumored Wachovia bank buyout is unlikely in view of Wachovia's recent multi-billion dollar purchases and possible regulatory hurdles. While some investors think Goldman and Morgan Stanley will sidestep credit pain better than subprime victims like Merrill and Citigroup, Barron's thinks no brokerage will be spared.
Sources: Barron's
Commentary:
Who Will Rescue Merrill?
•
Merrill's Problems Make Even Citi Look Good
•
Subprime: It's Still Really Bad
Stocks to watch: MER, GS, WB, C, MS, JPM, LEH, BSC ETFs: IYG, IYF, PRFF, XLF, RYF, VFH
Conference call transcripts:
Merrill Lynch Q3 2007 Earnings Call Transcript
MER 1-yr. chart: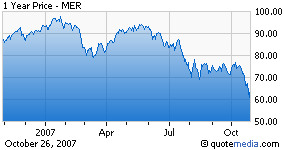 Seeking Alpha's news briefs are combined into a pre-market summary called Wall Street Breakfast. Get Wall Street Breakfast by email -- it's free and takes only seconds to sign up.