The good news is, the market managed to snap the losing streak at only two weeks, carving out a modest gain last week. The bad news is, that's among the only good news there is.
Economic Calendar
Though retail sales for March got last week started with a bang, things turned to a mere fizzle later in the week as the economic picture turned a little sour. When it was all said and done, last week's economic numbers were net-neutral. Stocks did well to finish the week with a gain. And, the bears may not be done yet.
On the positive side of the fence were those retail sales numbers. With or without cars, consumers spent 0.8% more in March. Building permits (issued) jumped to 747K, up from February's 715K. Unfortunately, that's the only decisively 'good' news there was last week.
A bunch of things were uneventfully neutral. Initial claims came in at 386K, just a hair lower than the prior week's 388K. Industrial production didn't grow at all (though at least it didn't shrink). And, the Fed's leading indicators were higher by 0.3%.
From the 'bad' column, housing starts actually fell from 694K to 654K, and existing home sales fell from 4.6 million to 4.48 million. Continuing unemployment claims marched up to 3.297 million, from 3.271 million in the prior week, which was a revision from the initial guesstimate of 3.251 million for that week. It should raise eyebrows.
All told, last week's economic numbers simply weren't compelling. It's no wonder the market didn't do much. If the coming week's numbers aren't any more enticing, it's going to be tough for stocks to build on last week's already-feeble rebound effort. Speaking of…
Economic Calendar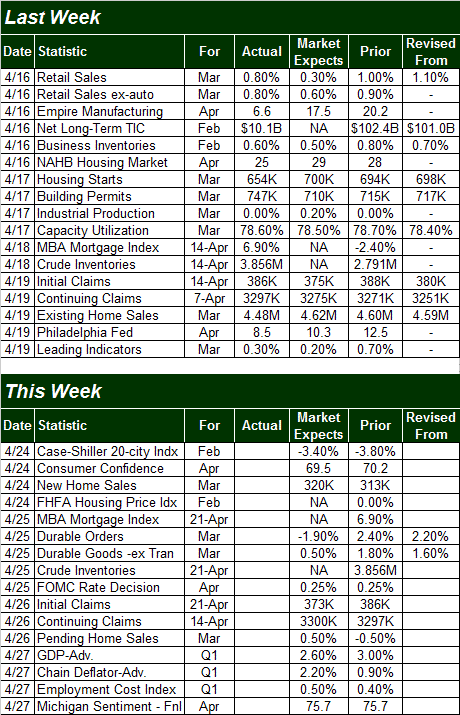 Though there's not a lot in the lineup for this week, what we're getting is important, particularly for the housing market (which we already know hit something of a wall last week). The Case-Shiller Index is apt to show yet-another dip in home prices, this one to the tune of 3.4%. Still, new home sales should be up from 313K to 320K, while pending home sales are expected to be higher by 0.5%.
Bigger picture, Q1's GDP growth estimate is forecasted to fall to 2.6% from 3.0%, while durable orders are likely to fall 1.9% after February's 2.4% improvement - that number's been all over the map lately. Consumer confidence likely fell a tad last month too.
Anything good in the cards? Not really. About the best news we can expect is on the jobs front, and even those are dubious numbers. Continuing claims likely stabilized at 3.3 million, and initial claims should fall slightly, from 386K to 373K.
It's about the worst time in the world for the market to be scrutinized against a backdrop of weak economic data. The bulls may not find much to celebrate. In fact, the bulls left off on a very weak note last week, setting up potential trouble for this week.
Stock Market
While Tuesday's pop was impressive, there wasn't a shred of follow-through in the broad market (NYSEARCA:DIA) (NASDAQ:QQQ) (NYSEARCA:IWM). The S&P 500 (SPX) (NYSEARCA:SPY) only held onto 8.27 points' worth of its effort last week (+0.60%) to close at 1378.53. And, though that's positive, the index didn't do anything else last week to imply there was any upside left.
Specifically, the SPX closed under its 50-day moving average line (purple). Though it's not the first time we've seen it happen since this corrective effort materialized three weeks ago, it's the first time we've seen a weekly close under the 50-day line since mid-December. Indeed, the fact that we've slumped back under the 50-day moving average line for a second time suggests it's something we can't just chalk up to a little volatility. (One time, yes, but two times? No.)
It's also interesting that the S&P 500 didn't even test the 20-day moving average line (blue) as resistance before peeling back from it. Take a look.
S&P 500 & VIX - Daily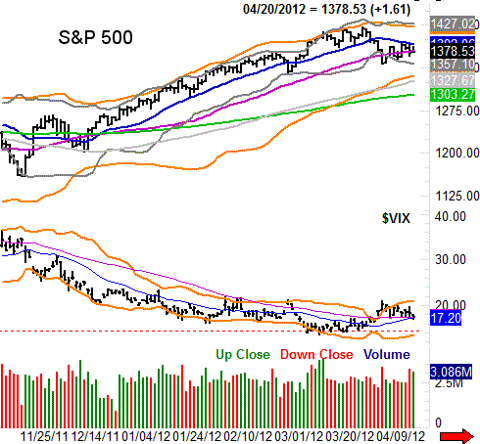 It's pretty clear at this point the market's direction has changed. Both the 20-day moving average line as well as the 50-day moving average line are now pointed lower. While it's certainly possible - and likely - we'll see bullish days even while the trend is technically bearish, one or two bullish days doesn't snap a bigger losing streak. Only a close above the 20-day line at 1392 would suggest the overall trend had turned bullish again.
As for a target landing spot, there's a swatch of support lines/floors around 1328, and the 200-day moving average line is at 1303. If this correction is a typical 9% correction from the peak, that would put the S&P 500 at 1294… under all the likely floors. Just bear in mind this may not end up being an average correction, but a smaller one instead, which puts the floors around 1328 and 1303 back into focus as likely targets.
But what about the CBOE Volatility Index (VIX) (NYSEARCA:VXX) (NYSEARCA:VXZ)? We saved that discussion for the weekly chart (though the VIX is still a day-to-day point of interest).
The question popped up last week about how the 14.4 area was determined to be a major floor for the CBOE Volatility Index. The answer is, history. The last two major market tops materialized right as the VIX was running into and pushing off of the 14.40 mark; see the red dashed line on the weekly chart below. To see it happen again now as the market starts to struggle after such a heroic runup is just a major red flag.
S&P 500 - Weekly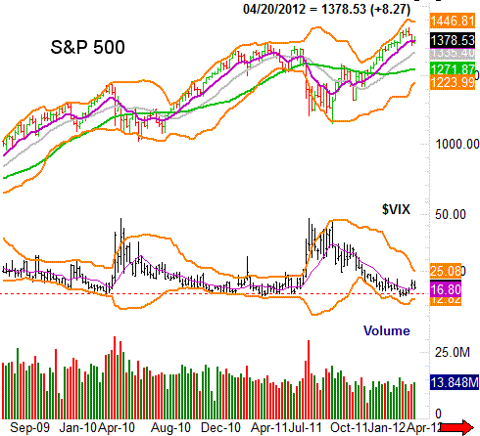 But didn't the VIX fall back last week? Yes, it did. That's evident on the weekly chart as well as the daily chart. This is more than a one-day battle though. This is more than a five-day battle.
Besides, though the VIX fell back, it didn't slide back under its 20-day and 50-day moving average lines, but found support at them instead. In fact, the VIX's 20-day average (blue) is about to cross above its 50-day average line (purple) [see the daily chart again] for the first time since late last year. Things are definitely changing, and not for the better.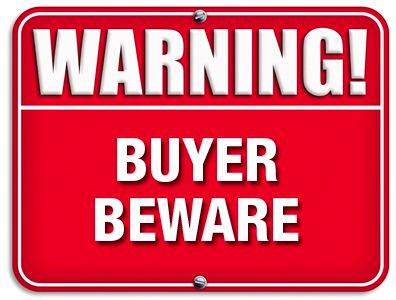 Disclosure: I have no positions in any stocks mentioned, and no plans to initiate any positions within the next 72 hours.