The U.S. dollar's weakness and geopolitical turmoil spurred commodities speculators to push crude oil futures briefly beyond $90 last week, marking yet another record high. Prices retreated slightly on Friday, but by the end of the day crude prices were still 6% higher than they were on Monday morning and nearly 30% higher than in late August. A dramatic terrorist attack in Pakistan, Turkey's threats to attack Kurds in Northern Iraq, oil distribution bottlenecks in the Midwest, and ongoing troubles with Iraq and Iran all contributed to the run-up in crude's price.
High oil prices are almost always good news for firms in the oil patch and have triggered an intense rally among energy stocks in 2007. But an unexpectedly weak profit report from the industry's 800-pound gorilla has caused some analysts and investors to question whether the environment supports oil equipment and services stocks valuations.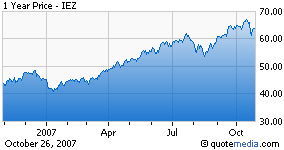 iShares Dow Jones U.S. Oil Equipment and Services (NYSEARCA:IEZ) rode this year's soaring crude prices to phenomenal gains through mid-October: The fund's one-year and year-to-date returns through October 17 surpassed those of every other fund on the Sector Momentum Table. It's no surprise, then, that IEZ has ranked in the top two spots on the table since May 22, just two weeks after the ETF Momentum TrackerSector Portfolio purchased the fund. The fund's rise to the top was explosive: IEZ was ranked dead last on the Table as of March 13 and had held that position for the previous four months. In fact, the fund didn't reach the table's top ten between its May 2006 inception and its first birth- day.
IEZ invests in shares of companies that build and maintain the infrastructure for the massive industrial complex that produces and distributes the world's oil — for example, by manufacturing, servicing and operating oil rigs and pipelines. Many of the larger firms represented in IEZ's portfolio diversify their operations throughout the energy sector, but for the most part in this fund you won't find shares of companies that make most of their profits from refining, natural gas or exploration.
High oil prices — and forecasts for more of the same — may make IEZ appealing. But recent developments give investors reason to be cautious when considering this highly volatile fund. IEZ typically invests heavily in its top holdings: It recently held more than 60% of its assets in its top ten positions, with 15% in top holding Schlumberger (NYSE:SLB) alone. Schlumberger, the world's largest oil-services firm, released a third-quarter earnings report last Friday that included weak results in many markets and underwhelming forecasts for the coming year. The stock fell more than 10% by the end of the day, dragging down other stocks in the industry and sending IEZ tumbling more than 6%. All but one of the fund's top ten holdings posted sharp losses on the day.
It's unwise to read too much into one day's events. Still, IEZ's sharp loss shows just how powerful Schlumberger's influence on the fund can be. What's more, Schlumberger's unimpressive report suggests that conditions in the energy services industry may not be as rosy as $90-a-barrel oil implies.
Schlumberger, which was still up nearly 60% in 2007 after its Friday decline, faced a slew of troubles that undermined earnings last quarter. Earnings did rise 35% from the same period a year earlier on the strength of strong demand for seismic exploration services, but investors were hoping for more. They were troubled by the company's announcement that earnings from operations in North America and the Gulf of Mexico came in well below expectations. Schlumberger also contended with weather-related challenges in recent months, as well as steep land prices in Canada and decreased production in the Gulf of Mexico.
Earnings reports from several of Schlumberger's competitors, many of which are IEZ holdings, are due during the next few weeks. The reports are likely to shed light on whether Schlumberger's troubles affected the company's competitors as well. Shareholders here could be in for a drop-off if earnings announcements disappoint, given that the stocks are priced for near perfection. But reports suggesting that Schlumberger's issues are specific to the company may lead to a collective sigh of relief among energy investors, potentially pushing the stocks and this fund higher yet.
Nevertheless, the longer-term picture remains bright for oil equipment and services stocks. Most analysts believe that the current supply-demand equation is likely to support prices at or above current levels for the foreseeable future. What's more, the oil that remains is hard to reach—creating opportunities for equipment and services companies to boost profit margins. The ride here is likely to be bumpy, however. The fund is extremely volatile even in ordinary times—and high valuations in the industry are likely to exacerbate its gyrations, as any disappointment probably will be greeted with a sell-off.
The upshot: A small stake here may juice your portfolio's long-term returns—but a large stake probably would expose your money to far too much risk.