Weekly Outlook: Last week was the market's first up week in three as earnings reports helped the market move higher as well as less attention paid to Europe's weakening situation. Despite the market's strength, one of the biggest laggards of the week was Apple (NASDAQ:AAPL) as it moves into earnings, and the company's weakness kept the Nasdaq in check. We have continue to suggest maintaining a neutral outlook on the market right now. We believe that having a decent mix of bullish positions with smart hedges is the best way to approach the current market.
We are going to have another fun week ahead of us as earnings season really starts to ramp up this week as well as our continued reaction to the situation in Europe. Economic data, additionally, will be impacting as we end the week with the first look at Q1 GDP for the American economy.
For economic data, in addition to Friday's GDP report, we will be digesting a bevy of reports. Tuesday leads us off with Consumer Confidence, Case-Shiller 20 City Index, and New Home Sales. Consumer Confidence will be pretty crucial to the market as we continue to need to have strong consumer confidence in order for this market to maintain strong. Wednesday will be another important day as it is highlighted by the FOMC Rate Decision and Durable Orders as well as Crude Inventories. Thursday's Initial Jobless Claims report is very crucial as the last two reports have been weak, and we do not want jobs to become an issue again. Finally, we finish out the week with GDP data as well as Michigan Consumer Sentiment Index.
The economic data for the week will be crucial for the market. A lot of reports should have a pretty strong impact on the market. We would pay close attention to that jobs report on Thursday as the last two have been weak, and the slip back to unemployment concerns hurt the market in the summer of 2011. Additionally, the GDP report will be pretty crucial to the market. We expect it to be strong as we saw the trade balance come down in the last report.
As important as economic data is, earnings reports dominated the market last week, and they will continue to be crucial this week. Some of the most important reports start on Monday with ConocoPhillips (NYSE:COP) and Netflix (NASDAQ:NFLX). Tuesday will be highlighted by US Steel (NYSE:X) and Apple . Wednesday will give us Boeing (NYSE:BA) and Caterpillar (NYSE:CAT). Thursday's reports are highlighted by ExxonMobil (NYSE:XOM) and Amazon.com (NASDAQ:AMZN). Friday finishes up with Ford (NYSE:F) and Procter & Gamble (NYSE:PG). These reports are all able to move the market as well as many others not mentioned here, and we believe that the market is going to have to pay attention to these reports for sure.
Additionally, we have to continue to keep our eyes on Europe. The week will be highlighted for them by the French election, which is looking like Sarkozy and challenger Hollande will have a run-off that could create some fear for European markets. Any situation of fear there does lead to some risk-on trading/investing as money will move out of equities. On top of this situation, we will get Great Britain's GDP report on Wednesday. CPI on Thursday is also a big report to watch. Bond yields in Spain will continued to be watch over the next couple weeks and any movements of them will be key to the market.
Finally, the Fed will once again come into play this week. Tuesday is the Fed Richmond Index, which leads up to the Wednesday's FOMC Rate Decision. There is no way that the Fed will change this number, but the rhetoric around the report is always parsed for any changes in conversation as well as any hints at further QE. The Kansas City and Chicago Fed report will also be out later in the week.
The market, we believe, has prepared itself for no QE3...at least not now. With that said, any hints at further QE will be very bullish for the market. The lack of QE talk may have some negative impact on the market, but we see that as mostly priced into the market.
Overall, we see the market as most likely continuing a slightly upward projection right now as long as the earnings reports that come out continue to be as strong as they were last week. The French president situation may hurt some stocks that are connected to France in some impact, but we see this as a small issue for American markets. The Fed could produce some upside with any change in their conversation, and economic data is definitely strong again this week. All in all, its going to be another fun week that will see a ton of important earnings reports impacting the market.
Stocks To Trade:
Two stocks we will be watching for this week are Ventas (NYSE:VTR) long and Intel (NASDAQ:INTC) short. We like the looks of Ventas heading into Friday's report as the company is ready to announce yet another strong quarter of growth with EPS jumping from 0.75 to 0.89 and revenue expected to rise over 100%. The company is doing great in the REIT sector, and the stock could perform very well into the report. We saw the stock break the 50-day MA on Friday and could be headed higher from here. At the same time, we like INTC short right now. The company had a fairly disappointing earnings report last week as margin pressure looks likely for INTC this year. The market has not responded well, and it looks like INTC could fall below its 50-day MA, which would signal a good selling point. We like INTC short below that line.
Trade of the Week: VTR long, INTC short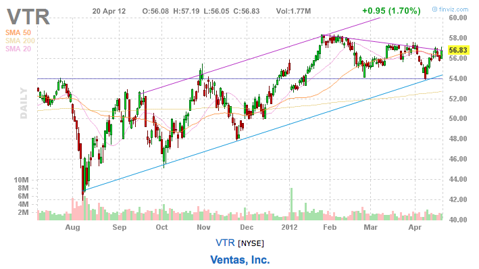 Last week's trade: COH long, BKE short. The ratio started week at 1.64 and improved to 1.666 for a solid 1.58% gain.
Oxen Group Holdings:
We have the following positions. In our Short-Term Equity Portfolio we are long CF Industries (NYSE:CF), Ultrashort Proshares Oil (NYSEARCA:SCO), Coach (COH), and Teva Pharmaceuticals (NYSE:TEVA). In our Options Portfolio, we are long Monster Beverage (NASDAQ:MNST), Dollar General (NYSE:DG), Visa (NYSE:V), Coca-Cola (NYSE:KO), and United States Oil (NYSEARCA:USO). In our Earnings Portfolio, we are long Ace Limited (NYSE:ACE), Ashland (NYSE:ASH), Coinstar (NASDAQ:CSTR), and TEVA. We are short Amazon.com .
Chart courtesy of finviz.com.
Disclosure: I am long COH.